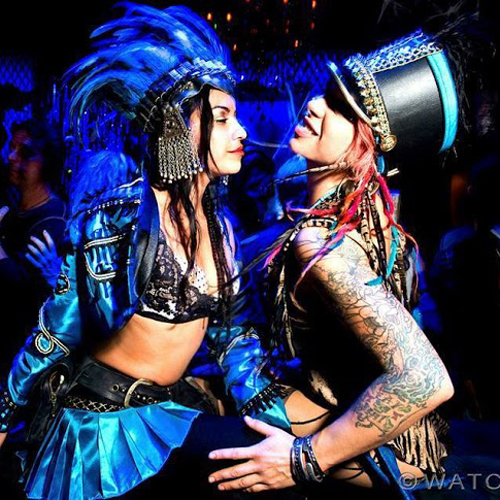 The Grateful Generation is bringing their ABunDance of Magic experience back to LURE Hollywood on Saturday March 29. This is a unique event where Hollywood seduction meets the gritty edge of Burning Man culture with a focus on community, sustainability and consciousness. We've decided to team up with The Grateful Generation to send one lucky winner and a friend to experience this magical show this weekend.
The show features the premiere of the new group Bottle Service, Robotic Pirate Monkey, Pumpkin and many more musicians, artists, illusionists, dancers, magicians and vendors. Check out Bottle Service's latest remix of Beyonce's "Drunk In Love" featuring Jay Z below to get a sample for their new sound. Check out the full press release below.
You can have your shot at winning a free pair of tickets by simply entering the giveaway below. The contest ends Wednesday at 11:59pm PST. Good luck!
Beyonce ft. Jay Z – Drunk In Love (Bottle Service Remix) | Download |
Grateful Generation returns to LURE Hollywood on March 29th to redefine nightlife with their consciousness infused ABunDance of Magic. This forward-thinking experience will feature the LA premiere of bass specialists Bottle Service , Colorado crowd rockers Robotic Pirate Monkey , Los Angeles favorite Pumpkin, ChrisB, and danielLow.

Grateful Generation represents the creative end of the Los Angeles club scene mixing sexy bass with a Bohemian Burner Bazaar. Armed with a passion toward the transformational movement, they create spaces for an ever expanding community of artists and health conscious entrepreneurs to come together and facilitate hyper-connective experiences to evolve the current conception of nocturnal playgrounds. By creating something which exceeds the idea of a party, ABunDance of Magic acts as a launch point for tapping into our greater collective consciousness.

Headliners include producers Bottle Service, a brand new, high impact collaboration of Stephen Jacobs, Henry Strange, and Metaphaze. The unique styles and skills of each member is fused into a modern understanding of the bass music sound. Robotic Pirate Monkey soars from Colorado as one of the most promising live-dubstep collaborations on the circuit, characterized by an ever growing passion for subwoofer experimentation and sweaty dance-floors. Genre-defying Pumpkin returns to the Hollywood stage to mystify his eager SoCal fan-base with a sonic journey of epic proportions, synthesizing all things danceable and shattering the rules in a constant movement towards the future of electronic music.

These bass-thumping musicians will be accompanied by Grateful Generation's otherworldly stage design, illusionists, dancers, magicians, mythical creatures, live painting and couture fashion and jewelry from the depths of the playa with organic options for food and drink including food by West Hollywood's new Planet Raw by Juliano.

Grateful Generation's monthly gatherings embody a new direction for the identity of LA's nightlife fiends and insomniacs. Partying is given a purpose by delivering experiences derived from the passion and creativity within us all. Pioneered by Chris Jackson, Alex Willems, and a tight-knit collective in 2011, Grateful Generation has transcended the ranks of LA nightlife, bringing together a movement. From their weekly Grateful Friday events in 2011 and 2012, to the current wonder of their monthly event ABunDance, supported by world famous Hannah Mermaid, Aradia Sunseri, Le Sirenes, and countless other performers, artists, and artisan vendors, Grateful Generation seeks nothing but progression and transformation across all avenues of expression.

Pre-Sale Tickets Available for $25. Grab your tickets before it's too late. Tickets at the door $33. This event will sell out.

Dress Code: Come in your most magical festive garb…Dress to impress…Costumes suggested but not required. No flat open toe shoes, shorts, or gym wear.
Comments
comments