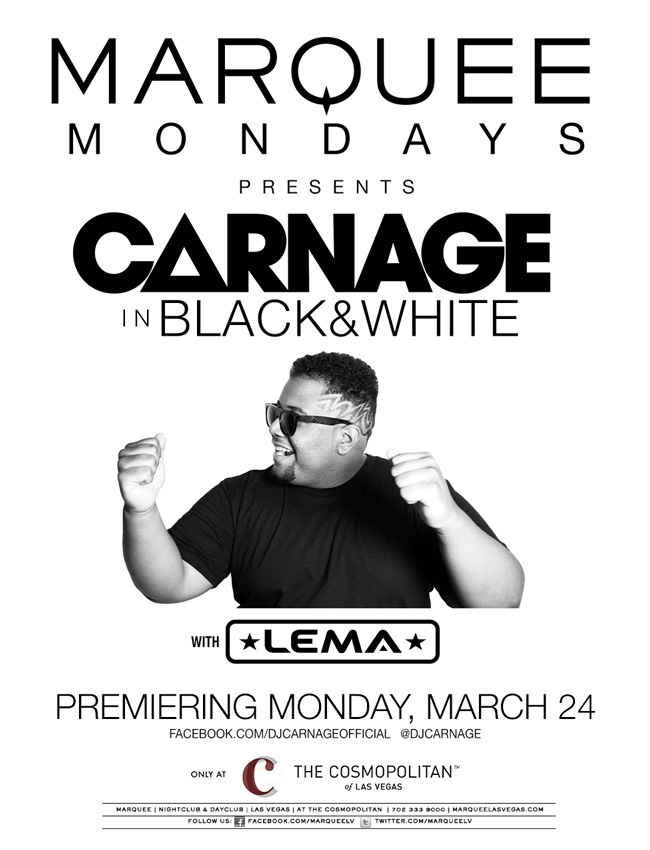 Carnage, just days away from his release of "Krakatoa" a collaboration between Junkie Kid, we decided to put together a short list as to why you should also attend Carnage's special black and white attire event at Marquee Nightclub, Las Vegas (perfect for all you March babies just turning 21).
1. Let's be honest, Carnage was easily one of the highlight sets at EDC Las Vegas 2013 and Ultra Music Festival 2013
2. Almost every world renowned DJ supports Chipotle Gang
3. Carnage is the man who brought you the trademark "Festival Trap" sound mid 2012 and is continuing to re-invent it
4. DJ skills, each set i've seen Carnage at were all different (something most DJs don't do) – and not mention his "Incredible" podcast series is always fire
5. Carnage's upcoming single, "Krakatoa" with Junkie Kid, is releasing this Monday (3/25)
If you're still not convinced, just listen through Carnage's previous live set at Marquee and then try to tell us other-wise.
Carnage – Marquee, Las Vegas 3/25 | Tickets |
"Follow" Carnage: | Facebook | Twitter | Soundcloud |
Comments
comments