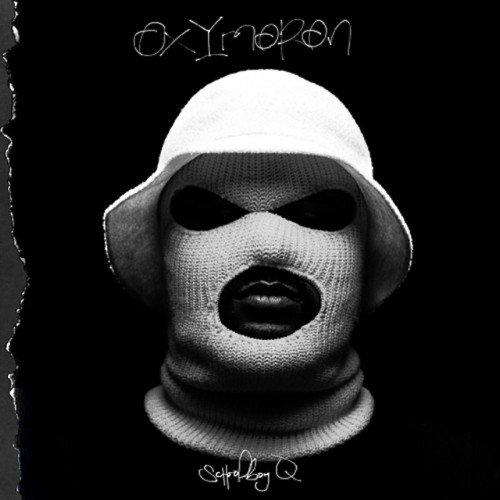 OXYMORON is finally upon us. After various setback and delays, ScHoolboy Q's highly anticipated new album is one of the books. After hitting iTunes at midnight and store shelves earlier today OXYMORON is currently sitting as the #1 album in the country, and with good reason. Hyping fans up with singles like Collard Greens (feat. Kendrick Lamar), Break The Bank (prod. by THe AlcHemist) and Man Of The Year, all of which were hard as fuck, it was only right that the rest of album was consistent with that same type of vibe. Well the California rapper came through on some seriously grimy gangsta shit and the whole thing KNOCKS!
ScHoolboy Q brought out some of the illest names in rap music for the features and beats on OXYMORON. Jay Rock, Kendrick and SZA all share the mic with Q while Sounwave, THC and Tae Beast throw down some crazy dope production for the TDE camp. Along with a few of his labelmates, Q summons features from Raekwon, Kurupt, 2 Chainz, BJ The Chicago Kid, Tyler tHe Creator (also produced the same track he's featured on) and Suga Free. Outside production from the likes of PHarrell, Nez & Rio, Mike Will Made-It, Swiff D, Lord Quest, DJ DaHi, Rocket and AlcHemist got the whole album on the TURN UP! There is also a bonus track featuring A$AP Rocky.
ScHoolboy Q has a timeless album on his hands with the release of OXYMORON. It will undoubtedly go down as one of the best, if not the best, album of 2014. Every single cut goes super hard and chronicles the thoughts and experiences of a true G. The first track 'Gangsta' really sets the mood for the whole album as Q chops up the Nez & Rio production letting everyone know exactly the kind of shit that OXYMORON is on. Other tracks that really personify that same type of vibe are What They Want, Hoover Street, The Purge, Blind Threats, Break The Bank, Grooveline PT 2 and Fuck LA. And I'll be surprised if we don't start hearing a lot of dope electronic remixes of 'Hell Of A Night!'
Anyway… Oxymoron is one of the hardest albums I've ever heard. The lyrics laced throughout it are on another level of sick. It should be played at Hiii volumes accompanied by marijuana smoke and a couple of 40s. This is definitely an album you're going to want in your tape deck. You can cop it on iTunes or pick up a hard copy off store shelves. OR you can stream it below via Spotify. Now put something in the air, pop a bottle and some pillz and let OXYMORON take you inside the mind of ScHoolboy Q!
ScHoolboy Q – OXYMORON [Album Stream] | iTunes |
"Follow" ScHoolboy Q: | Facebook | Twitter | Soundcloud |
Comments
comments