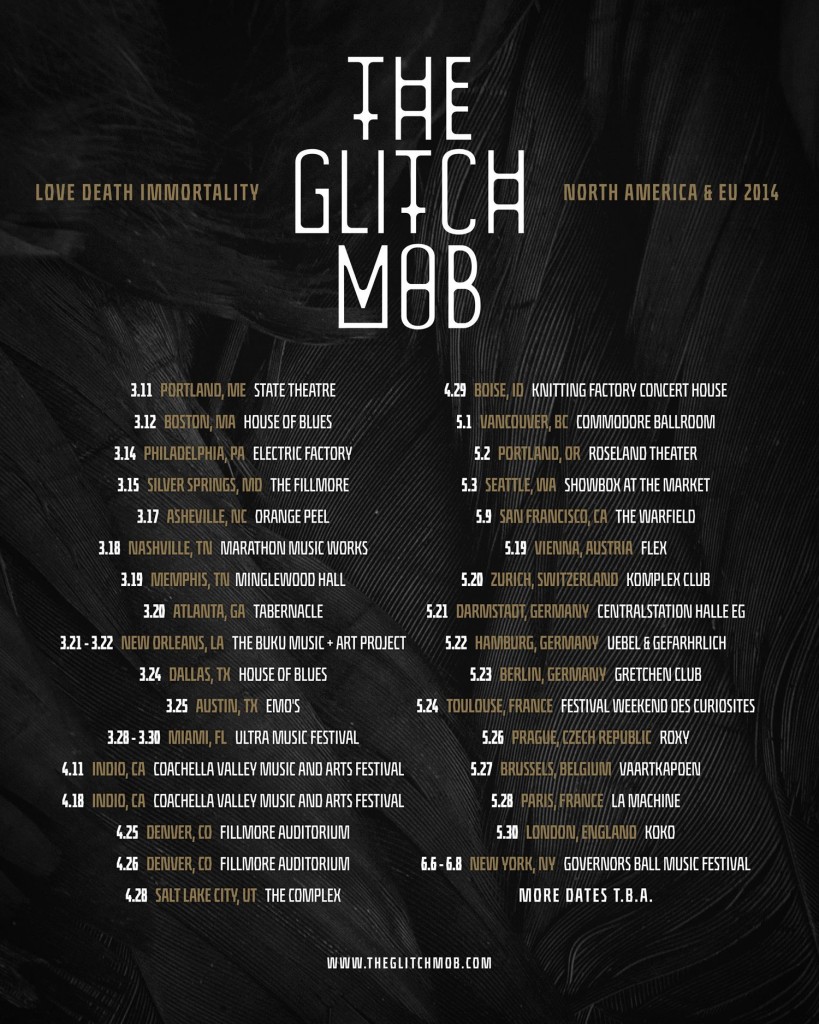 It seems the new era of electronic music has received what it's been missing, as The Glitch Mob magnificently return with their sophomore LP "Love Death Immortality", released just this month on their own label Glass Air Records. Thankfully enough, the TSS team was able to get a super advanced stream of The Glitch Mob's album and to say the least, all of our excitement couldn't be contained as it was the perfect refresher with all the over-saturated, same sampled, sounding tracks being pumped out everyday.
Even after a 4 year hiatus, The Glitch Mob was able to keep their relevancy up with their never-dying classics and remixes dating from 2008 til now. Remixes such as "All The Cash" by Evil Nine, and of course, "Seven Nation Army" by The White Stripes and so and so forth. All in which can still be heard today, whether it's some 14 year olds' Call of Duty quick-scope montage, or some crazy viral stunt video on YouTube.
Regardless, if a person spends a long enough time on the internet chances are they'll come across The Glitch Mob's music one way or another. Now, with their new 10 song album and barrier breaking tracks like "Our Demons", "Can't Kill Us", and "Mind of a Beast", new and long-time fans can be thoroughly satisfied by EdIT, Boreta, and Ooah's work as it ventures in as the electronic soundtrack for the future today. The best part about all this, is that not only do we all get brand new music from the mob, we all have a chance to see them perform such tracks live at a festival or city near you – check out the tour dates above and below! (more dates TBA).
The Glitch Mob – Love Death Immortality | Purchase |
"Follow" The Glitch Mob: | Facebook | Twitter | Soundcloud |
Comments
comments