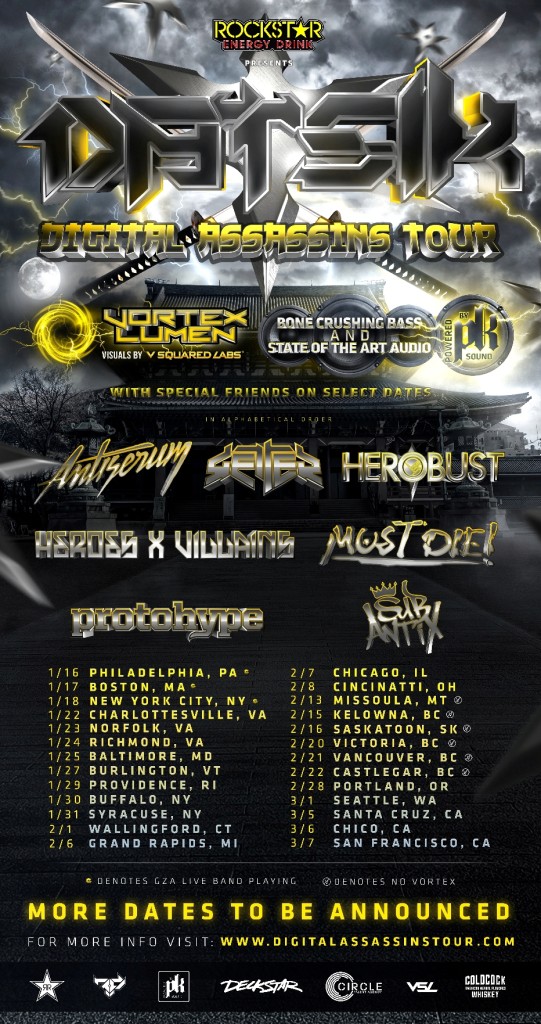 Get your monthly bass fix in with Daksik, Cookie Monsta, Protohype, and Must Die! as they raise the roof (and hopefully not bring it down) March 8th at The Wiltern (18+), 3790 Wilshire Blvd.
If you're down with heavy bass pulsing through your throat, headbanging mosh-pits, and trippy visuals, there's no reason not to attend Datsik's "Digital Assassins" tour. Already have covered most of the east coast dates (in which you can check out in the after-movie below), Datsik, is closing in on his west coast stops in remaining cities such as Portland (2/28), Seattle (3/1), Santa Cruz (3/5), Chico (3/6), San Francisco (3/7), and Los Angeles (3/8).
Dubstep never died, it just faded away from those who chose to liked because it was a national rising popular genre 2 years ago. So, what you can expect March 8th, is an intimate vibe with fellow bass heads all in one room raging until the last bass drops.
Datsik with Cookie Monsta, Protohype, & Must Die! @ The Wiltern L.A. 3/8| Tickets (3/8)| Tickets (All Dates)
"Follow" Datsik: | Facebook | Twitter | Soundcloud |
Comments
comments