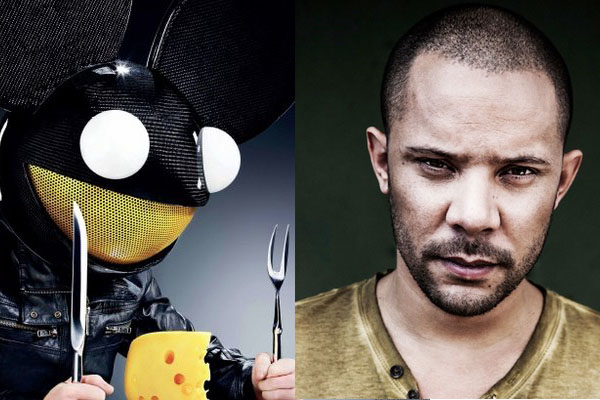 After getting into a virtual altercation with Wildstylez on Twitter, accusing him of ripping off "Some Chords" in his latest track "Straightforward," the Hardstyle community came together to troll back. Joel's response was to live stream himself making a 'hardstyle' record. Which he then posted to Soundcloud.
The result is awful… also pretty funny. If you've already heard Joel's new tune 'DAT KICK DOE' then you know. This is obviously just Deadmau5 trolling hardstyle.
If you think this scenario sounds familiar, that's because Deadmau5 did this same thing with Afrojack, trolling dirty dutch music following their altercation resulting from something Afrojack said at EDMbiz in Las Vegas over EDC weekend.
Since last week, it looks like Wildstylez has actually removed his song "Straightforward" from YouTube. Suspect? Let us know how you feel about this trolling in the comments below.
in the studio on http://t.co/0YuJ4SG8Sz lets make a hardstyle track YAY! should only take about an hour.

— deadmau5 (@deadmau5) February 20, 2014
yeah. that was fuckin hard.

— deadmau5 (@deadmau5) February 20, 2014
allright "hardstyle" dont get your kandi and glowsticks in a bunch… this is between me and a producer. not you. plur bro. PLEEEEEEEEEERRRR

— deadmau5 (@deadmau5) February 20, 2014
truth is, i dont give a fuck. unless of course youre going to steal my shit and sell it as your own. thats all im bitching about.

— deadmau5 (@deadmau5) February 20, 2014
scared to leave my house. hardstyle gangs, shuffling to hardstyle all over the city of toronto on every corner. watching my back. always.

— deadmau5 (@deadmau5) February 20, 2014
…
@deadmau5 It would seem that you have sent every PLURtarded hard-style fan into a fit of rage. Well done *thunderous applause*

— ?okthahaus (@rokthahaus) February 21, 2014
.@rokthahaus *takes a bow* *exits stage left*

— deadmau5 (@deadmau5) February 21, 2014
.@iamzaki @Wildstylez it probably would have saved him a world of shit. it NEVER hurts to ask, or at least give credit.

— deadmau5 (@deadmau5) February 21, 2014
make genre, subdivide it, subdivide again, get into lil clans of likeminded idiots, n fight eachother all fuckin day over whos cooler. = EDM

— deadmau5 (@deadmau5) February 21, 2014
k https://t.co/RxlzvLZOzB there. took me like 7 hours to tune that kick. wait for the dorp do. eipc dopr! #hardstyle4lyf #swag #yolo

— deadmau5 (@deadmau5) February 21, 2014
…
id love to post my hardstyle track, but the military asked me not to, because its too killer. it actually kills people bro.

— deadmau5 (@deadmau5) February 23, 2014
Comments
comments