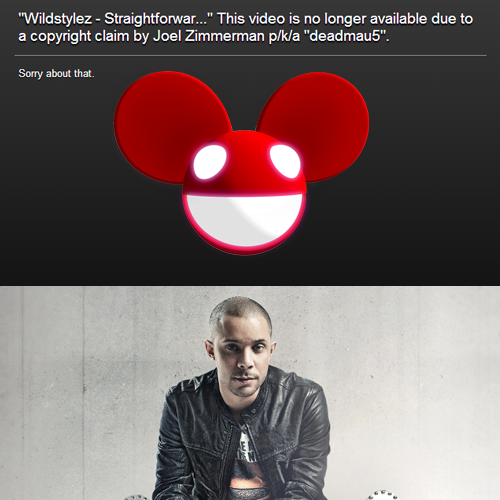 Deadmau5 opened up a whole world of hurt for Wildstylez last week after accusing him of ripping off one of Deadmau5′ most famous tracks, "Some Chords," and using it in one of his newest productions titled "Straightforward." Wildstylez argued back via Twitter claiming that he did not steal the song from Mau5, but after the blog world caught the news, it seems like everyone and their mother sided with Deadmau5 after hearing how similar the songs were.
This news spread like wildfire through all the blogs and caused an avalanche of concern surrounding Wildstylez' musical integrity. Fans claimed that Wildstylez' "Straightforward" should actually be titled Deadmau5 – Some Chords (Wildstylez Remix) because the two tracks were so undeniably similar.
Well, it looks like Deadmau5 prevailed because after last week, the video is no longer available on YouTube due to a copyright claim from Deadmau5. Wildstylez better start waving a white flag to the Mau5, but what's done is done and nobody is going to forget this beef.
Below is a YouTube rip of "Straightforward" from a live show that is one of the last videos which hasn't been removed yet. Watch it while you can.
and, ripoff of the year goes to: http://t.co/ssENmXc3qb

— deadmau5 (@deadmau5) February 20, 2014
Comments
comments