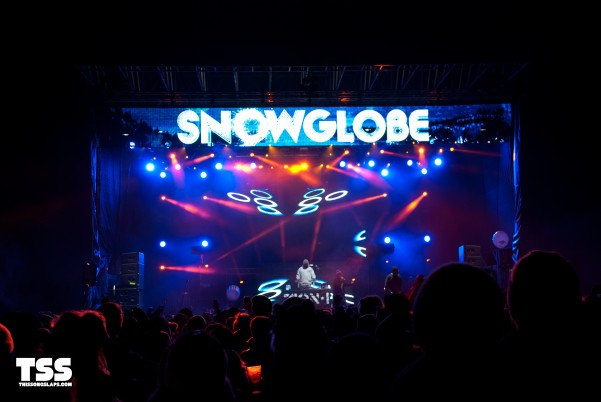 We had the pleasure of ringing in the new year at Snowglobe music festival this year, and it was truly a festival like none other. The festival took place in lovely South Lake Tahoe, CA and is the only music festival I've ever been to that takes place in the snow! Granted, there was no new snow falling this years event, but temperatures got down to the twenties, so dancing was definitely a necessity in order to stay warm with snow all over the ground! The talent at the three day festival was quite diverse featuring massive acts such as Tiesto, Snoop Dogg, Kaskade, Dillon Francis, Beats Antique, Cashmere Cat, Cut Copy, Gramatik, Zeds Dead, Luminox and many others.
Day 1:
The first day of the festival kicked off with a bang and we were able to catch sets from Holy Ghost!, The Polish Ambassador, Gramatik, Star Slinger, Tiesto & Justin Martin. Holy Ghost! got the day started right and really got the crowd going at the main stage with tons of original productions, The Polish Ambassador brought his signature groove to the Sierra tent, Gramatik brought the heavy funk, and Tiesto shut down the main stage with a set that even included a few of his iconic old school tracks like 'Adagio For Strings'.
The after party for day one that we attending featured Dirtybird tech house specialist Justin Martin as well as Gotta Dance Dirty founding father Bones. Both artists kept the groove going late into the morning and even though tech house isn't usually my cup of tea, these two truly surprised me with their excellent mixing talents.
Day 2:
We started day two with an awesome live set from the Floozies. We ended up getting to the festival earlier than planned, and I'm certainly glad we did because these guys were incredible. They were having a super fun time playing guitar and drums over funky beats and their energy was infectious. Following the Floozies, we checked out the live hip hop set from Luck & Lana who I had never heard of before, but who were quite impressive. The energy dynamic between the two MCs was really excellent and they had the Sierra Tent shaking. After Luck & Lana we were able to check out the legendary Zion I crew. Not only did they perform some of their classic hits, but the crew also blew minds when they took the opportunity to freestyle over some classic hip hop tracks – very well, I might add. Kill Paris then brought the funk to the Sierra tent and absolutely killed it. As his set time was winding down, Kill Paris brought out a vocalist to do a live rendition of one of his newest tracks, and she was absolutely incredible. Next we were graced by the tech house god Claude Von Stroke. It's quite rare for me to listen to an entire live set where I know not a single song, but Claude managed to make it happen. I mean this in the best way possible of course, and Claude continued to blow my mind with all of the unreleased Dirtybird tracks he pulled out. He had one of the best sets of the weekend in my opinion – hands down. Finally, we ended the night with the legendary Kaskade who played as flawless a set as I've ever seen. His track selection was flawless and showcased both his progressive and deep house sides extremely well, while concurrently keeping the audience engaged. It was the perfect way to bring night two of the festival to an end, despite the fact that some speakers blew out and the volume of his performance was significantly decreased.
The after party that we attended on night two featured the Floozies as well as our good friend Luminox and legendary Canadian dubstep duo Zeds Dead. Luminox came in super heavy and blew everyone away with a huge 808 packed trap set. The club was packed wall to wall and everyone was going absolutely insane. By the time Zeds Dead took over, the club was primed for even more destruction, and they certainly came through playing everything from their legendary dubstep, to trap, drum & bass, drumstep and even some midtempo. As always, these two bass masters turned heads and kept the energy high throughout the night, and everyone was bummed when their set eventually ended.
Day 3:
Day three of the festival was easily the one that I was most excited for. Not only was the lineup absolutely awesome (Dillon Francis, Snoop Dogg, Gigamesh, Beats Antique & Cashmere Cat, to name a few), but this was also New Years Eve. Snoop Dogg performed a greatest hits set which included classics such as 'Gin and Juice', 'Drop it Like It's Hot' and 'Ain't No Fun'. Considering his Doggystyle album was one of the first I owned, this was a lot of fun. Dillon Francis kept the crowd laughing and grooving to his regular selections as well cuts off his new album including collaborations with DJ Snake, Diplo & Martin Garrix, as well as some bay area hyphy music. Beats Antique brought the weird in full force and their incredible music blew the minds of those unfamiliar with their incredibly unique sound. Cashmere Cat satisfied my incredibly high expectations and much more, playing one of the most eclectic sets I've ever seen, and Gigamesh held down the Igloo tent with utmost precision.
We had a ton of fun at this one of a kind festival and we can't wait for next year. If you've never been and want to check out a completely unique festival experience, we highly recommend attending next year as this festival continues to grow in popularity and exceed expectations. Head over to Facebook to check out some of the images we captured!
Comments
comments