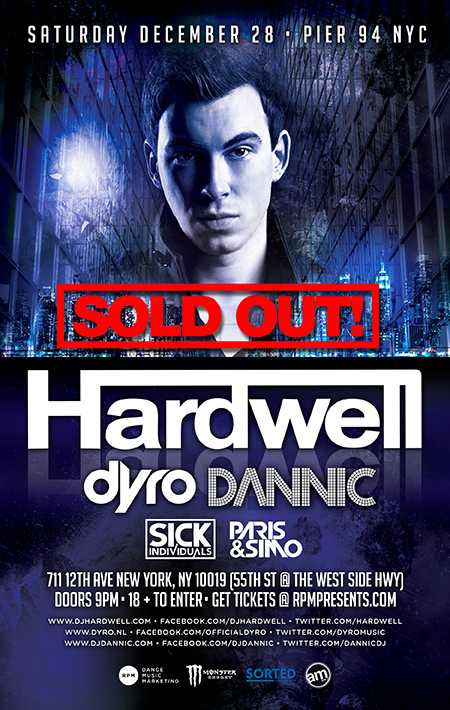 On December 28th Hardwell returned to New York City for the first time since his epic set at Ezoo. I guess you can say a lot has changed for Robbert since then, I mean he was voted the number one DJ in the world by DJ Mag so it's no surprise that tickets sold out with a few hours of their release. The show was held at New York's premiere venue Pier 94 which is always a good time. Joining Hardwell on this fine Saturday were Paris and Simo, Dannic, Dyro and Sick Individuals……they might as well called the event "Revealed Recordings Takeover".
By the time I entered Pier 94 it was already a mad house and Paris & Simo were dropping electro bombs on the crowd. I've never witnessed Paris & Simo and all I have to say is they DID NOT disappoint. They basically set the tone for the night. Next up was Dannic and personally I thought he had the best set of the night but I'm sure I'm not the only one that felt that way. His set included tracks such as "Blueprint" his collaboration with Sick Individuals, "Solar" and his new track "Lion" with is set to be released January 20th on Revealed Recordings.
Hardwell was next to take the stage, the crowd erupted once they saw him behind the pioneers. Hardwell's sets are always a good time but I guess you could say true fans of the Dutch superstar knew what to expect. His set included "Spaceman", "Apollo", his collaboration with W&W "Jumper", Alesso & Calvin Harris's "Under Control" and Botnek's edit of "Animals". He also played plenty of his own mashups and even played some new Hardwell music for his New York faithful, this really caught the crowd by surprise. The moment that stood out to me the most that night was when he grabbed the mic and let us know how much his New York fans meant to him, "When I started touring two years ago, New York was one of the first cities to support my music. I started two years ago at Electric Zoo and here I am tonight at Pier 94." Little moments like that are the one's I'll never forget and as a fan mean the most. He would end his set playing "Never Say Goodbye" as his good friend Dyro joined him on stage.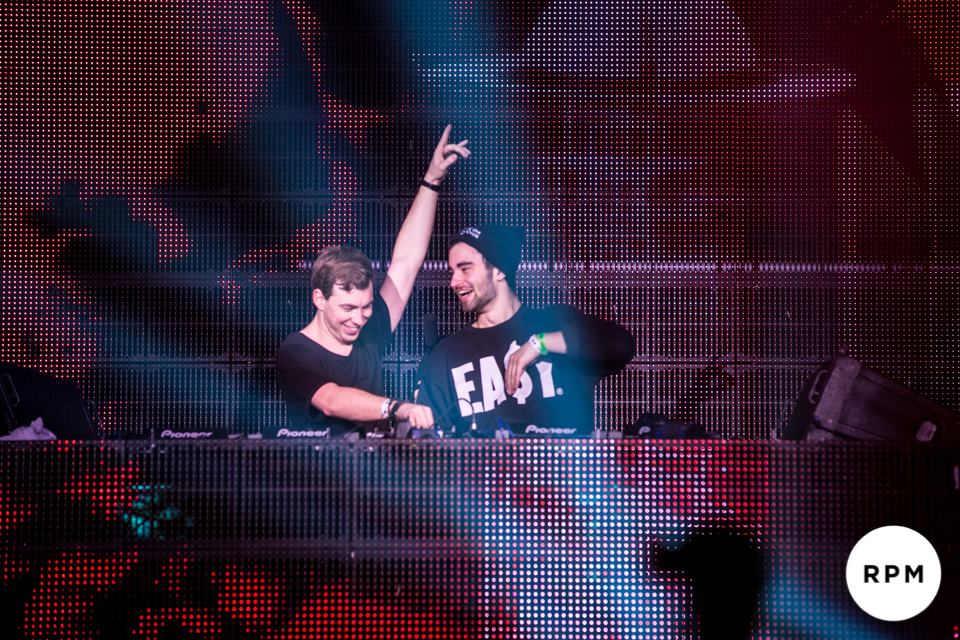 Dyro's set was a prime example of why he is one to watch going into 2014. His set included a wide variety of sounds that kept the crowd moving into the early morning. Plenty of electro, progressive and melbourne sounds were thrown into the mix that really had the Pier crowd on their toes. The one thing I did notice toward the end of his set was he really seemed out of it. I guess doing two shows in one night finally caught up with him. (He played a set in Atlantic City for a Life in Color event earlier in the night.)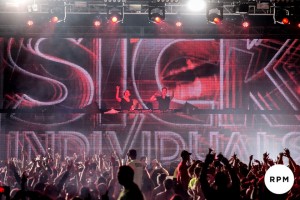 Last but certainly not least Sick Individuals took the stage. Pier 94 was still packed and still going hard, keep in mind it was now 3am. Jim & Ray showed plenty of energy behind the decks and it was clear that the crowd was feeding off them. I would say the best way to describe their set was "refreshing."
As usual RPM and Pacha put together a great event, as always I highly recommend attending a Pier 94. The sound system however continues to be an issue. You can hardly feel the bass and the music became noticeably quieter the further you were from the stage. However, the visual experience ALWAYS makes up for it. All in all it was a great night and I can't wait to see what Revealed Recordings has in store for us in 2014.
Photo credit: Warren Whitmore
Comments
comments