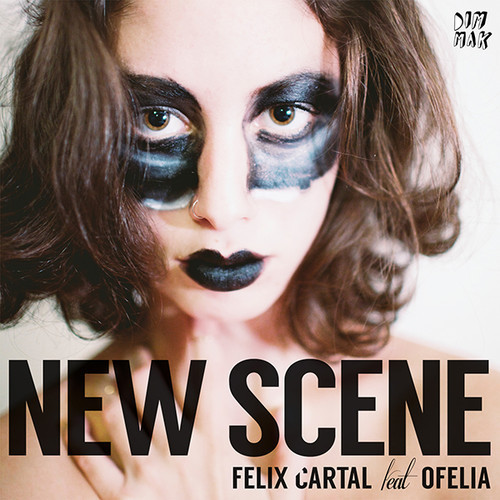 A couple months ago, the talented, Canadian, slurpee loving DJ Felix Cartal came out with his "Past, Present, Felix," EP. Featured on this 4 track EP was a powerfully touching tune called "New Scene," that was not only relatable, but hauntingly beautiful. On Tuesday, he released a new spin on this favorite from himself and Lucky Date, Tokimonsta, Deorro, Lazy Rich, and CRNKN and it's got me falling in love with the tune all over again. From trap to a big room electronic flare, "New Scene," becomes a little touch of everyone's scene.
We at TSS had the pleasure of sitting down the DJ a couple months ago on his first stop of his After Dark Tour and learned that Felix Cartal is more than just some rad hair, but someone who  is always growing melodically, lyrically, and brainstorming his next big idea. Listen to the Remixes below and check out why he said "New Scene" is his favorite track off his EP!
J: What did you do before coming here?
F: We went for Korean food.
J: Where?
F: In Korea town.
J: Was it good?
F: Yeah, it was like super legit-not like westernized bullshit.
J: What did you order?
F: The weirdest thing was the gizzards kabob.
J: Did you have any pregame slurpees?
F: Uh, no. (chuckles)
J: Have you had any slurpees here at all?
F: I haven't. I almost got one.
J: Are you having withdrawals?
F: I'm having overdrawals. Too much sugar.I've got to be careful- got to watch out for like preemptive diabetes.
J: So, I know you're real name is Taylor. Where does Felix Cartal come from?
F: There's no story. I just thought it out. I've always liked the name Felix.
J: Would you say Felix is like an alter ego for you or more of like an extension of who you are?
F: It's like an extension of a version of who I am I guess. I don't know it's a little more outgoing of who am I. I think musically, it's a little bit more agressive than the type of person I am- originally it was, anyways. Now, it's more like more commercial than I would be.
J: You just fell out of it?
F: Yeah, but it's always been an exaggeration of the things I like.
J: I know you've played in a band before- what made you transition from playing in a group to electronic music?
F: Well, when I was in a band I was using software to create interludes in between our sets and for our albums- so I would make weird 1 minute electronic things on the record that I thought were super artsy, but super lame. But when my band broke up I didn't really know what to do, so I kept fucking around with the software and then just started making full songs. I never really had done that before. I started to send them to blogs and then people started downloading it.
J: Is that how you got your break into the industry?
F: Yeah, definitely. I had like a weird blog success, like an unexpected blog hit. I got like 50,000 downloads a month, it was really weird.
J: You credit anyone to helping pull you into the industry?
F: Not initially, like I had support from a blog that was respected, but like it all started from an email from me saying, "Your blog is cool, and my song could work." It literally was me saying,"What's up," and him responding asking if I was a DJ. I said, "no." He then asked if I make songs and I said, "I tried to make a song," and he the was like, "Oh send them to me." He thought the song was really cool and then asked if he could post it. He posted it and then it evolved from there. I was originally just trying to chat with them since we all had the same music tastes, I wasn't trying to get my music posted. He was just really inquisitive about my work, which at the time I had thought sounded like shit.
J: How do you think you've grown as a DJ from the first song that you thought sounded like shit to now?
F: I think I know what I'm doing more. I think a lot of things that I did that were innovative at the beginning were more like mistakes. I never went to clubs growing up- I was not a club person. I didn't like dance music to be honest, but I think like a lot of the structures of my dance songs didn't really follow the rules of most dance songs and I think that made them interesting. It was all totally by accident. I think now, I'm sorta writing the songs that I would normally write if I was in a band, but in an electronic way.
J: So you approach songs differently than you were before?
F: Well, I think now I'm more confident in who I am as a songwriter and the software that I use. I'm at the level now where I think I can collaborate with people that I think are really talented, which is really cool- to work with vocalists who get it and I don't have to approach them. They just bring their shit to the table. I just kinda reverted back to my band thoughts where I'm not trying to write dance floor bangers anymore, but I'm not trying to write shocking dance tracks. I'm trying to write songs that I think will still be good 5 years from now.
J: That brings me to some questions about, "Past, Present, Felix,"- it features a lot of talented vocalists and the tracks are pretty melodic. When I actually listen to "Past, Present, Felix" it reminds me a lot of my summer. The songs are really carefree and bubbly and summer feel. When you started the EP did you have an idea of where you were going with it and how did you choose which vocalists to collab with?
F: The girls my management team chose. She's worked with a lot of writers and just has her ear to what's going on musically. She had sent me demos of people and was like ,"Are you feeling this? Do you think this is cool?" She sent me one of Ophelia's projects which I thought was reall cool and was really down. Then with Koko, her stuff was a little more mainstream, but I really liked it and she was a really strong vocalist. When I got to the studio both of them have a very different vibe. With Koko, she was a very strong vocalist and extremely confident and then with Ofelia she was really shy and competitive, but still questioned me lyrically. They both challenged me in different ways and I think I challenged them too. I'm always down to work with someone who makes me think about things differently. I have this theory that girls care more about lyrics than guys do. So, I always really want to work with females or a strong lyricist because I think that's where I need work. I think I can write a really strong melody, but the lyrics aren't always there 100%. I'm the kind of person that will workshop a piano part until it's dead, but I won't care about the words and they'll be like "these words are okay," – and then work and perfect them. I would never take the time to do that and thats why the collab will work. Both of them did that. This was the first time where I wrote the lyrics and the melody with them.
J: You wrote he melodies with them?
F: Both concepts for the songs I brought to the table. I had the "Young Love," concept and "New Scene," was actually based on a tweet I did. I was feeling alienated a bit and all the dudes were hanging out with all these different crews and I was like "fuck it, I'm gonna make my own scene,"- that's where the idea for that came from. I just sorta brought those ideas to the table and we workshopped them together.
J: Do you have a favorite track off the record?
F: "New Scene," is probably my favorite.
J: Why?
F: I dont know. It just hits a chord. I think each demo I've really registered with Radiohead and I really like  melodramatic music and it's something I always try to achieve. I think it's the closest I've gotten to it so far. It has a certain emotion to it that I don't think I have in a lot of songs. It feels more powerful than things I've done before. Then "Young Love," was an experiment in trying to make a song happy. I told myself I just wanted to make a song that was legitimately happy and fun. I got a lot of hate for it because the video is super fun too and people were like "This isn't art- it's just brainless bullshit pop." At the end of the day I love music that's sad, that's melodromatic, but at the end of the day there are songs that are happy and I think those are just as important, but they just sound less important in a weird kind of way. I just wanted to see if I could make a happy song.
J: How did you find the time to work on your EP,  play shows, and then come out with Weekend Workout every week? How do you keep up with new music?
F: I don't know. I'm just working all the time. It never ends. I don't have any free time.
J: So what are your weekends usually like?
F: I'm usually DJing on the weekends.
J: If you weren't DJing, what would you be doing?
F: I don't know. I might go out with friends at home if I had a weekend off, but at the end of the day I'm always going to be thinking of DJing 24/7, but that's what I want. I don't like go to the city all day, but if I'm going to the studio for 12 hours that day I don't then come home and check out and go to bed and watch some "Friends," (I might do that for like an hour,) but then I'll listen to the mix I made for three hours after.
J: Where did your idea to giving an audience member a disposable camera come from?
F: I don't know where it came from. I think it was when I was at Coachella one year and I found one when we stayed at a house. We rented a house in Palm Springs with a bunch of DJs and it was like 15 of us in a house and I just found a disposable camera in a drawer. I said, "Fuck this, I'm just gonna take this shit and rock with it all weekend," and I took all these photos and they were really cool. I just liked the idea that no one could see the photo after it happened. Instead of like, "Oh, let's do it one more time." None of that bullshit. So I liked that and tied it in to the fact that I hate club photos. So I thought, "Why not let a fan do his/her version of what happened that night?" It's cool too because that fan is gonna be stoked when the photos are posted and talk about the show afterwards.
J: I always like to ask the question, what does 2014 have in store for Felix Cartal?
F: Mmm, I'm gonna do one more EP- I think like one more 3 song EP. I don't know, I have some career changes in mind, but I can't indulge much.
J: So expect surprises?
F: I don't know, yeah. I have like these final three songs in my head, but I also have bigger ideas. The EP is shaping up. I have some demos done, but I also have some big ideas.
"Follow" Felix Cartal: | Facebook | Twitter | Soundcloud |
Comments
comments