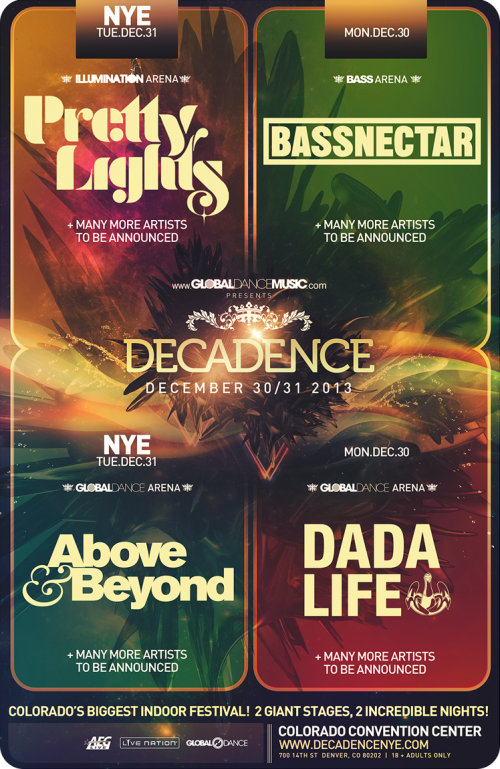 WHAT UP COLORADO?! In just a few short days, Denver will be hit with what is arguably going to be the best New Year's Eve show in America for EDM fans this year. If you haven't seen this lineup already, try not to freak out. The headliners are Pretty Lights, Bassnectar, Tiesto, Dada Life, and Above & Beyond, and, as if that isn't enough, the supporting acts include Datsik, Nervo, Break Science, 12th Planet, TJR, and more. Having spent the last few New Year's in New York City going to raves and warehouse shows, and typically having to choose one major artist's show for the whole night, it is pretty incredible to get to go to an actual festival this year, and I for one cannot wait.
Here is the newly-released schedule: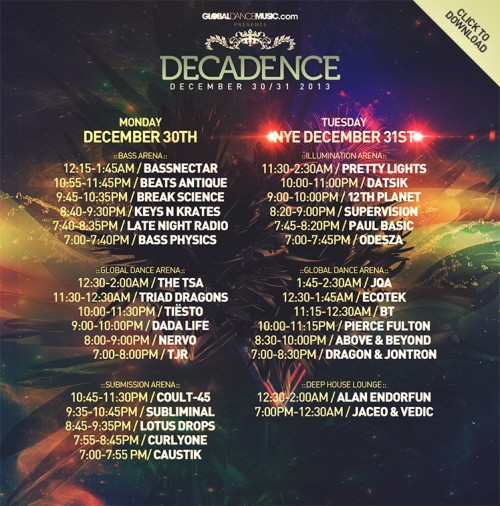 The schedule was just released last night, and although some fans are miffed that Above & Beyond aren't closing the night on Tuesday, I personally think that this schedule is perfect. For one thing, none of the headliners' sets overlap, meaning no one will have to decide between Bassnectar and Tiesto or Pretty Lights and Above & Beyond, and also, Pretty Lights, along with his new live band, will be playing for a full 3 hours, which will undoubtedly be one of the coolest sets of the 2013, and will definitely be a fitting way to ring in 2014.
This is Decadence's third year of existence, and will be the biggest yet by far. Triad Dragons has done an awesome job putting this show together, and it is going to be amazing seeing it all come together! For those in and around Denver who haven't made their New Year's plans yet, tickets are still available here, so don't miss out on what is sure to be THE show this New Year's Eve.
Check the official preview video below:
Comments
comments