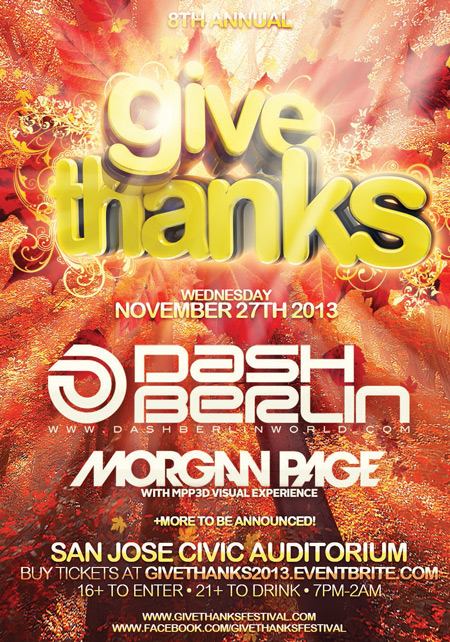 We've teamed up with our friend Beltek to bring you guys a new giveaway which is for the following: 2 pairs of tickets to the completely sold out Give Thanks 2013 Festival Feat. Dash Berlin, Morgan Page, Beltek, Topher Jones, and Alexx Adam
Tickets for this event are sold out
Please note that this event is 16+ with a valid government issued ID
Beltek Q&A
As a introduction, can you introduce yourself for those who don't know who you are?
My name is Beltek and I'm a music producer from Eastern Europe. I've been making music for 5 years.
How would you describe your style, the Beltek sound?
It's a mixture of progressive and electro house, filled with maximum positive energy.
When did you first get interested in making electronic dance music and why?
I was first introduced to electronic music 7 years ago when my brother start bringing home mixtapes from various DJs. I almost instantly fell in love with it and later on I was very much interested in how they made those tracks. That was the point I started discovering and producing my first beats.
Having released multiple tracks on multiple labels already, many labels being big ones, which has been your personal favorite release?
That's a hard one. My track "Party Voice" was released on Steve Aoki's label, Dim Mak Records and did really well.
What does it feel like to have had already support from highly known and respected artists such as Armin van Buuren, W&W, Gareth Emery, Dimitri Vegas & Like Mike, and so on?
I'm very grateful for all the support I'm getting at the moment. It's been a crazy year for me and I haven't even released my best singles yet.
What is your process on making new music and do any artists have a influence on your music, if so, who?
It really depends on the moment. Sometimes it's an inspiration coming from a TV commercial or a situation that happened to me. I'm also inspired by all sorts of artists like: Rudimental, Hans Zimmer, Porter Robinson, the list goes on.
You're currently on tour with Morgan Page, which you have worked with in the past with your "I'll Fight For You" remix, how's the tour going with him?
Morgan is such a great and humble guy. I always like working with him and being on this bus tour is amazing. I wouldn't have it imagined to be so crazy. Almost all shows have been sold out, I visited many new venues for the first time and I've made tons of new fans. So I am very fortunate that Morgan chose me to be a part of this mind-blowing tour.
Since you're playing 'Give Thanks' event next week which is a Thanksgiving themed event, what are you most thankful for in your personal life?
I'm thankful for my family and friends and that I'm able to do what I love the most in my life and I hope to continue to do so as long as possible.
What can we expect from Beltek in the future?
More fresh sounds, pushing the boundaries more and more. I just finished the remix for the US group Cash Cash and that is coming out on Big Beat Records and I'm also finishing my track for Calvin Harris' label Fly Eye. Hope to see you on the dance floor somewhere around the globe!
–
The annual Thanksgiving themed event 'Give Thanks' presented by Midnite Events, Vital Events, and Rube Skye has returned this year with a massive lineup. Headlining is the worldwide known DJ/Producer Dash Berlin alongside California born Morgan Page. Support coming from our friends Beltek, Topher Jones, and Alexx Adam. This years event sold out within a week and now is all set to launch this Wednesday to celebrate the Thanksgiving holiday the following day.
Be sure not to miss out on Beltek's set as it's expected to be a great one!
Time Slots:
Alexx Adam (7PM – 8PM)
Topher Jones (8PM – 9PM)
Beltek (9PM – 10PM)
Morgan Page – MPP3D (10PM – 12AM)
Dash Berlin (12AM – 2AM)
"Follow" ThisSongSlaps: | Facebook | Twitter | Soundcloud
"Follow" Beltek: | Facebook | Twitter | Soundcloud
Comments
comments