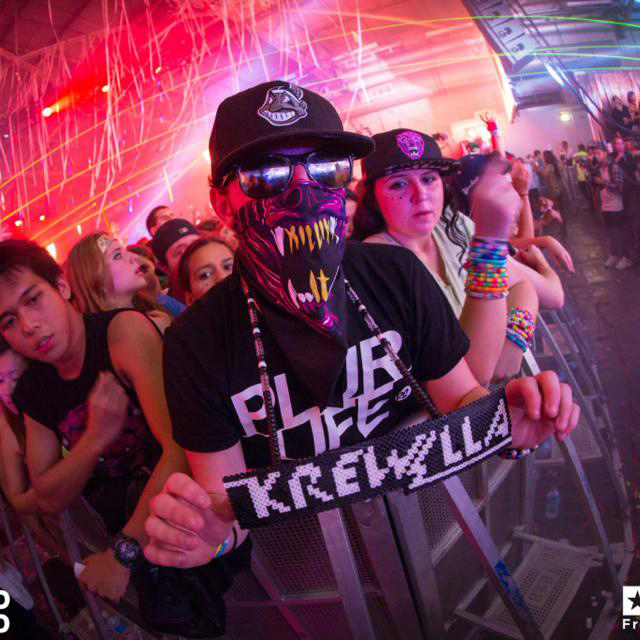 Oh man…Krewella at Pier 94. What better way to spend Halloween than getting wet with an all star lineup of DJs in what is essentially an indoor festival. This was my first trip to Pier 94 for an RPM show and it did not disappoint. The warehouse venue was massive but with an intimate stage setting, wild crowd and crazy effects and special stage performers.
The crowd was decked out in Halloween gear (including the staff) and wandering around the venue were performers in stilts, wings and crazy outfits which made for great photo opps. The ceiling rafters were covered with inflatables, streamers with LED ends, confetti and lasers making for a gorgeous backdrop for the show.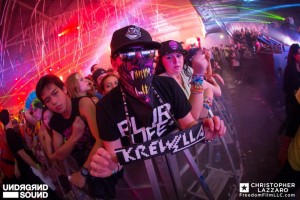 The lineup was insanely diverse, which I think was one of the most appealing parts of the show. So much talent across so many different genres. There was something for every type of music lover. Cash Cash kicked off the night with a progressive house set that got the crowd going, which was followed by Seven Lions' melodic progstep/dubstep/trance insane set. Next up was Gareth Emery who was the perfect direct opener for Krewella. Not only was his set amazing but the performers he had on stage were incredible. There was a man in a ballon and dancers covered in feathers all breaking out into synchronized, mesmerizing moves.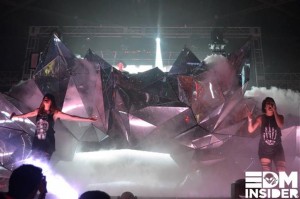 The time finally came for Krewella and the stage did a 180 turn into the full production volcano stage Krewella has been touring across the country with. This was my third show on the Get Wet tour, and just like the two before it, the show was perfect. Opening up with their smash hit "Live for the Night," the Krew brought energy and passion for a once-in-a-lifetime performance filled with songs off their album "Get Wet," as well as some of the best dubstep and hardstyle tracks out right now.
I was up at the front to ensure I had the best view of the trio as possible. While my KrewFam was up there raging hard with me, my only complaint about the night was that even in the front, the music seemed too quiet. It was almost awkward at times how low the bass was, it was too easy to understand your friends talking to one another – something I am not used to experiencing at a show. I'm sure there was a good reason for this, but it's a shame the crowd couldn't have the full face melting effect of Krewella's performance. Nonetheless, the girls' vocals were perfection as usual and their set was energetic and filled with filthy bass music.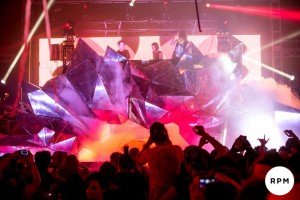 Candyland closed out the night and kept the crowd raging until early November 1st. The Get Wet tour has been a great way for Candyland to prove they are an act that's here to stay. With a bunch of their unreleased remixes woven into their set, we know to expect big things from the duo in the future.
So there you have it folks, Pier of Fear, Get Wet style. If you're in the NYC area, I highly recommend going to a show at Pier 94. Festival season might be over on the East Coast but Pier 94 keeps the good vibes and amazing lineups throughout the winter. Maybe you've heard of some of their upcoming acts: Alesso, Hardwell, Zedd…ring any bells?
Comments
comments