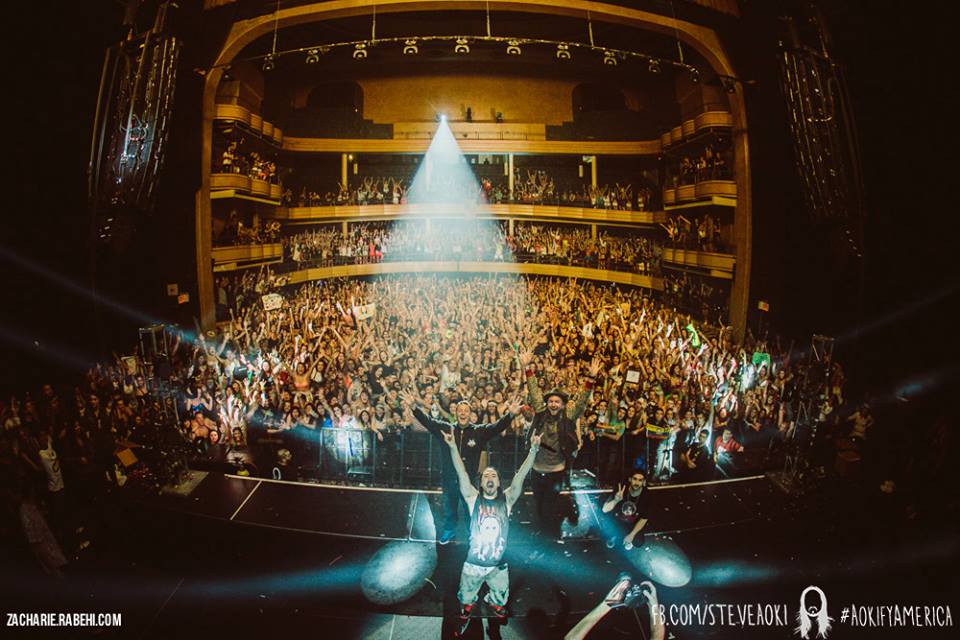 New York City was a mad house the weekend of Halloween. As many of you know Pacha NYC was able to round up some of the biggest names in electronic dance music to bring us Pier of Fear. In order to kick the Krew hangover from the night before, I headed over to Hammerstein Ballroom to catch the first night of Aokify's America Tour!
All shows were supposed to take place at Pier 94 for Pier of Fear but due to a limited amount of permits the Aokify America show was moved to the historic Hammerstein Ballroom. The change of venue didn't stop the crowd from coming out and its safe to say Hammerstein had never experienced anything quite like this.
As the crowd poured into Hammerstein, Waka Flocka made his way to the stage. Talk about a perfect way to start off the night, he preformed his song with MGK "Wild Boy" right off the bat causing Hammerstein to officially turn into a mad house!! He would go on to preform his signature songs "No Hands" and "Round of Applause" while selecting girls to bring up on stage. The crowd was going HARD and the night had just begun. Borgore even hit the drums for a bit while while Waka preformed "Hard in the Paint" and "Grove Street Party".
Our friend Borgore was next to hit the stage, it only seemed right that he had pole dancers on each side of the decks. He would open with his track "That Lean". Anyone who wasn't familiar with his name, I'm sure will never forget it with with a filthy intro like that. He would go on to play tracks such as Carnage & Victor Niglio's trap remix of "Cannonball", Brillz remix of "Clarity" and Mercer's "Supreme" all mixed to perfection. The crowd was already in the frenzy when he brought out Waka and Paige to preform "Wild Out", this was personally my favorite part of the night…..minus his pole dancers. Borgore would close out his set playing his signature tracks "Nympho" and "Decisions", it was a perfect ending to what was a perfect set.
Next to preform was the special guest of the night, Pharrel. He would preform classic songs such as "Beautiful Girl" and "Drop it like its Hot" as the crowd got involved by singing along. The crowd went crazy when he ended his performance with his most recent radio hits "Blurred Lines" and "Get Lucky".
Last but certainly not least, Mr. Aoki took the stage. Aoki wasted no time dropping heavy hitting tracks on the crowd, I'm talking about his collaboration with Afrojack "Afroki" and his most recent hit "Boneless". Of course it wouldn't be an Aoki set with cake throwing and champagne, Hammerstein was loving every second of it.(I lost count of cakes thrown after 6) The show went on as Mr. Aoki gave the crowd a taste of his most recent collaborations including "Aoki Jump" with R3hab,"Steve French" with Flux Pavilion and "Feedback" with the Belgian duo Dimitri Vegas & Like Mike.
The first night of the Aokify America Tour was complete MADNESS, Hammerstein Ballroom may never be the same. As usual Pacha NYC and RPM Presents did a great job of putting everything together and making this show happen even with the change of venue on such short notice. This was a great show to kick off the start of November.
Comments
comments