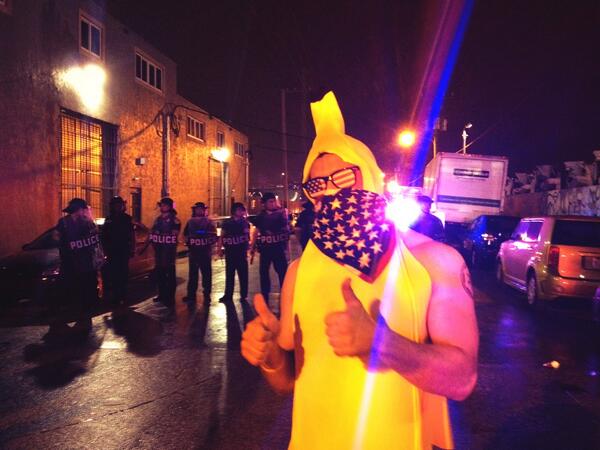 Tonight Tritonal, Dada Life and Henry Fong were set to take to Mana Production Village as one of Dada Life's signature style shows. Just as Tritonal's set was ending, before Dada Life or Henry Fong could play, the show was shut down by fire marshals, with no reason yet made public. The show was an 18+ show, but as of now there are no reported cases of underage drinking, or any overdoses, so it wouldn't come as much of a surprise if this event was overcapacity. More details to follow.
If you were in attendance, please contact alistair@thissongslaps.com via email, or leave details in the comments!
UPDATE AS OF NOV 24 12:58am EST: Multiple sources have reached out to us, telling us that the event promoter has most likely oversold tickets for this event, and that the venue was over capacity. This lets us know that no blame should be put towards the Miami police, but instead that the venue was over capacity, and created a safety hazard. The venue's floor plan for the room they were playing in was just under 2200, and we've been told by multiple fans that the crowd was well over this cap by hundreds. Before the fire marshal even arrived to the venue, a long line of people waited outside with their tickets in hand, complaining that they could not get in.
UPDATE AS OF NOV 24 1:33am EST: After having talked with people that were backstage at the time, we have been informed that after the staff of the venue realized that the event may have been over capacity, they stopped letting people in. After this, the waiting crowd outside began trying to charge through the gates, at which point riot police took to the streets to try and disperse the angry and now violent crowd. It's a shame that the police and the venue are being blamed here, as it seems as this may have stemmed from promoters putting the show, and the fans at risk by overselling the event.
Apparently fire marshall locked the gates since it's pretty much chaos here in Dada Land. We have to let him know the rules of Dada!

— Dada Life (@dadalife) November 24, 2013
Riot squad is here in Dada Land… They're shutting us down. It's out of our hands! So sad we can't play. We know you were born to rage!

— Dada Life (@dadalife) November 24, 2013
As we're reading from twitter, it seems as though the venue clearly hadn't been briefed on the rules (or lack thereof) of the Dada, and the venue has been closed by the local fire marshal. Full riot police are out on the streets, and it seems like Miami is up for a long night ahead.
Things got wild in Dada Land!! Miami police shut down the Compound as our set was ending, @dadalife fans are unreal!!

— Tritonal (@Tritonal) November 24, 2013
UPDATE AS OF NOV 24 7:23pm EST: Earlier this afternoon, Dada Life announced that a full refund will be given to all ticket holders, and a new show date will be announced soon.
Getting more details on what happened but 2 things will happen: 1) EVERYONE will be getting a refund. 2) we'll be doing a make up show

— Dada Life (@dadalife) November 24, 2013
Comments
comments