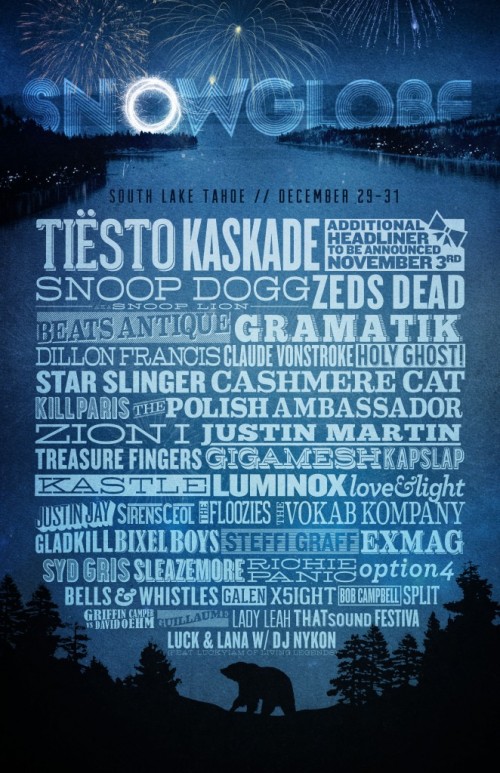 Before a lineup was even announced, you knew Snowglobe was going to once again be a festival you absolutely can't miss. An unparalleled location, awesome crowd and diverse array of musical acts makes Snowglobe one of the most unique musical festivals to hit California, and even the United States as a whole. Having attended the festival in the past I can assure you this is one of the most unique and rewarding experiences imaginable, and with a lineup like they have compiled this year, you're robbing yourself if you don't get a ticket ASAP. Now let's get into that lineup…
This years festival features boasts headliners and upcoming artists alike, and choosing which artists to see is going to be a difficult task. Tiesto is going to bring the big room festival house feel he has become known for (and hopefully some trance for us fans of the old Tiesto), Kaskade is come with the emotional beauty with his progressive/deep house set, and Snoop Dogg (Lion) will presumably light a few up with the crowd and kick it Rasta style. In case those headliners aren't enough for you, an additional headliner is being added to the lineup soon, so keep your eyes peeled.
While the 'headliners' are certainly going to be the center of attention, the people at Snowglobe did an absolutely unreal job with the supporting artists this year. Sticking true to Snowglobe tradition, there are a ton of funky bass music acts spanning all different genres from moombahton to future funk, deep house, drumstep and everywhere in between. Whether you love massive drops, groovy piano lines, ass shaking bass lines or jazzy synthesizer riffs, there are artists that are are going to satisfy your every need.
Instead of attempting to describe all the different musical performing at Snowglobe this year, I went through and compiled an extensive playlist that features 1 of my favorite tracks for almost all of the performers. Enjoy the musical journey, and if you keep an open mind you just run into a new favorite artist. Cheers!
ThisSongSlaps.com Snowglobe Playlist:
Comments
comments