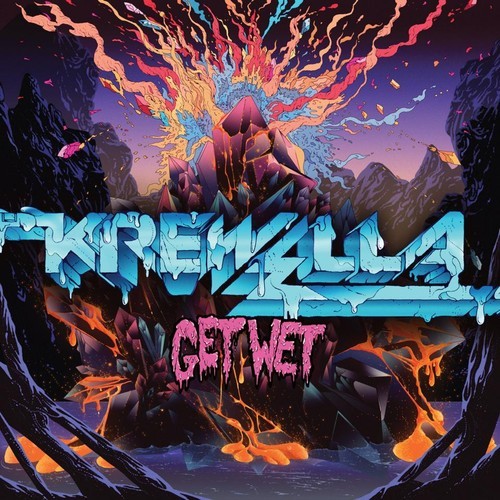 So as you all know, Krewella dropped their debut album, Get Wet, last week and it's been making huge waves around the world! After giving it a good listen, we decided to have a bunch of our authors team up and give it the full TSS review. Get ready, we are about to take you on a soaking wet ride through the entire album.
01. Live For The Night (Nina)
By far the most "poppy" track on the album, "Live for the Night" was Krewella's first single off "Get Wet". The song is sure to be a party anthem with it's fun lyrics and uplifting energy. For those of you who didn't know, Live for the Night was actually written two years ago, and with assistance from producers Cash Cash the song was transformed into a radio hit to follow their first break through track "Alive." I dare you not to smile and jump around when this song comes on.
02. We Go Down (Josh)
We Go Down was given away for free when you pre-ordered the album. This was basically to set the bar of how epic all these songs were going to be. It's another HUGE anthem from the Krew that just gets the blood rushing and your feet moving. It almost sounds like it will be a poppy song but quickly flips the switch and because a filthy f**king banger!
03. Come & Get It (Brian) 
This classic Krewella track made its debut on the Play Harder EP and will forever be a Krewfam favorite. This serious drum & bass tune just makes you want to rage so getting wet won't be too difficult, words seriously cannot describe how much energy is packed into these three and a half minutes. Jahan and Yasmine were on point with the vocals for this one and to be honest this is where crush for the Yousaf sisters all started, I mean can you blame me?
04. Enjoy the Ride (Josh)
After kicking off the album with powerful and heart pumping tracks, Krewella takes it down a notch with 'Enjoy The Ride.' This tune has very heartfelt lyrics that really give you some good insight to the minds of Krewella and how they feel. From my perspective, this track is about how Krewella is making their way through the music industry and that no matter what they are going to enjoy every second of their journey. Blast this one while you're cruising with the windows down and let the music take over.
05. We Are One (Brian)
Following "Enjoy the Ride" comes another party anthem from the Krew, We Are One. Sweet vocals along with some big room bass, it's the best of both worlds. This track is a true EDM heads dream that I'm sure we'll continue to hear at show throughout the next couple months. For those who aren't big fans of that big room sound, the Krew puts their own special touch on this track so everyone can enjoy it.
06. Dancing with the Devil (Ft. Patrick Stump & Travis Barker) (Nina)
True Krew fans like myself have been waiting for the release of this track since July 2012. The song first surfaced in Krewella's Beatport Ustream last summer, and has been teased in sets since then. The track has been reworked a ton for the album, and the change has been for the better. With drumming by Travis Barker from Blink 182 and male vocals from Patrick Stump from Fall Out Boy, the song was sure to be different than anything else on the album. With hauntingly powerful vocals from the girls, the new and improved "Dancing with the Devil" is one of the strongest tracks on the album. Jahan and Yaz were spot on with their lyrics in this, they're about to leave a legacy.
07. Alive (Brian)
It's safe to say when you think Krewella the first think to come to mind is "Alive". Originally off their Play Hard EP, this track quickly found its way onto the radio which later led to it going platinum……….that means over a MILLION copies sold. It was only right that this catchy dance tune was featured on the album. It's great to see have far they've come since the release of the Play Hard EP.
08. Pass the Love Around (Josh) 
This was one of the more down tempo songs on the album which just further proves the Krew's versatility. Not only can they make big tracks that gets the heart racing, but they really pull a lot of emotion out of you too. While most of this album will make you want to lose your mind and go crazy, this particular track will calm you down for an enjoyable musical journey.
09. Ring of Fire (Brian)
This was easily one of the most highly anticipated tracks of the album. The Krew has been known to throw hardstyle into their sets and "Ring of Fire" is a track us hardstyle fans crave. It contains some deep vocals and an enormous drop with some SERIOUS hard hitting bass. I'm sure plenty of people weren't expecting a hardstyle drop but thats what I love about this track the most. It gives off a dark vibe but its personally my favorite track of the album.
10. Human (Josh)
This track means a lot to me. We all like to have fun and good times but every now and then we get down on life. One of the most impressive things Krewella can do is make bangers and sentimental songs like 'Human'. The first time I heard this I was going through a tough time in life and it really spoke to me. Their beautiful vocals and powerful words lifted me to a higher place and made me realize it's ok to ask for help in life. Don't suffer in silence, we are only human.
11. Killin' It (Josh)
Well this one goes without saying, it's killer. This is arguably the song that shot Krewella to the top. Everyone's heard this and everyone has lost their mind to it. Not to mention, it's got some killer remixes too. It was only appropriate that the Krew included this on the album.
12. This Is Not the End (Ft. PegboardNerds) (Josh)
THIS! This song has been a long time coming for me! Ever since I heard it premiered in Troll Mix 3 I have been craving for it to come out! Pegboard Nerds made the best 'Alive' remix in my opinion so of course when I heard they were combining forces with the Krew again I knew I would be in Bass Heaven. Perfect doesn't even begin to describe this song. Pure filth and grime! This one made me the wettest…
13. Lights & Thunder (Ft. Gareth Emory) (Josh)
Krewella has collaborated with some cool people in their short time in the dance music scene. I shouldn't have been surprised when I heard they team up with veteran Gareth Emery, but I was! I didn't see this match up coming but to my surprise this song is…well…perfect. The vocals and beat are insanely uplifting. Hearing this one live is a life changing moment.
14. Enjoy the Ride (Acoustic Version) [Bonus] (Nina) 
I've been waiting for the Krew's next acoustic song since they debuted the "Alive" Acoustic Version on their Vevo back in May. Since uploading "Get Wet" on Soundcloud, "Enjoy The Ride" has been a Krewfam favorite, and this acoustic version does not disappoint. The simplicity of the piano really showcases Jahan and Yasmine's vocals, and further proves their capability to be versatile within genres.  Hopefully we'll be seeing some more acoustic songs from the Krew in the future.
That's our review! We really put in a lot of thought and emotion when picking each song to write up. We would love to thank and congratulate Yasmine, Jahan and Kris for all their hard work on this. You guys have produced something truly amazing here and we as fans and listeners cannot thank you enough!
But that's not all…
Incase you missed this, check out what happens when Krewella plays a game of truth or dare.
Krewella -Get Wet | iTunes |
Comments
comments