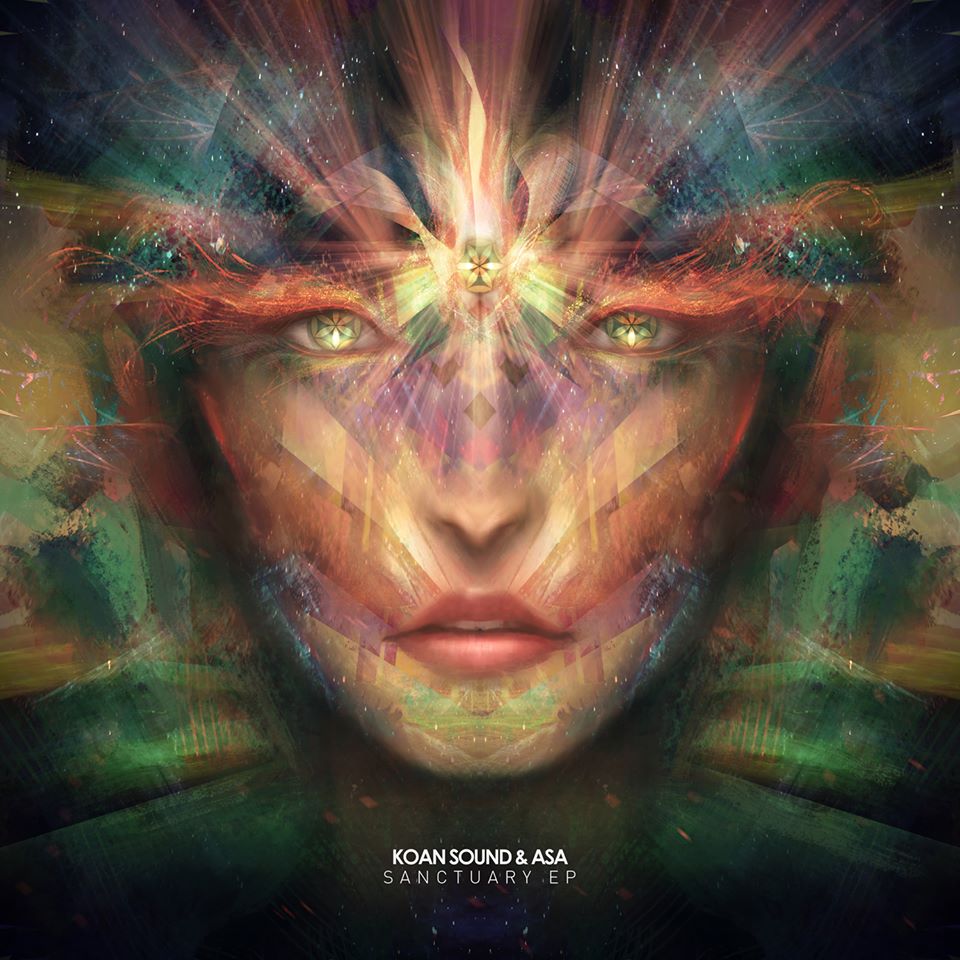 Since releasing their EP The Adventures of Mr Fox, KOAN Sound kind of dropped of the radar for a while, and just as I was starting to get worried, but at then out of left field this comes straight at us. This collaborative EP with Asa is perfection. I know I've said this a lot lately, but it is unfathomably refreshing to see artists taking risks with their EPs and albums, and even more so for the risks to pay off. Dance music is in an odd spot right now with controversial mainstream tracks and it's the releases like this one that keep me motivated to stick around. While we've had to wait a year to hear a release from KOAN Sound, the wait has been well worth it. This masterpiece has gone straight to the #1 electronic albums on iTunes, and rightfully so.
KOAN Sound & Asa – Sanctuary EP | iTunes |
Sanctuary
I know this is a bold statement, but I'm going to go right ahead and say that 'Sanctuary' is one of the most beautiful songs I've heard this year. KOAN Sound have taken such a HUGE risk on this entire EP, specifically the title track though. Purely orchestral and instrumental, the track really doesn't have many synthesized or electronic components at all for that matter. 'Sanctuary' is breathtaking from every aspect, and achieves success through bold risk. The song uses live instruments and as a result has such an organic feel that the masterpiece certainly is deserving of sitting at the #2 electronic albums position on iTunes.
Starlite
In 'Starlite' we see a little more hinting at the KOAN Sound style we love and know. With incredible sound design, and a very unique blend of acoustic and electronic elements, this song immediately reminds me of the experimental style that we heard in KOAN Sound's track on their last EP, 'Introvert'. 'Starlite' combines spine chilling piano melodies combined with the up-tempo, smooth drum n bass-esque patterns that are subtle and not overpowering. Throughout the piece we hear the low warping growls of bass, but it never makes itself prominent.
Inspected feat. Koo
'This Time Around' boasts some delicate piano riffs, as well as the softly spoken chords. From here the track opens up into almost whispered vocals. Once we really get into the track we get a low and powerful glitch hope pattern that really takes the back seat on the track, highlighting the vocals and the orchestral strings featured in the piece. The production on this one is absolutely incredible, and it's hard to describe. On this EP, KOAN Sound and Asa have managed to create a very orchestral and organically acoustic collection of songs, while still working the electronic music elements into each track and making it work.
Feugo
'Fuego' features one of the slickest tracks KOAN Sound have ever worked on. While the cleverly worked track forgoes the use of build ups, the bass on this is phenomenal. The track is in this continual cycle of drops and breakdowns, making the contrast in sound very unique. You're being tossed around from these funky synth breaks right back into their brain melting drops.
Tetsuo's Redemption
At the climax of the EP, nothing is held back. The subtle hints of bass we hear throughout the EP are blown out of the water on this track. With nothing but massive glitch hop bass waves and the drumkit to add to the track, the climax of the track is the filthiest on it. With a low, crisp bassline with the cuts, breaks and warps, this track is truly the KOAN Sound banger they founded themselves on.
"Follow" KOAN Sound: | Facebook | Twitter |
"Follow" Asa: | Facebook | Twitter |
Comments
comments