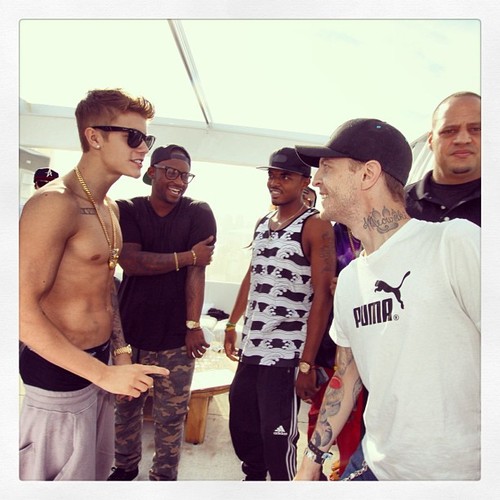 Deadmau5 is one man who cannot seem to keep his name out of the media, not that he tries very hard to keep stories from popping up.
In the middle of the allegations that Bieber attacked DJ Michael Woods and his management during a DJ set at a nightclub in South Korea, Deadmau5 took to Twitter yesterday to put the young pop singer in his place for his outrageous antics.
"Dear @justinbieber , would you please grow the fuck up already? In the meantime, put a shirt on, and stay away from nightclubs."
When a fan asked Deadmau5 what exactly caused the attack towards Bieber on Twitter, Deadmau5 responded "He threw a punch at a fellow Dj because he wouldn't play hip hop. Someone needs to shut that kid down."
After sending out the first three tweets below, Deadmau5 gained the attention of the Bieber fan base, fueling the fire that is currently spreading out of control. The Mau5 has been battling the Bieber fans ever since, and had one main message for them: "F**k Off."
Shots fired.
Dear @justinbieber , would you please grow the fuck up already? In the meantime, put a shirt on, and stay away from nightclubs.

— deadmau5 (@deadmau5) October 12, 2013
Someone needs to jump on Justin's stage and start telling him what to play. I apologize on behalf of Canada.

— deadmau5 (@deadmau5) October 12, 2013
I'm sorry, but if you got up in my face while I was performing, and demanded me to play some bullshit, I'd probably punch you in the neck.

— deadmau5 (@deadmau5) October 12, 2013
dear 'every JB fan in existence' now that i have your attention, and i do. (which was easy to get) all i want to say is: Bacon. now fuck off

— deadmau5 (@deadmau5) October 13, 2013
Ok kids. You got me. I'm just jealous that I will never be able to hire writers and producers to make me a chart topper. That's about it.

— deadmau5 (@deadmau5) October 12, 2013
Comments
comments