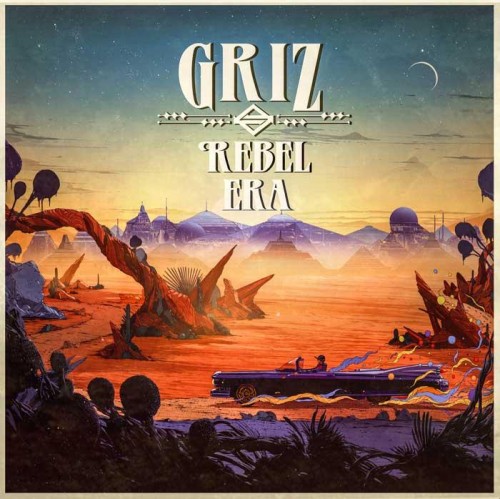 I've been saying for a while now that the future of electronic music lies in the domain of using live instruments and fusing jazz and funk influences with the sound of bass music. This is a sound that not many artists have been able to create, and Griz is the first major name to release an album in this style (Gramatik and Big Gigantic have similar ones coming out soon as well). This album is a phenomenal followup to last year's 'Mad Liberation,' and shows a really cool progression of Griz's signature sound. It is funky, fresh, and full of funky guitar licks and bomb ass horn solos, not to mention heavy bass drops. Best of all, this album is FREE, and is miles ahead of most of this year's paid releases in terms of forward-thinking style and complexity.
Griz – Rebel Era | Download |
1. Gettin' Live
This was the first single released from this album and kicks things off to a very strong start. If you don't already know this track, you're doing it wrong, as it was one of the best releases of the year up until now for fans of bass music. In case you weren't aware, that's Griz himself playing the sax, which just adds a further dynamic to the presence and energy of his live show.
2. Hard Times
This track is so bluesy and awesome. You can tell from the guitar and marimba intro that its going have a really sexy funk vibe, and it does not disappoint. One thing I love about this style of music, and especially Griz's personal style, is how it manages to be really laid back and groovy while still bringing a ton of energy to the table. This track could easily be the soundtrack to a long car ride on a sunny day, or make a festival crowd go wild, and that versatility is a very impressive feat.
3. Feel The Love
This track is definitely on the chiller side, and reminds me a little bit of something Pretty Lights might do, except less glitchy and more jazzy. I'm pretty sure the 'Ahh Yeah' sample is the same one from the Grizmatik track 'Digital Liberation is Mad Freedom,' but its used in a completely different way here. The way the electric bass and synth bass sounds go back and forth throughout the track gives it a really cool flow.
4. DTW to DIA (The Travels of Mr. B)
This track is funky as hell and definitely one of the strongest on the album. The mixture of sax lines and all over the place bass sounds give it a unique flavor that take me back to some of early experiences with bass music partying to a Big Gigantic set at Camp Bisco a couple summers ago. It also samples 'Play That Funky Music, White Boy,' which is very appropriate.
5. Simple (ft. The Floozies)
This album is the first release on Griz's new label Liberated Music, and the second will be The Floozies' upcoming album. If you haven't checked out The Floozies, definitely click that link, because they are awesome. This track, which features them, has a different vibe than the rest of the album thanks to their guitar and drum stylings, and its really cool to see the styles of two groups that are so different come together like this. 'Simple' has a more spacey, epic feel than most of the other tracks on the album, and is a nice interlude from Griz's usual sound (not that I could ever get tired of his usual sound).
6. Dance With Me
This track again utilizes a combination of synth bass and electric bass sounds that give the backbeat a really cool timbre. When the dueling sax and guitar parts come in, the energy starts to grow, and then, instead of exploding, simmers into a cooled off funk groove with some awesome vocoder lines. This track is heavier and slower than most of the others, and has a hypnotic style that keeps your head nodding.
7. Do My Thang
This track has one of the coolest basslines I've heard in a while, which really showcases Griz's unique take on the typical modulated bass sounds that a lot of other producers use. It's short and simple, but pretty cool too.
8. Too Young For Tragedy, Pt. II
'Too Young for Tragedy' was one of the strongest tracks on his first album, and while the original's slow, tense build can't be replaced, the spacey groove of the updated version is equally cool, and I could see how he might use both together in a live show with very interesting results. This is definitely another favorite for me on this album, the bouncy synth lines serve as a nice contrast to the wailing guitars and wobbly basslines.
9. Crime In The City
This track could have been in the soundtrack to the new Tron movie. It makes me picture myself riding a motorcycle through a city at midnight, especially at the breakdown. I've already said it, but I love the way every track on this album completely has its own vibe. The fact that this, 'Simple,' and 'Gettin' Live' are all on the same free album is proof of Griz's genius. There are tons of producers charging money for their music that don't see that kind of diversity over the course of their entire careers. The half-time drop at the end is also nuts and pretty unexpected.
10. Keep The Dream Alive
Wow. This track is 9 minutes of pure beauty. There is no question, this is my favorite on the album. It manages to be heavy and introspective at the same time, and uses a ton of cool timbres I've never heard before. If you're going to listen to any track on this album, make it this one, and listen to the whole thing uninterrupted. It'll be worth it.
11. How It Ends (ft. Dominic Lalli)
This is another very chill track that hits the sweet spot between jazzy hip hop and space-funk. It has a very cool drumbeat, and some fine sax work courtesy of the stage left half of Big Gigantic. This is a fitting end to an awesome album.
Overall, this is an incredibly cool, progressive album and I look forward to hearing more artists explore similar sounds. Be sure to snag the download above and check out Griz's social media below, as well as his new record label Liberated Music.
"Follow" Griz: | Facebook | Twitter | Soundcloud |
Comments
comments