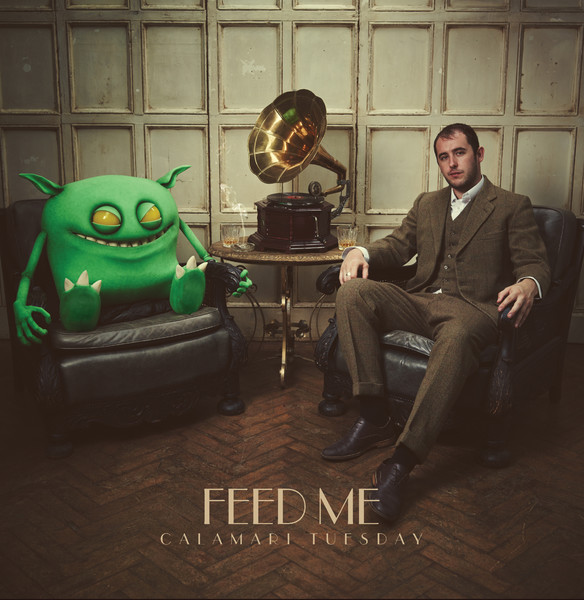 Over the course of the past two and a half years, Feed Me, Jon Gooch, Spor, whichever alias you're more comfortable with, has travelled the world as a performer. This album, Calamari Tuesday has been released as a collection of songs that have come about from his experiences, inspirations and travels from having spent so much time on the road. The result is a masterpiece.
In this album there's something for everyone with experimentations with a lot of different sounds. There are the hardcore bass driven songs, the more acoustic and funky infused tracks, and the dark melancholic interludes. Using a balance of instrumental tracks and ones featuring vocalists, Feed Me has created one of the better albums this year.
After having listened to this album several times through since receiving it, we can without a doubt say that we love it. On every single track you can hear the hints of how personal the tracks are, and how they could relate to the travels of Jon Gooch. So much emotion poured consistently and cleverly into fifteen tracks is a high standard to hold, and we're glad that Feed Me made the effort, and even more glad that it paid off.
Check out our track by track review after the jump where we'll break down each song and tell you which ones are our favorites. We highly suggest you go and pick the album up on iTunes below.
Feed Me – Calamari Tuesday | iTunes |
Orion
There is always a great deal of expectation placed on the opening track of an album. With Feed Me, we get somewhat what we expect. On 'Orion', we get this stretched out, cinematic build up to open the album, then just before the halfway mark of the track, we get the drop. With some kind of outer space funky sounds and a building drum beat, the warping, powerful low end on this track shines through and we get the classic Feed Me sound.
Death By Robot
Featured back in January with 'Dialup Days' and 'Gravel', this one has been a favorite of ours since its release. 'Death By Robot' takes a more upbeat approach to the song and features some funky future rock, mixed with electronic tones as well as really cool talkbox vocals which Feed Me himself did.
Lonely Mountain
'Lonely Mountain' is by far one of our top picks from the album. When Feed Me previewed this one last week he said it was one of his proudest achievements as a musician. From the delicate melodies he starts the piece with all the way to the climax of the masterpiece, where we're assaulted by an array of rock-infused synth attacks as well as the wobbles, warps and and mosh pit worthy-vibes.
Ebb & Flow (feat. Tasha Baxter)
It seems that the further we're getting in to the album, the more filth Feed Me is exposing, almost like he's trying to warm up a wider audience than he's used to. 'Ebb & Flow' featuring the South African vocalist Tasha Baxter, this track is the perfect example of a dubstep banger. While maintaining so much musicality, and still creating a screeching monster of a drop, this track comes together nicely. The song really throws you from post; between drumkit breakdowns, filthy bass drops, and emotive vocals, this is one to satisfy the bassheads with ease.
Rat Trap
'Rat Trap' seems to have been treated as the overall tester track for the album. Having spent some time to play it during his recent performances, this seems to be one of the more hyped tracks on Calamari Tuesday. Taking a more anti-drop mentality to the track, 'Rat Trap' comes off as more of an interlude than anything, and a damn good one at that. With the menacing brass-sounding booms, as well as the outer space leads dominating the higher range, this track is another anchor in the album.
Ophelia (feat. Yadi)'
In this jam, Feed Me gets a little more experimental, swaying more and more from his normal sound. With the spacey vocals, and the catchy brass line combined with the top line of synths, this is one of the more fresh tracks on the album. While it doesn't have a massive drop, it's clear that the translation from world experiences to sound has been made flawlessly.
Chinchilla
Again taking to an instrumental track, Feed Me always is able to have these instrumental tracks seems so complete without the assistance of vocals. Using a near glitch hop structure, Gooch is able to create a driving, upbeat track with such a combination of prominent sounds. Elements such as chopped vocals, slick electric guitar lines, as well as the growling bass that we all love and enjoy all come together to synthesize 'Chinchilla'.
In The Bin
Taking a much grimier approach straight off the bat before emerging into a surreal sounding break with male vocal work, this one instantly had me feeling like I was listening to some old school Gorillaz. With a purely synth and drum kit based drop this song really sounds like a combination of so many artists' sounds. Whether that's a good thing or not we aren't entirely sure, but we love it nonetheless.
Fiasco
'Fiasco' opens with a much more comedic tone, and the opening vocal sampling is outrageously good. The track develops relatively quickly and drops into a massive, orchestral and melodic line where we hear the same motif repeated and further modified, with all these cool rock infused dubstep lines. Feed Me soon mellows it down with a breathtaking piano line before building back up to another drop.
Love Is All I Got (feat. Crystal Fighters)
We've known this song for several months now, and it's become one of the coolest songs of the year. Taking a completely different take at his usual sound, Feed Me creates a much more acoustic track while working with the Crystal Fighters. For the hardcore Feed Me fans, you'll still find yourselves fairly satisfied with the drop. The combination of acoustic guitar and the bass is so fresh and eclectic that we find a truly timeless track.
Short Skirt
'Short Skirt' instantly sounds like this old school hip-hop instrumental track, with so many fresh sounding lines. With some very cool sample manipulation, Feed Me again uses chopped up vocals to create a very cool picture. The break also features some very cool effects thrown on the guitar before we're thrown back into the freshest drop on the album. The thing that's so great about 'Short Skirt' is its soulful, funky and still packs a decent groove.
No Grip
'No Grip' is so tight and slick. With crisp bass and screeching top lines, the drop on this is my favorite on the entire album. You get the upbeat groove and the low, swirling monster of a bass lines that is so bold and so heavy that drives your brain into euphoria. Using his piano melodies to captivate and control the energy and emotion of the listener, Feed Me brings the drop back in overdrive mode, with stuttering, mosh pit worthy lines to wrap up the song.
Onstuh
Before bringing his album to a close, Feed Me goes out with a bang. 'Onstuh' is the loud, in your face, bass heavy style that we can't seem to get enough of. With very cool piano melodies and these incredible build ups, Feed Me goes balls to the wall with this funky, disco infused drop that has the low growls, the high synth leads and everything a listener wants.
Last Requests (feat. Jenna G.)
Taking another swing at a song that exposes more beauty, melody and intricacy, Feed Me brings in Jenna G for a powerful vocal line. As a result of this he takes the back seat on his part, working with the piano chord progression to compliment her lyrical work and put the spotlight on her. 'Last Requests' is definitely a bittersweet title considering Feed Me's announcement earlier this year to wind down his music career for a while to pursue other projects. The climactic song is a perfect one to wrap up his album. While the track boasts an ominous eight minute length, it doesn't seem like it's that long, but rather a worthy goodbye.
"Follow" Feed Me: | Facebook | Twitter | Soundcloud |
Comments
comments