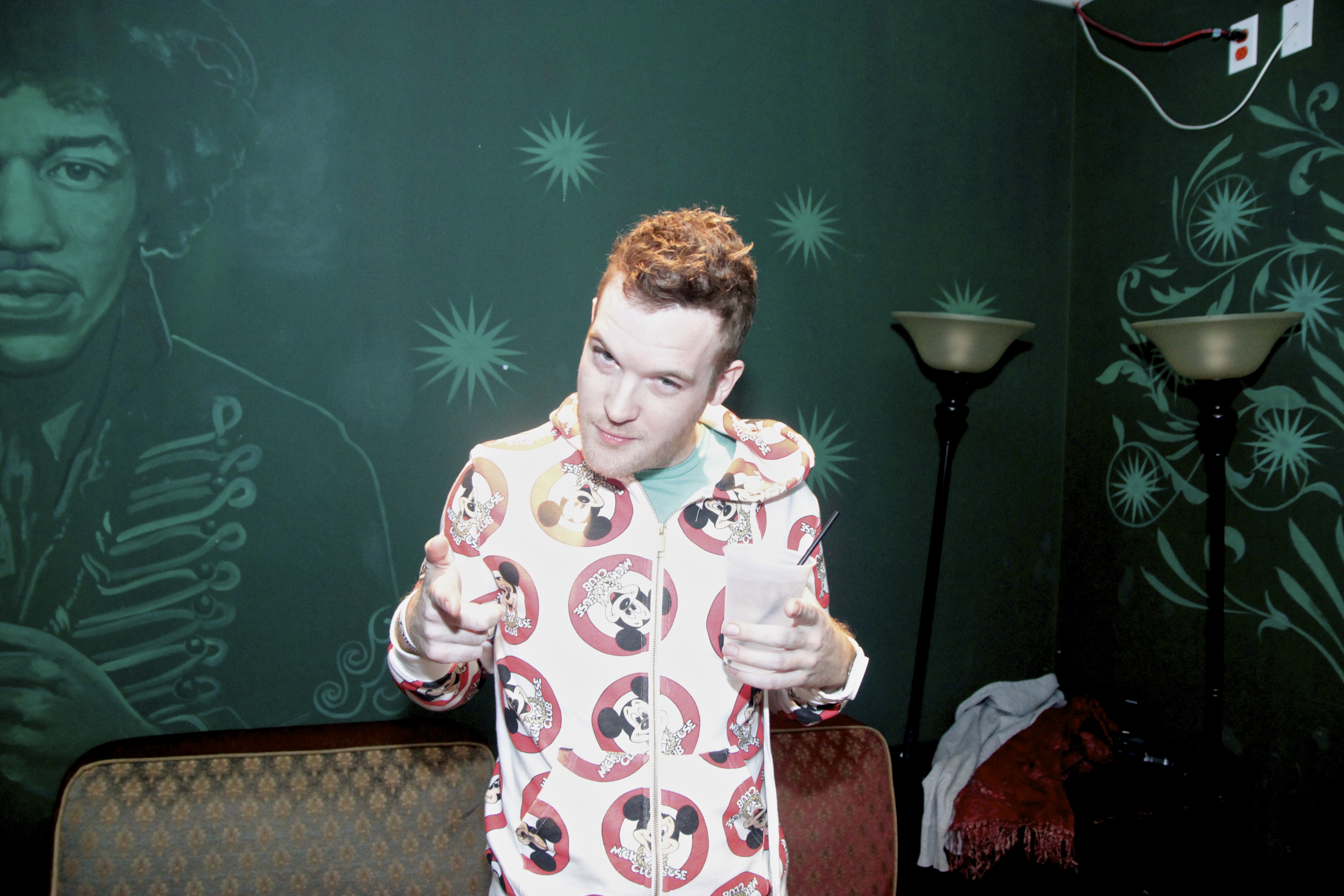 Last week in Boston, we had the pleasure to catch one of the hottest tours in North America right now. Rusko's Lift Me Up Tour hit the Boston House Of Blues hard and we had a chance to catch up with the legendary Rusko and ask him a few questions. Check out our conversation with Rusko after the jump and listen along if you'd like!
TSS: Frist question I always like to ask is what are the questions you hate being asked?

Rusko: Oh that's a good first question, I used to always hate, always always always hate 'what's the future of Dubstep?' that was always one that I particularly hated because it's so hard to answer. It's really hard to speak for a whole genre. I used to hate that quite a lot. There's nothing that's too bad. You're good.

TSS: My biggest question is, not so much Dubstep, what's the future of Rusko? What up coming releases do you have, collaborations, anything of the sort.

Rusko: Awesome, umm just Drum and Bass right now, I've got another Drum and Bass release planned later on in the year, hopefully before the end of the tour. I tried to finish it before I came on the tour but didn't quite manage it which was kind of annoying. Hopefully around Christmas time I'm gonna release some more tracks on the website for free, I think I'm gonna do another free online website release.

TSS: Is that gonna be through OWSLA?

Rusko: No OWSLA was just a one release. I've been talking to Hospital Records about doing a single with them later in the year or in January, that kind of time. Yeah OWSLA was just a one off kind if single EP, because I really like the label. I really love Hospital Records, they're a legendary Drum and Bass label you know. So I've been in touch with them just like 'hey I'd love to do a single just a one off' so right now I'm just enjoying not being tied down to anyone. Just kind of want to do some releases with some labels that I like and just kind of do stuff for friends. It's a little bit more organic than having to deliver an album this year, for this record label. And I have been offered album deals, you know like bigger label deals to make more albums and stuff but right now I just want to play the field a little bit just not be tied down to anyone like I have like no contracts at all right now.

TSS: That must be kind of free for you then.

Rusko: It's nice yeah it's awesome yeah no labels or that kind of thing. Except for the dude that books my gigs I'm pretty much a free agent which is awesome. Yeah I'm kinda free to do a bunch of stuff I've been playing in a band recently.

TSS: Really? What kind of band?

Rusko: Like a rock band kinda like a punk rock band but with synths. Like kind of like synth punk if you will, kinda thing. But yeah the dude from Bad Religion plays guitar we have the bass player from Strung Out and a bunch of other bands and stuff. Yeah as well as working on a bunch of Drum and Bass stuff to play on the tour, we've been working on that.

TSS: Are you guys gonna release anything?

Rusko: Yeah totally before the end of the year that's the plan.

TSS: What's the name of the band?

Rusko: The band is called El Capitan. I play guitar and sing.

TSS: So you're a singer?

Rusko: I do sing, not all of the singing but quite a bit of the singing. It's nice to do something totally different. Yeah, that's why I didn't get as much stuff finished as I wanted to because I've been kinda rocking out, but it's cool because I did that when I was a kid and now I'm doing it again and like I'm nearly 30 and I'm rocking out again. It's kinda cool. It's really cool, it's really really cool. But everyone is like a complete stoner. We are all in Cali and most of the songs are about weed and El Captian is actually the highest point in California and we're like the fucking highest band in California. So that's pretty much the story behind that. For real that's the truth. That's kind of fun so yeah just literally a little bit of everything right now.

TSS: You're having a fucking blast. That's cool. You're one of the only producers that I think we both know that are kinda living it up right now and shopping around and doing it freely. Everyone we know is to a label.

Rusko: Yeah or doing their own label and kinda bringing other artists on and being part of a camp. When I was releasing records with Mad Decent, I always made an effort (not in like a bad way) I always made an effort not to play the Mad Decent events, the Mad Decent Block Party and that kind of stuff. Like I released music on the label but I never wanted to be part of a crew. Being part of a duo with Caspa was great for years and years and years but that's as far as I would go. I like being part of a duo but being part of a crew it's cool and it's great for some people, some people kinda need other people to tag along with or play off or whatever you know? But aside from the fun times with Caspa I've never really wanted to be part of a crew so even though I did have a contract and released two albums with him, I always made an effort to politely decline to do a lot of the 'bro down crew events' and stuff like that.

TSS: We actually had one of our authors wanted to ask you a question if you would ever team up with Caspa again and do some shows.

Rusko: Totally. Absolutely. I was with him a couple months ago actually we are still actually really close we stay great friends. Last time I was in London I went out to dinner with his parents and always keep in touch with each others family. We worked so closely for so long we did the label together as well as obviously the gigs and the tunes so really it was like every aspect of Monday to Sunday life we were pretty much together so we know each other's families and all that kind of stuff and you can't really turn off a kind of friendship like that so. Even though we've both been doing our separate things, he's Mr. Label right now. He's running the Dub Police night at Fabric in London which sells out every single month. They sell out like 3,000 person club in London, they have a big album coming out so he's gonna be Mr. Label man. He got married last year and he's doing his label thing right now. I'm just like doing the complete opposite, I'm like 'fuck the labels I'm just gonna do what the fuck I want yeah!' it's good.

TSS: With a lot of artists teaming up and forming new duos, are there any artists that you would want to team up or are you teaming up with anyone?

Rusko: I've been trying. I've been trying. There's a guy from Germany called Serious Mo who releases on Modeselektor's label, Monkey Town. He's absolutely amazing. Absolutely amazing. I've played gigs with him but he's a total recluse. He only does gigs like in his area of Germany, doesn't speak much english, haha…but yeah I know for real the only way I talk to this guy is in German, it's deep, but I absolutely adore his music and I love it and I've been trying to work on a track with him for like the longest time ever but the only way I can contact him is through the Modeselektor guys, he's like not on the phone just kind of like one of those out there guys. But he makes the most cartoony kinda squeaky like happy like, I just think we would make like the funnest music ever. We both just kinda make music where the sole purpose is fun, it's not really serious music. I mean it's serious music in that we take it serious but really it's fun music. He makes really fun music and I think we would just do something really silly and fun. So I've been trying to make that happen for years and years and years but what I'd really like to do is find like a wicked vocalist, like a really really cool singer that can just do all kinds of stuff that nobody knows and just kinda create a little partnership. That would be really cool to do like a whole album with like a totally new singer and rather than it just be their album produced by Rusko it would be like a double act you know? That would be really cool. But like I said playing in the band you're playing with another 4 guys is just a trip. You know I spend most of the time in a room on my own, by choice, banging away at a keyboard in front of my screen you know. So yeah totally, this next coming up year I plan to do some interesting collabs and I want to find that I want to do that kind of how Dr. Dre found Eminem. Like I wanna like watch YouTube videos like find like some crazy kid from some crazy country who's just amazing. You know? Like I really wanna do that but then like make the most amazing record. Something really Souly like a real Soul record but like Electronic. But without going into like RnB territory or anything like that. Like real actual like Mo Towny up town, up tempo kinda Soul records but with Electronic elements that would be really cool I'd love to do that. Find someone who can really sing and sing like Ray Charles or something you know and just do something like totally out there. That would be great but right now I have an open playing field, that's why I'm thinking of all these things like 'hmmm might write a TV Show.'

TSS: I kinda wish more artists would take that approach honestly now that I think about it.

Rusko: Yeah. It's total openness.

TSS: So touring with Roni Size how's that been?

Rusko: Awesome! Amazing! Awesome, awesome. When I came out, like the whole idea was pushing Drum and Bass on this tour and pushing the Drum and Bass EP and everything like coming out on the tour I was like Roni Size or Goldie that's the like the 2 most well known most legendary originators in the genre and then to get Roni was like an absolute dream it was like the best best best best best. That was exactly what I wanted to do you know? To give it like a bunch of history and kind of, it's kind of how I wanted to structure the show. Like the history of the genre and a proper introduction to it and then the future, to kind of bring it all as one package. But even just for myself as well. He's been making tunes everyday. Like I slack when I'm on the road, I party too much, I sleep in too late, I'm fucking hungover and you know like he's up everyday flippin making tunes everyday and I've been like, had so many little ideas I've been putting down on my iPad and stuff. Just generally, in the last, barely even 2 weeks we've been on the road he's filled my head with so many idea, like everyday has so many ideas musical crazy man. Yeah he's one of those deep deep deep guys. I get a bit carried away with the partying. I need to book a couple of months off if I'm gonna get deep into the music, you know, too deep into the partying right now.

TSS: So this is a controversial topic recently, dealing with amphetamines and Molly specifically, a lot of DJ's have shied away answering the question but with you and Ezoo day 3, your set was canceled, what's your thought on amphetamines and Molly and with Electronic Dance Music.

Rusko: Well Molly is not really an amphetamine. I mean there's a lot of amphetamines in Molly but not technically MDMA it's not an amphetamine. Is it? No it's not right it's a different class. But there is a lot of amphetamines, has there's been a rising of a lot of speed in the raves? Because that's mainly a European thing.

TSS: It's coming over, everything comes to the United States late. We get it lagged pretty much.

Rusko: Yeah. I mean it's just cheaper the thing with speed is it's like dirty. A lot of the Molly has become more popular and the more popular a drug gets the worse the quality is. So as Molly has gotten more popular it's been cut with speed because speed is the closest effect to MDMA but that amphetamine high is horrible and dirty and you know that's what lasts for ages and makes you not sleep and you know. If you actually got real pure MDMA if it was actually the pure element MDMA in the Molly rolls that you take, you'd be able to sleep fine like you wouldn't have the jitters or like the shakes and everything that's because so much of it is cut with amphetamines you know? And if there was more regulation like in Holland and Amsterdam and around there they have in every city in the country they have little drug testing kits and centers and you can just get them for free. Just to say you know you'd get a pack just the same as you would get anything else and they're like everywhere and because of that the quality of the drugs is so high. Like on a Friday afternoon before going out on a Friday night they'll test the Molly and if it's cut with whatever they won't do it and because it's so readily available no one tries to sell shit because they know everyone's gonna test it. You know? But I think it's a million years before American clinics that give away free condoms and stuff like that for birth control, they should be giving away free drug testing kits! Because that's what it was and that's what it was at Electric Zoo by all accounts, the main account that I heard, is that it was a bad batch, it was the same bad batch and it wasn't pure MDMA. MDMA is not the problem, it's the shit they're cutting it with, which is mainly amphetamines and God knows what else and that's the shit that's addictive, that's the shit that makes you feel ill, the dehydration. Pure MDMA on it's own is not actually that harmful, you know? And that's the problem. But I think it's a million years before that, if the same clinics that gave out free condoms to kids in schools when they're 16 and 17, they do that here in this country right? They do that in Europe of course. If those clinics gave out free drug testing kits to the same 16 year olds like they do in Holland and the Netherlands, then it would solve a lot of the problems. Kids wouldn't take that shitty MDMA because they'd see what shit was in it. But the American Government I don't think will do that. I mean the British government would probably never do that you know? The Dutch, you know obviously Amsterdam and everything they're famous for being very progressive but, that's really the issue. If they were to do that, that would like, solve a lot of problems.
After getting some great insight from Chris, it was time to hit the stage and watch the legendary Roni Size rock Boston's biggest venue! This was my first all DnB show and I was blown away and honored to be in the presence of a pioneer of this genre. It was a blessing to watch Roni put on an amazing DnB set.
Right after that it was time for the nights headliner…Rusko. Every time I've seen Rusko play I come away and have a great appreciation for his music and his talent. This night was no different either. Rusko absolutely crushed his set and had the crowd going crazy from beginning to end. If the Lift Me Up Tour comes even remotely close to you, we highly suggest you stop by and indulge yourself in what is sure to be an unforgettable night.
PS. Best dance moves while behind the decks goes to Rusko. That man has moves!
Comments
comments