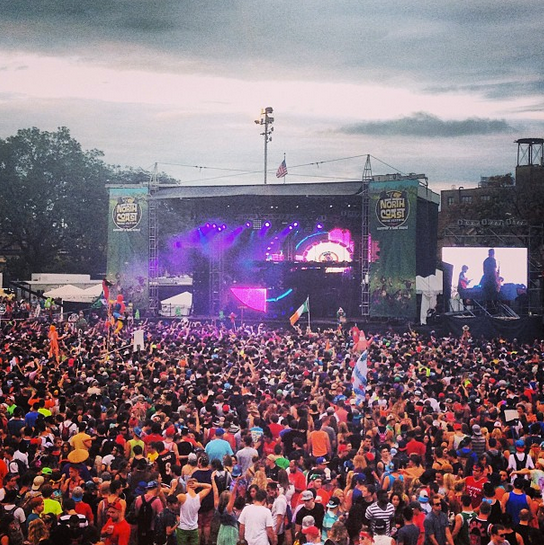 Where to begin… Well North Coast Music Festival took place labor weekend at Union Park in Chicago, Illinois. The festival had 5 stages that was a mixture of hip hop to EDM to jam band ish acts. There was also live art being created as well as some really cool vendors. Day 1 was almost a complete bust due to the raining of small cars and large babies. We didn't leave for the festival till around 8pm on Friday night and when we finally arrived Paper Diamond was on stage just killing it. Which definitely made the night a turn for the better. Read more after the jump!

I didn't bring my camera that night so you won't see any good footage from Fridays lineup unfortunately. The next day was a completely different story. The sun came out and it was absolutely sensational. First group we saw was one of our favorites here at TSS the Canadian duo from Toronto, DVBBS! They were literally breaking stages and sending rock n roll further into the stone ages. Next we spent pretty much all day with Seven Lions as he brought me to tears when he played one of my favorite tracks of all time, "Strangers" which you can listen to HERE. Got some great pictures by both of our photographers oh his entire set. Other memorable acts from Saturday was Nas and Big Gigantic who were of course just incredible.
Sunday, Day 3: We made it out for A-Trak first and he really had a great stage presence. He obviously played a lot of Yeezus and had some other great tracks as well. Next we saw the one and only MADEON! I was fortunate enough to meet him back stage and grab a picture with him. Yes it did make my life if you are wondering. Such a prodigy it is unreal. Then we made our way over to the stage where Cherub was playing and we really enjoyed what they did with the set and those guitars always get me. Purity Ring and Wu Tang were mind blowing. They really do save the best for last. Seeing like 50 guys rapping on stage at the same time and it actually sounding good is quite a feat. I was thoroughly impressed with everything Wu Tang did.
Overall the show was great, the lineup was diverse and we highly recommend you go next year if you didn't get out this year. Make sure to check out the album we uploaded on our Facebook group too!
Comments
comments

<!-comments-button-->