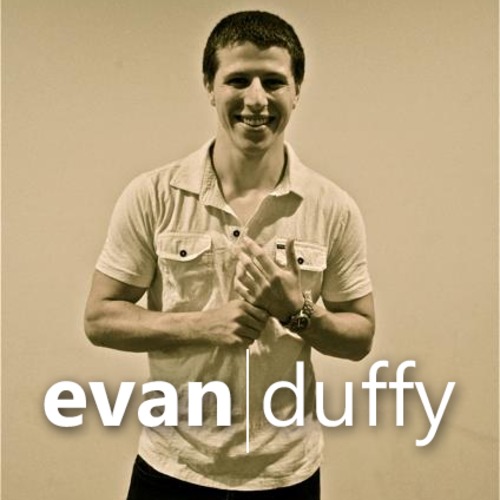 We recently sat down with Evan Duffy for some much overdue questions. For those of you unaware, Evan Duffy is a brilliant piano player and composer, who also does a lot of beautiful arrangements of EDM tunes and has even worked with guys like Kill The Noise, Krewella, and even Afrojack! He also recently uploaded an arrangement of 'Wake Me Up' which is also very cool!
You can read our interview with Evan after the jump!

Who are you?
I'm Evan Duffy, film composer, pianist, arranger, sometimes-YouTuber!
What has you most excited about the reception of this track?
Those who follow my channel know that I don't often do collaborations, so getting to work with Skylar Stecker on this was a real pleasure. She's an amazing singer and we had a blast working on the video. Definitely taking the back-seat and serving more of an accompanying role was fun.
How were you first introduced to EDM?
One of my best friends from college was attempting to get me to stop being such a stuck-up classical kid. It worked, and I'm glad! I still love all the same genres of music I did before (and I wouldn't even say I listen to electronic music as the majority), but it's helped to make me a more well-rounded musician.
What do you look for in a track that makes you want to cover it?
I'm a harmony guy. Obviously everyone loves a good melody, but when a track has a great chord structure, I'm in. In a more "marketing" way, I also make sure to pick songs that I know my audience will enjoy and relate to… there is definitely a give in take between my listeners and myself. Sometimes I'll do something way off the beaten path and then come back with something huge that will have a wider appeal. Generally I keep it in the more moderate taste-range, though!
You really came into your own with your unique piano covers, what prompted you to start that?
We can thank that very same friend who introduced me to electronic music for this. I always have loved playing things by ear and re-arranging them, so when I started listening to electronic music I began applying those same twists there as well. It all started out as a party trick, kind of. Before going out in college we'd all pregame and then someone would request a song… 30-45 minutes later everyone was playing their favorites and having me arrange on the fly! My buddy saw all this and believed a lot more people would actually like this… he told me to throw them on YouTube and the rest is history!
How do you find the bridge between EDM and piano?
Despite the heavy synthetic, sampled, distorted, etc. quality of a lot of electronic music, it is all still just that… MUSIC. It isn't too hard to get the general harmonic/melodic elements down for 99% of the electronic songs I work on. I have all the fun translating it to piano and figuring out new ways to re-create or re-imagine those elements. In some cases transcribing seemingly atonal basslines. That's always a nice challenge.
What is your creative process for writing music?
I don't go about it exactly the same way every time, and every composition is different, but I generally start with improvisation. Once I get a good idea or two I'll transition over to the more "craft" based approach (i.e. figuring out proper voicings, instrumentation, countermelodies, etc.).
Who are your inspirations in terms of other artists and their music?
I'm a huge fan of Billy Joel, Michael Giacchino, Bon Iver and John Mayer… pretty far from the electronic music scene, I know. For classical music I really enjoy Prokofiev, Mozart, Chopin, and Copland. As for other electronic artists: Zedd, Deadmau5, and Madeon to name a few.
If you could only listen to 5 songs for a week what would they be?
Ahh! I'm so bad at these "best of" lists. For the sake of variety (and therefore sanity), I'd have a nice mix:
1. Tchaikovsky – Symphony No.5, II – Andante cantabile
2. Alan Silvestri – Suite to Forest Gump
3. Skrillex – With You Friends (Long Drive)
4. John Mayer – Vultures
5. Billy Joel – Vienna
What advice would you give to upcoming producers and musicians?
It's hard to give advice directly to those seeking to be electronic music producers because, although I have worked with many, I am not one myself (nor am I aspiring to be). Instead I'll give some general advice for those seeking to pursue music, or any other industry for that matter.

I think that the best thing anyone can do is set a goal and make a plan to achieve it. Simple, I know. Be very patient and allow yourself the time to work everything out. Learn your art, study the craft behind it, enthusiastically (yet not annoyingly) network yourself, be passionate, and be someone people want to work with. You don't have to be the most talented person (there will always be someone better!), you just have to figure out what your strengths are and play to them. Always enjoy what you do.
Who would you most like to work with?
There will always be a list of those artists I aspire to work with, but I've been so fortunate to have already worked with a lot who I've always had tons of respect for such as Krewella, Afrojack, and Kill the Noise. That being said, I would love to write with Madeon and Zedd. Those are two guys who I am continuously in awe of. Such amazing talents. I think we could do something pretty cool! And Zedd is a fellow piano dude!
What's your dream show/venue to play at?
I'm much more focused on composition and arranging these days, but I still love performing. I would love to one day have my music played in Carnegie Hall or at the Hollywood Bowl or some other iconic concert venue. Playing at huge amphitheatres would be awesome, but I love the more intimate classical/orchestra halls.
How was it to work with someone like Jake (Kill The Noise) on To Be Continued on his Saturn EP?
Jake is such a great guy. I give him so much thanks as he was probably the very first producer that did a double take after my videos and was crazy enough to think "well maybe there's something here." Basically how it all came about was I did an arrangement of his Spitfire remix and he loved it and hit me up to get the audio for use in his sets. After some exchanges on twitter he shot me an email asking about doing something with him for the Black Magic EP. Hope to work with him again soon!
What does a day in the life of Evan Duffy look like?
Ah man! I'm so boring and now the whole world will know! I have the weirdest sleep schedules, but no matter what time I wake up I always go and find some source of caffeine, then (depending on what I have scheduled for the day) head back and do some writing. Procrastinate on reddit/twitter for a bit, then more writing. Practice some piano and maybe hang out with some friends. Convince myself that I don't need that $300+ of audio software/equipment I've been eyeing, then writing until maybe 2am-4am depending on what my next morning is like. I'm such a night owl with music. 10pm-3am is easily my most productive time.
Would you rather face one hundred duck sized horses, or one horse sized duck?
Definitely one hundred duck sized horses. Definitely.

Thanks so much for the questions, Alistair. Was fun answering them, and I'm glad we finally got a chance to catch up!
Comments
comments

<!-comments-button-->