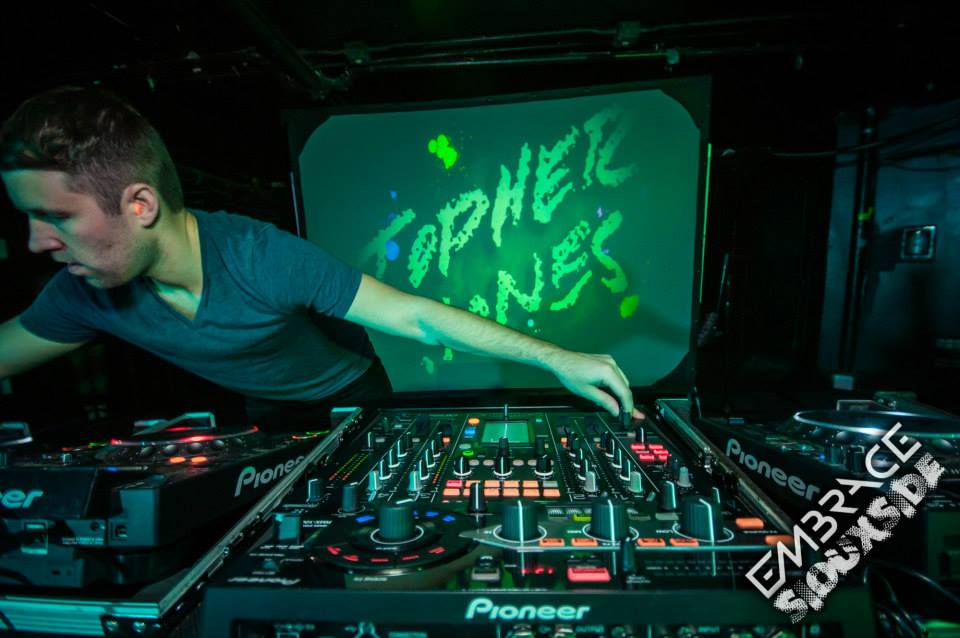 Embrace Boston really kicked off the fall tour dates in Boston with a huge bang! Last week we had the pleasure of seeing some amazing talent roll through the city. This was going to be our first show since all the tragedies happened a couple weeks prior. I was intrigued to see how security would be and how the vibes would be at The Middle East. Not to my surprise, it took quite a long time to get through security, but the overall feel of the crowd and the energy in that venue was amazing!
Tritonal had an unbelievable set as always. I had just had the pleasure of seeing them rock the main stage at Electric Zoo less than a week before. Chad and Dave were having a blast on the decks, dancing, getting weird and getting the crowd to go absolutely crazy. They dropped a couple new songs as well as some of their well known hits. One of the most hyped up tracks was their mashup of Saturn and Thunder! But the real story of the night came before Tritonal stepped on stage.
Topher Jones was opening for Tritonal that evening as part of their Metamorphic Tour. It was my first time being able to see Topher live after being a long time listener of his music. The man brought an insane amount of energy and passion to his set and really gave it his all. It's truly amazing to see someone have so much fun while bringing the joy of music to others. A highly enthused crowd reacted with pure amazement when he dropped unreleased tracks. They had no idea what was hitting them but they loved it. I stood there in awe as I watched Topher mix one of the best sets I had heard in months. Not only is he an insanely talented individual but he is a class act as well. He's so genuine and his love for passionate and meaningful music is so real.
We were fortunate enough to be able to sit down before his set and pick his brain a little. Take a look at our interview with the one and only Topher Jones after the jump!
TSS: So I know you didn't grow up in Chicago, but you are definitely embedded in that scene, as we talked about earlier, you sell out shows. Can you tell me from your perspective what it's like to be in the Chicago dance scene.

Topher: Yeah so I grew up in Indianapolis which is about 2 and a half hours away from Chicago and if you're from the Midwest, Chicago is the capital of the Midwest and everyone loves it. It's an amazing city and so even though I didn't grow up there, everyone from the Midwest loves Chicago, the Midwest doesn't necessarily get a lot of respect on the National level so Chicago is like the one place that everyone knows, so everyone loves Chicago. I've been going to shows up there since I was 18, you know driving up and going to shows and seeing people, because the dance music history in Chicago is incredible, I mean it started there, it's where House music began, it's just rooted in the city. Everyone knows about dance music and there are a million festivals…People like their music and it's a beautiful city with amazing parks and outdoor venues and so it works for these summer festivals and they've all been doing very well. Chicago does a good job on getting things done and keeping them smooth.

TSS: Would you say it's your favorite place to play?

Topher: Oh man, I don't know if I have a favorite place to play, it's hard to say, I mean I love playing there, it's special playing there but it's hard to say Hawaii is not my favorite place to play. The two shows I've played there in the last year, 6,000 people on a beach, 8,000 people on a beach, like how can you not say 'oh yeah that's my favorite place to play!'

TSS: What island was that on?

Topher: It was in Honolulu. Yeah, so I played back in February with Above & Beyond and Manufactured Superstars and then I played a couple weeks ago, it was an all day festivals but the 5 headliners were myself, GTA, Crizzly, Tritonal and Krewella. It was incredible, like I'm sitting there playing and a helicopter flies over and is dropping down like thousands of flower pedals, it was called a flower drop and confetti blasts are cool and CO2 blasts are pretty cool but I don't know how many people can say 'I had a freakin' helicopter dropping flowers down during the intro of my set' and I was like 'this is unbelievable' and you're in Hawaii its hard to beat that. Other places like Orlando, absolutely insane to play. Roxy in Orlando, there's a guy named Matt who's with the Evolve group and they've done an incredible in Orlando of creating this just amazing scene and amazing place to play. San Fran, Ruby Sky, was sold out, that was absolutely bonkers. The next night, Exchange in LA was sold out of 2,000 people, that may be…that might be like my favorite show I ever played, everything was just clicking that night, it was just special on a lot of different levels. But I don't know if I have a favorite place to play. There are lots of different places that are really cool for different reasons. Like I love playing Indianapolis because it's where I grew up.

TSS: You played the Indy 500 right?

Topher: That was insane! With Diplo and Afrojack it was so cool. 13,000 people at like 8 in the morning like yeah this is special! So I don't know if I have a favorite place but there are lots of shows that have been very very special.

TSS: On tour, what's been your favorite show?

Topher: I'll list off my 5 favorite ones: Orlando to kick off the tour, couldn't have asked for a better way to kick it off it was nuts. Dallas was great. San Fran and LA were absolutely insane and Hawaii. Those have to be my 5 favorite.

TSS: Correct me if I'm wrong but this is your first time playing in Boston right?

Topher: Yes first time playing here!

TSS: Are there any other major cities that you would want to travel to and be excited to play for that you haven't yet?

Topher: Umm…I'm trying to think of where I haven't played yet…

TSS: Doesn't even have to be in the U.S. I mean anywhere.

Topher: Oh I mean like I'm excited to do a full fledged European, South America tour, Australia, Asia.

TSS: Do you have any plans for that?

Topher: The profile needs to build a bit more before we start doing that stuff but there are some cool things in the works. The next couple singles are the biggest things I will have released and they are the best and the production is the best on them and the vocals are just absolutely awesome.

TSS: When are those set to drop?

Topher: Umm October and December are the next 2 singles and then album in February.

TSS: Oh an album!?

Topher: Yeah I'll play you guys some previews in a minute.

TSS: Is one of your singles 'Talk About It'

Topher: That's the next one coming out.

TSS: Can you talk about that a little bit? Can you talk about 'Talk About It' haha

Topher: The chorus is 'I don't wanna talk about it' so of course I'm not gonna talk about it haha. I wrote it with a really good friend of mine from England. Her name is Katie Sky and it's so catchy and fun and yeah I mean I'm really excited about it. It will come out in October, probably the second half of October right before the Morgan Page tour. Then the single after that is called 'Falling For You' and that song…man…it's hard to say you have a favorite song but there's something special about that one.

TSS: Well that was actually one of my questions was what is one of your proudest pieces of musical work.

Topher: I think 'Falling For You'… ah man…it's hard, I mean I'll play you some stuff and there's like a wide variety but I think 'Falling For You' as far as record that works on the dance floor and hits home on an emotional level. I mean Hello Chicago, the festival mix, does the same thing for me, I get chills every time I play it no matter where I'm playing it. There's a new club mix of 'Talk About' that I'll play tonight, not the version you heard last time, it's a new mix that I made, it's meant for the club and it's pretty special in a different way. But 'Falling For You' is one where I've never announced it at a show like 'this is my new song Falling For You' or anything like that but I close every show with it and I've never gotten so many tweets about a song that no ones ever heard before. No one knows what it is, no ones heard it, I haven't put up any previews, I haven't talked about it online or anything and after every single show it's like 'What was that song that had falling for you in it what was that please don't catch me 'cause I'm always falling for you what was that what was that!?' and I've got like a hundred screen shots of different tweets, I mean all kinds of stuff and people take videos of it and started tagging me on Instagram and my manger and I are looking at each other like 'this is incredible' no one knows what this is and it just seems to have that 'IT' factor. I'm excited because, when I first finished it I sat there and was like 'this might be the best thing I've ever done' and then when you play it and no one knows what it is and they're like 'what is this I'm obsessed I'm obsessed' I'm glad I was able to take my emotion and like people can relate to that. So for a lot of reasons that is a very very special song. But there are some other stuff on the album that is very special for a different reason. The lyrics and the story behind them are very meaningful and emotional and passionate but, I would never release something I didn't believe in. I think you have different connections to different songs. I love all of the music I put out, but there are some that…I don't know…it's hard to say you have a favorite but you just connect wit them in different ways.

TSS: Do you tell people it's your song when they ask you what it is?

Topher: I mean I have been recently because we have a date for it now. But before then I would just retweet everything that people would say. They'll be like 'what is that song?' and I just hit retweet and not answer any questions.

TSS: So we talked a little bit on your thoughts about what's going on lately in dance music. Do you mind if I just get a quote from you on that?

Topher: It just breaks my heart. I got into dance because I had heard it, and I was like 'I've never heard anything like this' and it was very special and unique and different and I want people to like my music for those reasons, because it hits home for some reason, it's fun, it's catchy, it's emotional or whatever it is. I don't want people to like my music because they take drugs to enjoy it. It breaks my heart when I hear these stories of people, kids, whatever age they are, dying or going to the hospital or getting injured and risking their health and their lives because they wanted to take drugs at a show. I mean if you wanna take drugs I guess that's your choice, I don't agree with it, I think this music is special enough that you don't need anything to enhance it and it's frustrating when irresponsible decisions start to put a damper on the overall experience of how great this music is and the overall perception as well. I really hurt and feel bad for those families and the people that have been injured and effected and I hope that people are watching and can really learn and we can make some serious changes so that stuff like this stops happening because no ones benefitting from it in any way and it's absolutely terrible and when people are dying, stuffs getting very real and it becomes way bigger than just music and I think music needs to be something that brings life and hope and joy and can help people through tough times, not something that is a culture where people are brought into tough times because of something that took place around that music.

TSS: I completely agree and I think it's amazing to hear an artist say that, that's awesome. So we have a signature question we ask every artist at This Song Slaps. We get a bunch of random responses it's kinda funny. Would you rather fight 100 duck sized horses or 1 horse sized duck?

Topher: I'm gonna go with a horse sized duck.

TSS: Any reason behind that?

Topher: Because you can always keep it in your line of sight like you know what's going on. You can see you can plan you can put together some sort of attack. With 100 duck sized horses, you're screwed you don't know what's coming at you whenever. You're done. I feel like I could take a horse sized duck.

TSS: Would you ride it?

Topher: I don't know what I'd do. I'd get a massive loaf of bread throw it to the side, it would get distracted, eat it and then I'd take it down.

TSS: That was a great answer!
There you have it fam! You can expect a lot of new and amazing tunes coming from Topher Jones this year and early next year as well. I can tell you from first hand knowledge, these tracks and this album are going to blow your mind. True music. Below you'll find a link to Topher's Soundcloud that already has some amazing tunes in it. Check it out and give him a listen!
Photo Credit: Siouxside
Comments
comments

<!-comments-button-->