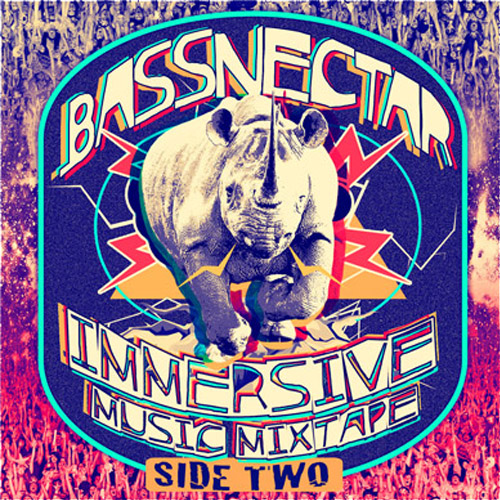 Bassnectar just dropped his latest mixtape, and as usual, has absolutely crushed it. I can't think of another producer/DJ with even close to the level of creativity that Lorrin uses in his mixes, and I can't even begin to find the words to describe it, so I'm just going to use his:
The Immersive Music Mixtape is designed as a two part journey through the broad spectrum of my love for music.

While it isn't all encompassing, it's definitely reflective of both the wild side, and the deeper, more melodic side. I wanted to explore unique ideas or leftfield directions while still bringing the heaviest sound possible, and part of that involves reaching back into the old throwbacks & classics, sampling their magic, and reinventing them with new energy. Twisting it all up into an extended ride through my imagination…

Some of this is mixed like a peak-time set with all levels set to 11, while a lot of it goes deeper than usual; more ethereal, more surreal, more experimental.

Kind of like a sunrise set, in some strange Other World where the sunlight melts your mind. :)
Here's the brand new Side Two!
This mixtape, just like Side 1, was released in support of Bassnectar's Fall Tour, which is sure to be as crazy as always, and you can find ticket and venue info here.
*Click MORE for the full tracklist!*
Bassnectar – Immersive Music Mixtape, Side Two | Download |
Tracklist:
Ming & FS – Retrace (Bassnectar Remix)
Harmonic 313 – Battlestar (Bassnectar Remix)
Bassnectar – Raw Charles
Capital J – The Throwdown (Bassnectar Remix)
Bassnectar – Heads Up (WCLF 2013 Remix)
Bassnectar – Take Ye Down
Bassnectar – Witch Doctor 808
Culprate – Scarred edit
DJ Wonder – ??? (Bassnectar 2013 Redux)
Egyptrixx – Godzilla edit
The Deftones – My Own Summer (Bassnectar Remix)
Bassnectar – Window Seat 2013
Lux – Forgotten Name (Bassnectar Redux)
Telefon Tel Aviv – TTV edit
Mos Def – I Against I [Instrumental edit]
Grimes – Genesis (Bassnectar Remix)
"Follow" Bassnectar: | Facebook | Twitter | Soundcloud |
Comments
comments

<!-comments-button-->