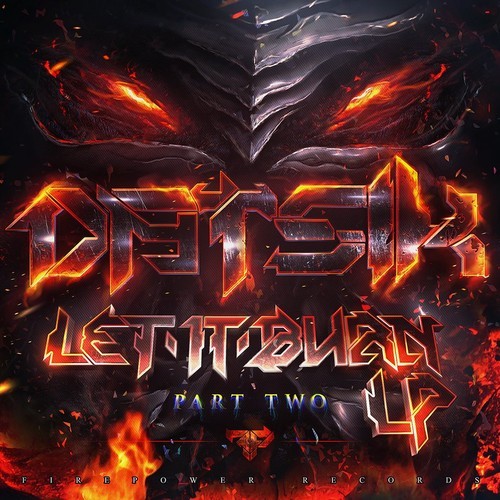 Datsik has been one of my favorite DJs since falling in love with Electronic Music. After hearing "Nuke 'Em," for the first time and really understanding what it meant for music to wobble, Troy Beetles, aka Datsik has been a serious influence in my taste of music. Today, I couldn't be more stoked to say he has released his Let It Burn LP, featuring 10 glorious bass impacted tunes. Opening up with the track "Let It Burn," the LP starts off with what I could best describe as  a hypnotic tease. This track manages to combine the perfect balance of grime with angelic vocals, and ominous bass to create a hard hitting tune that leaves you anxious for the rest of the LP.  From the hauntingly good chanting on "Athena," to the dub electro vibe on "Hold It Down," to even the fast paced track "Closer to the Sun," Let It Burn has further proven why Datsik is a dubstep master and one of my favorite artists. I coudn't contain the insane energy radiating through my bones from track to track as my heart tried to keep up with the massive bass.
Datsik – Let It Burn LP | Download |Buy on iTunes |
As if my heart wasn't already amped on the release of this new LP, I got the chance to sit down with Troy  before his set at Nocturnal Wonderland and pick his brain on everything from his inspirations, musical experiences, and the plans of the future. This is the interview, this is Datstik.
J: Let's start out with a little background info. What's your name and where are you from?
D: My name is Datsik. I'm from Canada. Currently, residing in Los Angeles.
J: Do you think growing up in Canada influenced your taste in music?
D: I would say maybe a little bit. The first real DJ that I really,really ejoyed was Bassnectar. So to say that the music I'm into was from somewhere else, would kind of not really make sense cause I was listening to Bassnectar's music and he is from California. The type of music that I've been writing is based in the UK, it's dubstep-  it's a bit of dubstep , hip hop, and trap and that's kind of like my avenue.
J: Where does the name Datsik come from?
D: I was playing a lot of Xbox and basically had this gamer tag that and I used to have my friends come over and check out some tunes. They would be like "That's sick! That's sick!" and I kind of just put the two together. I started calling myself that on Xbox and I didn't really know, but I kind of just started labeling my tracks as that. I considered changing it, but then my friends said "No,don't change it," so I was like okay.
J: How did you break into the industry? Do you have any story or person you owe for helping you out?
D: There are a lot of people that have helped me out. I'd say the biggest person I owe is my mom because she has always been supportive and where other kids' moms would be freaking out, my mom was supporting it and always been behind me. Yeah, Thanks Mom!
J: When was the moment you realized you could do this for a career?
D: It still doesn't even feel like, I don't know. I mean it is a career, but it's not like it just happened instantly at one point. I've constantly been working to get to this point and for me it's not like I'm not really working my career- it's like I'm working my hobby. So, the fact that I'm able to live off my hobby is the best feeling in the world.
J: What made you decide to start your own label, Firepower Records?
D: Ive always wanted to start the label, I was just waiting for the right time,I guess… and the right time was last year 2012.  Now, it's going full steam and we've got a really good following. All the kids that follow the label are up to date with every single release and I completely believe in every artist that I sign.. otherwise I wouldn't sign them. I only sign tracks that I'm really playing in my sets. I've found myself collabing with all these artists that I've signed because I really like their music, right? So it's cool-it's happened and it's happened for a reason. It's moving in a postive direction and I'm just stoked!
J: How do you go about finding new talent to sign?
D: Actually, I have a bunch of friends on the label that suggest people to me, like Getter is a huge recruit for me. He is always scouting and helping me find new underground guys because he's really in touch with underground and running a label doesn't give me that much time.  I owe a lot of credit to Getter for helping me find all these other artists and on top of that I get sent tons of music and we do listen to all the demos that are submitted. You get thousands of demos and every week or two weeks we listen to all of them and just pick out the right ones. In doing so, it's cool to be like, "Do you want to do a release with us and potentially come on tour in the future?" It's cool to be able to give people that opportunity in a sense I guess.
J: Are there any big things happening in the future for Firepower? I know you guys have the Most Wanted Tour.
D: Yeah, we've got a big tour coming up that launches on October 1st and we are going for two months and then we follow that up with another tour in January/February and we're doing all mostly East Coast dates and bigger markets like Chicago, New York, Boston, and Philly- all those other areas. I'm pretty excited with how every thing is going. This will be my 6th bus tour, so it's cool that it's the third Firepower one. All the people that are on the tour are friends of mine too, so I'm basically travelling across the country with my friends in a big bus and partying in every city and just having fun playing music. So it's like, ultimately there's a ton of work that goes into it and tons of money involved, in making the tour function properly and getting the bus and the sound and production. Every thing, everything costs money, but it feels like nothing at the end of the day when I'm allowed to play my music and travel acorss country with all of my friends.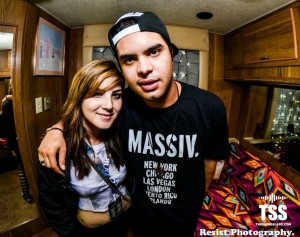 J: What has been your favorite city to play so far?
D: It's hard to say. I have too many. I'd say Denver, Chicago, London, LA, fuck I dont know,they are all good.
J: Is it different playing out of country?
D: Yeah, it's definitely different. I find whenever I go overseas I play a lot more drum n bass becuase they respond to drum n bass out there.
J: I know you've worked with a lot of talented DJs and producers. Was there ever one in particular  you were ever nervous about working with?
D: Well, when Bassnectar showed up at my house I was definitely nervous. That was like the big, the first real big collab I did and he was in town for a show, and was he like "Yo, let's work on some music," and I was like, "Okay." Then basically, he showed up at my door and I was living with my mom and I like didn't even want to say anything- I was super nervous, but it was really cool. I brought him into my studio/bedroom and my mom brought us sandwiches. Then we started working on some music and Lorin ended up having like an hour long conversation with my mom who's from Africa, (like longest conversation ever,) I was like " Okay Lorin. C'mon let's get back to work ya know?" He's a super, super humble, wicked guy and I picked a perfect role model.
J: I know you have a couple of projects in the works, the Let It Burn LP being released and  part two of the Cold Blooded EP coming out in the future, how do you manage to come out with new material and travel so much?
D: Honestly, it used to be I was never able to write music when I was on the road, but now I find I'm not able to write music when I'm at home because I have no source of inspiration or nothing is changing around me when I'm sitting in my studio. So now, what I've done which makes my life a lot easier is,I will write tunes while I'm on the road because I take inspiration from everywhere else. Like I did this track on my LP, called "Athena," and I wrote that one while I was in Athens, Greece, right? So, it's just weird things like that. When I travel around it gives me inspiration or like I wrote this other track called "Blunder Bust," it's not on the LP, but I wrote that when I was on a train from London to I think it was Belgium. It's like everywhere you go when you're in a cool setting, it's nice to reveal your mood in your tracks while you're traveling.
J: I actually saw you play at Electric Zoo and I know you had the little mashup with the Biggie over the RJD2 "Ghostwriter," is that ever going to be released or was that just for fun?
D: It's just for fun. I'll probably play it again tonight, just cause it always goes over so well and it's just something I kinda whipped up honestly. I might just throw it on YouTube or something probably.
J: Where does the inspiration to do stuff like that come from?
D: It's for fun. I'm just combining two of my favorite hip hop tracks so, for me it makes sense to me. I love Biggie and I love RJD2.
J: Is there a track you are most excited about playing tonight?
D: Yeah, I just did this remix for Destroid. I haven't played it yet, but I spent 15 hours on it yesterday. I've just been slaving away and I'm really excited to see how it goes over. I'll probably close with it.
J: Last question I like to ask, what does 2014 have in store for you?
D: Well, we're doing tons more touring. I think the next way I'm going to structure my LP is basically I'm planning on doing some cross over shit- not in like the poppy kind of shitty way, but more of like a hip hop merger. I want to work with some dope MC's and some dark hip hop cross over type stuff. That's kind of my plan- a person like me is not really meant to make poppy electro. I'm just gonna stay away from it.
"Follow" Datsik : | Facebook | Twitter | Soundcloud |
Comments
comments

<!-comments-button-->