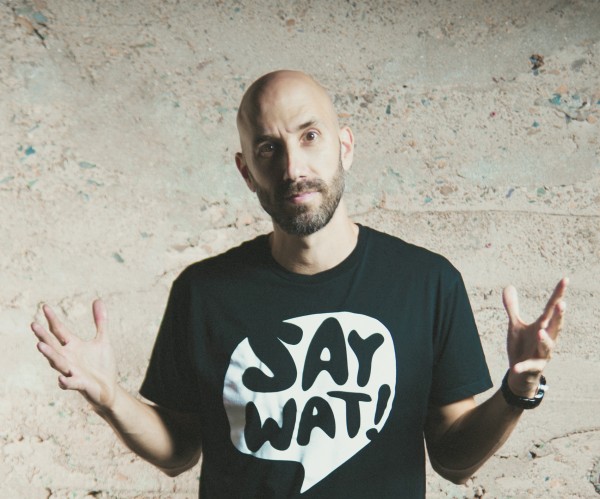 I am a tad bit late on this one but luckily TJR's set at HARD is still burned into my mind and I remember it like it was yesterday. The atmosphere in the crowd was absolutely electric before he even began his set, and the energy only increased as his set went on. I love watching guys like TJR perform because just based on his own energy and the huge smile on his face the whole time, you can tell that he is beyond excited to be there and probably feels like he's dreaming. Overall his transitions were extremely smooth and very creative, which is something you sadly don't see much of these days. Another impressive thing about his set that you don't see hardly ever anymore is the fact that he didn't use a laptop or any sort of monitor to do his DJ'ing, it was just TJR, a USB, his decks, and years of experience. A perfect example of his skill, and probably one of my favorite transitions, was how well he mixed 'Ode to Oi' seamlessly into his remix of 'California Love', which you can see a bit of in the video below.

Simply because my life at this point is too awesome for words (Humble brag) I got to join TJR in his trailer after his set to talk about his life, his music, and his plans to quit producing to become a Golf caddy.
TSS: What is your musical background?
TJR: I played trombone for like a week, in my house. That was it. I honestly don't have much of a musical background, I was a bit of a metal head as a kid. Eventually I figured out that DJing was a way for me to express my love for music and through DJing I started getting into producing.

TSS: What inspires you to make music?
TJR: I always wanted to make Acid House, guys like Armando in the late 80's inspired me. It was weird quirky music and I figured it would freak out all the old boring people that lived around me in Connecticut. I just dig making weird quirky music or beats.

TSS: What would you be doing if you weren't producing?
TJR: I was entry level customer service before this. Every day, finger on the trigger, ready to walk the plank. Luckily enough, music worked out. It was either going to be a corporate job or golf. I went to college for golf; I was either going to be a professional caddie, or go into the corporate world.

TSS: I can't picture you as a caddie.
TJR: For real I'm so serious about the golf world and I was a much better caddie than I was a golfer. I'm all about caddies, for real.

TSS: Most surreal moment of your career?
TJR: I was at the Madison Square Garden at a Rangers game and during the 3rd period they played 'Don't Stop The Party' and I stood up but there were no cameras on me. It was still a huge moment for me. They're a team that I grew up on and they played a track that I helped produce. It was awesome. I wanted to jump on the ice and get kicked out, I was so excited.

TSS: How do you know when you're done with a track?
TJR: Luckily enough I got signed to Rising and my guy, Chris Lake, is the one that kinda tells me 'It's cool..It's done.' I'm one of those idiots that always second guesses himself. When i'm working on a track it's like a puzzle. There's a billion different ways that I can do the build up and the drop and the chorus so I just constantly keep shifting things around and making different versions. So luckily enough I have someone with me to just say "Nah I like this version, you finished it, good job." Normally I just keep on going.

TSS: Any interesting preshow rituals?
TJR: Preshow poops. I took at least 5 today. The first 3 were farts but the last 2 had a little dribble. But really I like to look at my music before I play, check out all my playlists and stuff like that. Because I just use USB and just sorta wing it.

TSS: Which of your songs are you the most proud of?
TJR: Funky Vodka came at a point in my life where I was really down, out of money, and had no idea what was going to happen to me in the rest of my career. Then I had always had this one sample saved, for years, so I decided to make a track out of it. It was super positive, super happy, and it literally saved my career.

TSS: What's next for TJR?
TJR: Get hot water in my new place and take a shower. But seriously just make new tracks, tour a bunch, and put the most that I can into every show. *sarcastic* And make the best music that I possibly can, but really simple because I can only play two keys on the keyboard */sarcasm*.
Be sure to go see TJR on his tour with Chris Lake because he is definitely a DJ that you do not want to miss.
Tour Dates:
Fri, Sept 6th: Ontario, Canada – Barrymore's Music Hall
Sat, Sept 7th: New York, NY – Webster Hall
Sun, Sept 8th: San Diego, CA – Hard Rock Hotel
Thurs, Sept 12th: Orlando, FL – Firestone
Fri, Sept 13th: Tallahassee, FL – Coliseum
Sat, Sept 14th: Miami Beach, FL – Mansion Nightclub
Sat, Sept 20th: Las Vegas, NV – Encore Beach Club
Fri, Sept 20th: Los Angeles, CA – Avalon
Sat, Sept 21st: Seattle, WA – Foundation Nightclub
Fri, Sept 27th: Groove Cruise LA
Sat, Sept 28th: Groove Cruise LA
Sun, Sept 29th: Groove Cruise LA
Mon, Sept 30th: Las Vegas, NV – XS
Comments
comments

<!-comments-button-->