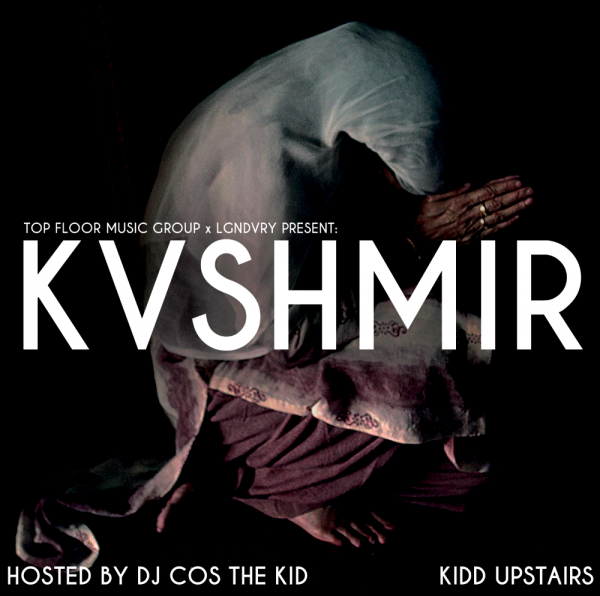 Coming off his viral sensation "Amanda Bynes," Los Angeles based rapper and producer Kidd Upstairs aims to prove his weight in gold with the release of his latest project, KVSHMIR. And that's exactly what he does. This whole album is straight fire! Hosted by DJ Cos The Kid, the twenty-one track street album shows the versatility of Kidd's dexterous flow, anxious to silence any thought of a one-hit wonder. Having seen recent success with "A La Mode", "Turtles", and "Lollipop Blunts" we think he is on to something. Featuring tracks by Harry Fraud, Cardiak, and Pete Rock, Kidd intertwines industry production with original pieces crafted by himself; Kidd handles producer duty for half of KVSHMIR, while also allowing newcomers itzSpaceMan, Levi King, Ejak and Patrick Banahan to shine with the assist. KVSHMIR goes light on the features allowing Kidd's mic presence and writing to speak for itself; returning to his roots of Oakland, California, Kidd recruits Mistah F.A.B., Hongry, and Gaitta, as well as Top Floor comrades X.O. and Farid Xan.
"As most artists do, I just record a lot of songs," he points out. "'Amanda Bynes' was an instant hit, but I've got lots of dope music that hadn't seen the light of day until this release." In response to his success being attributed to a gimmick, Kidd is quick to defend himself. "I don't want anybody to ever say that I'm a gimmick rapper, but I understand I have to prove that. So I'm showing everything that I can do."
KVSHMIR drops the same day as Big Sean's sophomore LP, and while the latter is enjoying his run at fame, the former is not far from that same hall.
Comments
comments

<!-comments-button-->