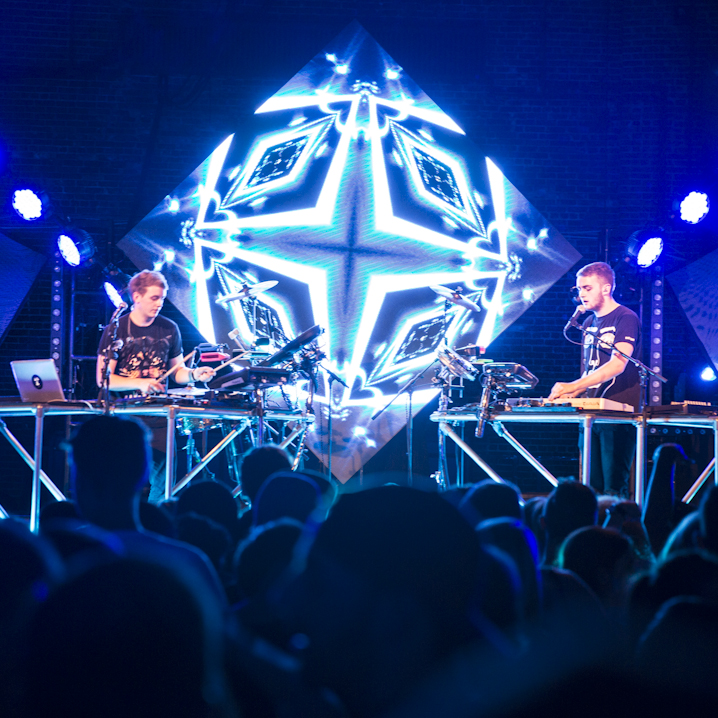 Last week was the much-anticipated free Disclosure show put on by some combination of MTV and Intel's marketing teams: Music Experiment. If you haven't heard of Music Experiment, this is how they describe their initiative: "… buzz bands are booked to play secret shows in nontraditional venues and co-create an immersive experience for fans powered by Intel products." The 2012 Music Experiment campaign featured Empire of the Sun and Flux Pavilion, so I was excited to see them team up with Disclosure.
Though the show was free, Bostonians were encouraged to participate in various social media contests to score tickets. While some fans had to Instagram pictures of Intel Ultrabook, or themselves in Disclosure-style facepaint to win, I won tickets with a simple tweet using #musicexperiment (cause I win everything, duh)
After being emailed a ticket, the event location was disclosed (lulz) and the show was set to take place at the Cyclorama at the Boston Center for the Arts.
Finally it was show time and we arrived in the South End to see mass crowds dressed in black lining up at the Cyclorama. After waiting in line to get in I acted like a total noob and got in line to have my face painted. This was a free aspect of the show, which would have been a lot cooler if it was more than one person painting faces for a line of 100+ people. In the time I spent in that damn line, the crowd had the chance to take pictures on Intel Ultrabooks, enjoy some free water and Redbull, and awkwardly watch the live stream that was on a massive projection screen at the back of the venue.
Disclosure took the stage at around 11:15 with a live set similar (maybe even identical) to their Hard Summer set I had just listened to, which was all songs off their album Settle. Though I usually don't go to deep house shows, it was great to finally see Disclosure after obsessing over their album for months. You really have to give them credit for the live performance they put on, clearly two very talented guys. Unfortunately, the crowd was fairly tame. Not sure if it was the nature of the music, the lack of alcohol or the fact that the event was being live streamed for anyone to watch but the crowd was pretty chill and at times almost still.
The highlight of the show was their closing song, 'Latch' where they brought out singer Sam Smith to do his vocals  for the song. 'Latch' is Disclosure's most popular single, and Sam's live vocals were just as perfect as they sound in the song.
I had a great time at the show and enjoyed my first Disclosure experience, hopefully next time I see them they won't be accompanied by mega marketing machines and the focus of the show will be more on the music.
Disclosure also just did their first ever essential mix. Check out the mix and track list below:
Onra – Intro [All City Dublin]
Slum Village – Players [Good Vibe Recordings]
Gang Starr – Put Up Or Shut Up [Virgin]
Jaylib – React (feat. Quasimoto) [Stones Throw]
Q-Tip – Let's Ride [Arista]
Vic Mensa – Orange Soda
Moodymann – U Ranaway
Linkwood – Secret Value [Shevchenko]
Mike Huckaby – Melodies From The Jazz Republic / I Get Deeper (Acapella) [Still Music]
[unknown] – J.A.W.S.
Trankilou – Bill Collector [BPM Records]
T. Williams – Three Letters [PMR]
Bassjackers & Apster – Klambu [Sneakerz MUZIK]
Dusky – Sunsets & Dolphins
Midland – Archive [Graded]
Mark Henning – Trojan [Cityfox]
Ten Walls – Gotham [Innervisions]
Disclosure – When A Fire Starts To Burn [PMR]
Rachel Row – Follow The Step (Breach Hood Remix) [Defected]
New York Transit Authority – 95?
Soul Purpose – Sublim3 [Lo:Rise]
Friend Within – The Scene [Method Records]
Paul Woolford – Untitled
Hannah Wants – Teardrop On The Fire
GoldFfinch – Once You Wrap
Adonis & Charles B – Lack Of Love [Desire]
Native Soul – A New Day (Spencer Parker's A Gun For Hire Remix) (feat. Trey Washington) [Defected]
Eddie Niguel – Absolute [Midnight Shift]
Omar – Feeling You (Henrik Schwarz Remix) [Peppermint Jam]
Hauswerks – Puppet Factory [Moda Black]
Disclosure – Latch (Maddslinky Remix) (feat. Sam Smith)
Comments
comments

<!-comments-button-->