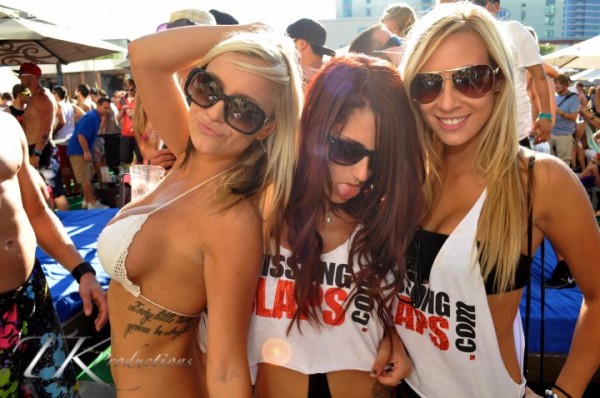 Last week Alistair made an amazing post of the 7 songs that represented why he (and all of us on the TSS team) loves EDM. Well this week I want to do something similar, except this is going to be a list of the songs that got me absolutely addicted to electronic music. Narrowing it down to these 10 songs was almost impossible because there are so many tracks that have influenced my musical taste over the years; But I can say without a doubt that if it weren't for hearing these 10 songs, I most definitely would not be where I am today. Oh and these aren't in any particular order, and I apologize for using weird Soundcloud links; A lot of things songs are old and not available on official artist pages. #ThatsJustice
Make sure to 'read more' to see the list. Let us know in the comments what your favorites are!

1. Passion Pit – Sleepyhead (Borgore Remix)
Where do I even begin? Passion Pit has been my favorite band for a long time, so I take remixes of their songs very seriously. There is nothing worse than a terrible remix of your favorite song. This remix came out in 2010 and to this day is still my favorite remix of all time. I discovered this song shortly after finding out what dubstep was, and this track was the first one that absolutely blew my mind. I had the privilege of seeing Borgore perform a few weeks ago for the first time and when he closed his set with this song I was honestly fighting back tears. As soon as his set was done and he walked off stage I gave him a hug and told him thank you, because his remix was what poured the gasoline on my newly ignited addiction to bass music.
2. Deadmau5 – Strobe
I want this song to be played at my funeral. It is the most beautiful musical creation that my ears have ever had the honor of hearing. Unfortunately the first time I heard this song, my friend told me "Hold on i'll skip to the drop" (I still haven't forgiven you, Austin). The seven minute long buildup is what makes this song so perfect, it's an emotional journey. Say what you will about Deadmau5 as a person (He's a troll) but he has an amazing understanding of musical theory and knows exactly how to pluck on people's heartstrings with his music, and 'Strobe' is the perfect example.
3.  Hi-Gate – Pitchin'
Oh man. The year is 2004, and i'm in 6th grade. I was at home on our family computer doing what any 6th grade boy does on the computer when he's home alone for the afternoon..Watching Runescape videos on the internet. This particular video was of a guy running around Runescape dropping all his expensive items because YOLO, but more importantly this track was playing in the background. This was the first electronic song that I ever downloaded. Listening to it now is funny, because I don't really enjoy it at all; But back then, I was all about that techno life. From this track I moved onto artists like Basshunter, Tune Up!, and Scarf. Seven years later, here I am.
4. Rusko – Cockney Thug (Caspa Remix)
This song means more to me than anything, it was the first dubstep song I ever heard. I was sitting at my friend Brandon's house listening to music and this song came on shuffle. I was enthralled. As soon as the song was over I asked him, "What is that kind of techno called? The one that..wobbles". To this day it is my most listened to song, and no matter what direction EDM chooses to go in, I will always listen to this song and nod my head like the first time I ever heard it. Caspa and Rusko are probably two of the most influential producers in my life, and if I ever get to meet them I would probably cry tears of joy because they are the main reason that i'm where I am now.
5. Caspa & Rusko – Louder
Caspa & Rusko are the greatest duo in electronic music history. You can try to argue that, but you will be wrong. The amount of waves that these guys made in the dubstep world are still being felt to this day. I could, and wanted to, include every song that they collaborated on in this list, but I feel like 'Louder' is the best of their work and is my personal favorite.
6. Datsik & Excision – Swagga
I miss the days of filthy dubstep. You know the days when the top comment on every Youtube video of a new song was something like "This song is so filthy that I switched over to porn when my mom walked in so she wouldn't get mad at me". Filthy dubstep was what really got me hooked on EDM. I mean I could sit in my room and casually listen to techno or house music, but these dirty tracks were the ones that made me want to go to shows and learn about these artists. Datsik and Excision have been the Gods of filth ever since they were born, and if you don't know 'Swagga' then you are…wrong. Just wrong.
7. Chrispy – Inspector Gadget
I can't talk about filthy dubstep and not talk about Chrispy. I don't know what ever happened to this kid, or where he went, but he needs to make a comeback. This is the filthiest, yet most listenable dubstep song that I can think of. All of his originals and remixes are so incredible that it's hard not to hit the repeat button. Then when you realize that he produced these tracks when he was 15..I bow to you Chrispy.
8. Bloody Beetroots – Warp 1.9 ft. Steve Aoki
Rage. Rage balls. This song goes so hard that it makes my ears bleed, and I mean that in the best possible way. I can remember driving around with my friends in high school blasting this song as loud as we could and just raging face together. This song was also the first time I had ever heard of Steve Aoki. This track is also a bit sad for me because the Bloody Beetroots have since gone in a really weird direction with their music and it doesn't give me the same intense feeling as Warp 1.9, and that is a tragedy.
9. Kid Sister – Pro Nails (Rusko Remix)
For a lot of people, this was the first dubstep song they ever heard. But for me, this was the first opportunity I had to laugh in other people's faces because I already knew who Rusko was. I'm such a hipster. But honestly this track changed the way I looked at Rusko. Before this song I had always thought of Rusko as Caspa's partner, but this track showed me just how amazing Rusko is on his own. If you are just now listening to Rusko, please go back and listen to his earlier stuff because he is probably one of the most talented producers in the EDM world.
10. Emalkay – When I Look At You
Last, but certainly not least, we've got Emalkay. This track was sort of my introduction to melodic dubstep, and listening to this song now I can definitely tell that a lot of current producers took influence from Emalkay. The vocals, the synth breaks, dem wobbles..Everything about this song is perfect and it pretty much epitomizes why dubstep will always be my favorite genre.
Well I hope you enjoyed reading about my little nostalgia-fest as much as I enjoyed creating it. I started writing for TSS because I love sharing music that I love with as many people as possible; Thanks to TSS, I now have a big ass audience to do that with, and without these producers and these tracks..I don't even want to think about what I would be doing with my life right now. Unfortunately I couldn't fit in every artist/song I wanted to, so here's some extra credit reading for you all: Digital Mystikz, Loefah, Benga, Liquid Stranger, Foreign Beggars, Sk!nt, Skream, MSTRKRFT, and I could go on for days.
Comments
comments

<!-comments-button-->