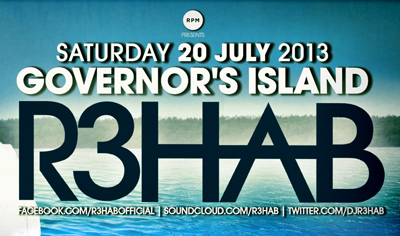 Governors Island has been arguably the best venue in New York this summer. You can't beat having an island that turns into a mini-festival, only a quick ferry ride away. This summer the island has hosted DJs such as Chuckie, Gareth Emery, Victor Calderone, Dirty South and most recently Laidback Luke's Super You&Me. As you can see Governors Island hasn't been short of talent and yesterday R3hab & friends took over the island. Joining R3hab on this fine Saturday was be David Solano, TJR and Crizzly. RPM and Pacha NY did a great job assembling a lineup that each has their own sound that will definitely get the crowd going. R3hab hasn't been in New York since his mind blowing set at EDC NY so I knew his set is going to be something special.
David Solano played throughout the daylight as the crowd filed onto Governors, it was clear the crowd was ready party from the start. As fans continued to pile in, Solano continued to work his magic dropping tracks like Ralvero's "Fuck What You Heard," Jewelz & Scott Sparks "Flashbang" and his new track "Kaboom." There was even a brief period of heavy rain but that didn't slow anyone down, it was actually more of a relief on this 94 degree day.
Next to hit the decks was TJR, his set simply proved him not only to be a phenomenal producer but a very talented DJ. He started off with his traditional funky sound to get the crowd warmed up then dropped his bouncy bootleg of Krewella's "Alive," the night had officially had begun. As for the set that would follow, he would go on to play W&W "Thunder" followed by his edit of Will Sparks "Ah Yeah." Many of the fans I spoke to at Governors only recognized TJR for "Ode To Oi" but were thoroughly impressed by the set he was putting together. When "Ode To Oi" finally dropped the crowd completely lost it. TJR even gave us a preview for his new track "Whats Up Suckaz." He would later take hold of the microphone and let the crowd know how special this show was to him since he's originally from Connecticut. TJR's set seemed to open the eyes of many, hopefully he pays another visit to NY sometime soon.
Once 9 o'clock came around it was time for the crowd to check into R3hab. His sets are always high energy and this time was no different. He opened his set with his edit of one of his most popular records, "Sending My Love" followed by his track with ZROQ "Skydrop." Then he went on to play a wide variety of songs such as Arston's "Zodiac," Carnage & Tony Junior's "Michael Jordan," and Lucky Date's Remix of Hardwell's "Apollo." R3hab even dropped some new tracks for his New York faithful, he played his new track with Lucky Date "Rip It Up" and "Jump" his collaboration with Steve Aoki. He simply had the crowd in a frenzy and made a 2 hour set seem like it wasn't long enough. He would end the night with his remix of Calvin Harris ft. Ellie Goulding's "I Need Your Love" getting the crowd ready for what I would describe as "Trappy Hour."
Crizzly would hit the stage to close out the night and to those who weren't familiar with the name I'm sure will never forget it. He played all the trap remixes of the current hip-hop fan favorites. The crowd was still in full force, security was bringing girls to dance on stage and even R3hab stuck around for most of his set. He went on to play his remixes of "Chain Hang Low" and "Fuckin' Problem." An hour of Crizzly was a great way to end this Saturday night.
R3hab & Friends was a great show that introduced many music lovers to some new music. It's great to have a venue that is on an island which basically turns into raver civilization. The shows at Govenors are slowly coming to an end because it's almost the end of the season but just remember Electric Zoo is around the corner.
Comments
comments

<!-comments-button-->