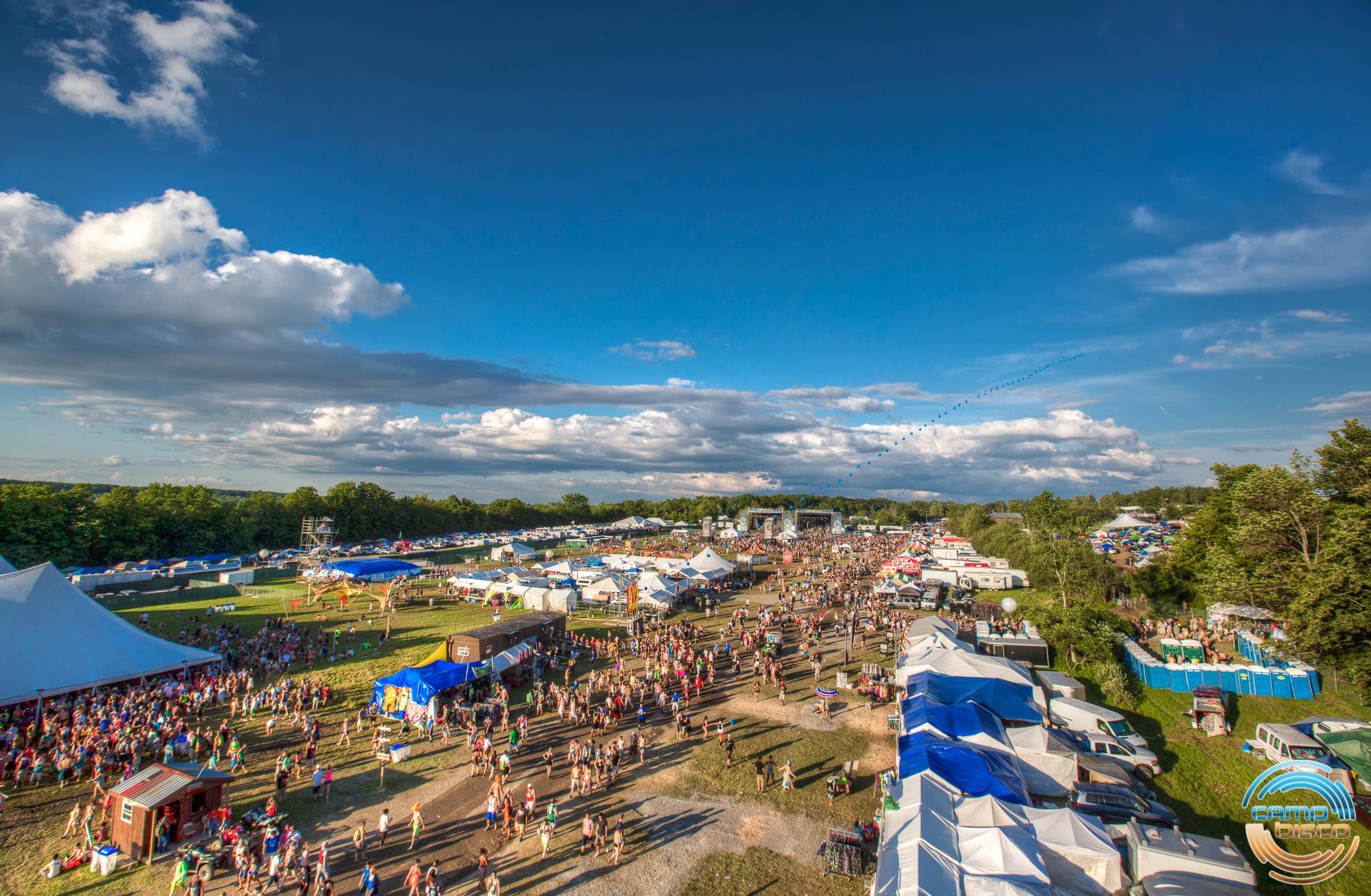 As the Bisco dust settles on yet another amazing year, we look back and remember the moments that will stick with us for the rest of our lives. Whether this was your first year, second year or maybe even twelfth year at Camp Bisco, you know the magic that this festival creates.
The Indian Lookout Country Club always comes to life in early July. With thousands amd thousands of people from all backgrounds and all ages coming together for one reason…the love of music. Whether you were there to see the Disco Biscuits perform 6 sets or to see Bassnectar kill the main stage again, or even see Madeon play his first Bisco ever, Camp Bisco will forever be an experience for won't forget.
Click more to check it out!
Day 1 Recap:
Josh:
Ahh Day 1 of Camp. After being caged into Camp section 6 all night due to unpreparedness of the Bisco ground keepers, we finally got to venture off and explore our home for the next 3 days. I rolled with a small crew this year but quickly found new members to add to my rave family. Let me start by saying there really is no experience like Camp Bisco. It's hard to put into words the feeling of freedom and peace you get when roaming the ILCC.

As we grabbed breakfast and laid out our plans for the day I noticed I might run into some conflicts but kept a positive outlook anyways. I pretty much planted myself at the B.I.G. Tent all day including the early sets which included the likes of Nick Thayer, Destructo and briefly Koan Sound. I only saw the beginning of Koan Sound because it was time for me to head to my interview with Flux Pavilion.

I was slightly nervous as I prepped for the biggest interview of my life. Flux's tour manager came and got me and we went backstage where the interview would be conducted. You can read all about what we discussed here!

After the interview I hung around backstage for "just a minute" I told myself, so I could hangout with my friends. Well "just a minute" turned out to be ALL night! I got to hangout with Seven Lions before his set and have a few beers. We reminisced on EDC NY and talked about his up coming projects some more. As Jeff prepared to go on I got overly excited to see him perform for the second time in as many months. Next to Flux Pavilion's set, Seven Lions was the best of the day! He killed it, he played Trap, Dubstep, Melodic, Progressive House and some big room tunes too! He threw in his new song and even his unreleased remix of Running To The Sea! It was insane from beginning to end.

No big deal or anything but Flux was up right after Seven Lions (yes the Camp Bisco lineup was stacked!). And like I said earlier Flux had the best set of the day, playing all his classics and even some new tunes from the Circus Records family as well, including Doctor P's The Champagne Bop. I could see Josh perform a million times and he would blow me away each time.

After Flux's set I ran over and caught Flosstradamus who had the Label Tent get as wild as it would be all damn weekend. Flosstradamus just knows how to throw down a good and hard partying set. I got to catch up with the Chicago duo and have a few beers with them and hangout. Actually, come to think of it we were all hanging out backstage just having a good time all night. We tapped two kegs of beer in just a few hours.

The day was winding down and we moved on to the night sets. I got my first taste of UZ in a live performance and man oh man can that guy throw down! But…I had to save some energy because Dillon Francis was next! I had never met Dillon before, he was pretty busy running around and saying hi to him so I knew I had once chance to get a word in with him. I could either say "hey I'm, Josh with TSS nice to meet you!" or I could say what I actually said… "hey…are you my Dad!?" and sadly the answer was, with a laughing smile, "No I promise you I'm not." So sadly Dillon Francis is not my Dad…my search continues.

Dillon put on an awesome set, per usual. Playing all his ass shaking Moombah hits and flipping the tent upside down with crazy Trap tunes as well. Just an overall amazing way to start the close out of Day 1. Boys Noize was up next and quite honestly I was getting a little tired. I didn't go as hard to BN's set as I did all the other's but I marveled in amazement at his set. His new hit Go Hard was definitely the highlight of the closing set.

Day 1 sets had ended and I was tired, I ventured back to find my friends and we shared stories of how amazing the entire day was, knocked back a few drinks and passed out with high hopes for the next day.
Christos:
After spending a couple hours sitting on the roof of my car in the line to get in the night before and then setting up our campsite, my group was pretty tired coming into day 1. That didn't stop us though. We went out and bought some ice and got the lay of the land, and were immediately in love with the place. It was my 2nd Camp Bisco, but it was both of my buddies' first, and they had no idea what to expect. When you walk around during the day before the music starts, the sense of community is overwhelming. It's like a giant shanty town full of hippies and EDM fans and just this mash of so many different cultures. It's incredible, and I loved every second of it.

Anyways, on to the music. We got into the B.I.G. tent to catch the end of Koan Sound's set, which was really cool, and I wish I could've seen more. Next up was Seven Lions, who absolutely KILLED it. That guy is incredibly talented, and the good vibes radiate from him when he DJs. We were pretty floored, and will definitely be going out to see him on his tour with Krewella and Candyland this fall. Next was Flux Pavilion, who Josh got to interview and hang out with backstage (I'm so jealous!), and his set was nothing short of incredible. He opened with 'The Scientist,' which is a track of his that I somehow missed until now, and he sang it live, which I thought was really cool. Flux was definitely one of the highlights for me. Next we caught the latter half of Flosstradamus in the Label tent, who were my least favorite act of the weekend, which is saying something because they were still pretty cool. The only problem I had with Floss was that they were constantly turning off the music and MCing, which made their set a little choppy and sort of killed the vibe. That's just my opinion though, and clearly other people are into that style of DJing, because the rest of the crowd seemed to absolutely love it. I definitely still enjoyed some moments, like when they played their remix of 'Original Don.'

After Floss, we took a much needed break, and came back out just in time for Dillon Francis. It was my first time seeing Dillon, and from the awesome music to the giant cat balloons to the ridiculous cartoon nonsense being played over the video screens, it was everything I dreamed of and more. He even DJed in a tuxedo, which was a very classy move. Fittingly, he dropped his remix of 'Suit & Tie,' which is some of his best work. After Dillon was Boys Noize, who also killed it with his very unique style and was definitely a great choice of closer for the first night. After that, we decided to call it a night, figuring we could go to the Silent Disco one of the other nights.
Day 2 Recap:
Josh:
Day 2 was not quite as stacked as Day 1 but I was fine with that because Day 1's antics had me wondering where my face was (probably lost in the B.I.G. Tent somewhere). We got to drinking early (again) and laid out our plans for the day. I had Clockwork, Ryan Hemsworth, Wolfgang Gartner, Paper Diamond, Bassnectar and Baauer on my list of people to see.

The best set of the day by far was Clockwork. Yup! That's right, I said it! Clockwork blew my mind with his Progressive House mashup bangers. I want to venture out and say he might have been my favorite set of the weekend…most definitely top 3 but he was just too good for words. But I digress..Following that set was Ryan Hemsworth who I had never seen before but was surpringly impressed. For an early set he did a really good job of getting the crowd to go wild.

Now what you have to understand to comprehend the rest of my night is that: Bassnectar is a staple act at Camp Bisco. He's a legend there (and everywhere else) but people come to Bisco because they know they will see him. The crowd at the Main Stage for Lorin started at about Noon…he was on at 9:30 pm…yeah people were that crazy. Me and my friends couldn't handle the Main Stage crowd after going hard during Wolfgang Gartner and Paper Diamond. So we spent Bassnectar's set away from the roughly 30,000 people and enjoyed his musical perfection from a distance. Luckily Lorin didn't blow out his mixer this year (last year and the year before he did however) and he played a ton of new tracks that I can't even ID yet.

After resting up for a bit, it was time to go CRAZY for Baauer's set. As his set time rapidly approached I was talking to my friends about how excited I was to see him again. Their response was "I've never seen him…" My jaw dropped to the floor as I grabbed them and we sprinted to the front for his set. Baauer dropped all of his usual bangers and did't have a dull moment in his set. We didn't even get a chance to breathe or take a sip of water to calm down it was just pure mayhem for all 75 minutes (oh yeah Biso sets are extra long that's why they're so amazing).

After the set I was ready to keep on partying. I didn't have any intentions of seeing Destroid but we did anyways and I was overly impressed with their set as well. They played a TON of heavy bass and dubstep tunes and I was shocked when I heard The Brick Squad Anthem come on. They really know how to kill a set and give the bass heads what they want.

Day 2 was coming to a close and it was time to roam the Bisco grounds, find some old friends, make some new ones and have a great time. That's one of my favorite parts of Bisco, the roaming. It really is a free world with any possibilities at your finger tips and I love it. I went into Bisco with such a stressed out and tensed up life that I didn't know what to expect. But after Day 2, I was completely at peace and happy again. That's what Bisco and music does for me. As we watched the sunrise, it was time for bed…the best day of the festival was upon us.
Christos:
Day 2 of Camp Bisco this year was among the best days of my entire life. I didn't really think it could get much better than day 1, but I was very mistaken. The day began with an utterly failed attempt to cook eggs followed by admitting defeat and making burgers. I had the awesome opportunity to interview Downlink (which you can read here, who was an incredibly down to earth dude and had a lot of interesting things to say. When I got back to camp after that, I found my friends already very drunk and had to do some quick catching up involving a funnel and rum. Once solidly into the bottle, we headed out for the day, and started things off right with Popeska, who is on Wolfgang Gartner's label and played a very awesome electrohouse set. We were all in rare form and danced our asses off, and Clockwork, the house alias of RL Grime (who I'm devastated to have missed, but it was him or Flux), came on next and carried the same type of energy forward. I was really impressed with both of these guys, who managed to play great, engaging house sets while still keeping to their own style rather than playing what everyone else does.

After that, we took a break and drank some more (oh god why?), and then headed to our first Main Stage show of the weekend, which was Wolfgang Gartner. Wolfgang is a favorite of mine who I have always wanted to see live, and his set was really solid. Although I was slightly bummed that he didn't play some of my favorites of his, like 'The Champ,' I respect the fact that he is an artist committed to bringing something new to the table, and overall I dug his track choices even though I didn't know most of them. His light show was also really cool. After Wolfgang, we made the tough decision to miss Paper Diamond so that we had a good spot in the crowd for Bassnectar, which turned out to be a great call. This meant that we got to see the Disco Biscuits, who I respect despite not being a fan of their style of music. I know its incredibly hypocritical of me, as a dubstep and house fan, to say that all of their songs sound the same, and I'm sure there is a lot of idiosyncrasy to it that I'm missing, but nonetheless, their set, while very tight musically, just wasn't my cup of tea.

Up next was Bassnectar. It was my fifth time seeing him, and solidified once again my opinion that he is the best DJ in the game. His set was NUTS. It started with a single held out bass note, which served as a not-so-subtle reminder that he had the biggest sound system of the festival, and set the tone for what may have been the most bass-heavy set I have ever heard in my life. His light show was insane, as always, and his set managed to feel like one big piece of art rather than a collection of songs, which is always something that hugely impresses me. I loved every second of it, and when he dropped a remix of 'Killing In The Name' by Rage Against The Machine, I absolutely lost it. After Bassnectar was finished, the Disco Biscuits came out and opened with a cover of 'Killing In The Name,' which was kind of a strange decision since everyone there had just heard it, but was pretty cool nonetheless.

We made another hard decision, which was to skip most of Baauer's set to sit down for a bit and take a much-needed break, as well as refill the Camelbak, which is always a pain in the ass. The one bad thing (literally the only one) that I have to say about Bisco this year is that there were not enough water filling stations. The line was like an hour long at times, and caused a lot of problems because people decided to go without water rather than waiting. Other than that, the festival was set up great, and the staff did a great job all around. After refueling, we caught the end of Baauer, which was really solid and among the best trap DJing of the weekend. After Baauer, there was a long pause while they set up Destroid, which was one of the things about Bisco that I was most excited for. As they put everything together, there were abstract alien-sounding noises being played over the sound system, and with every second, the tension grew. We met a guy who drove all the way up from Atlanta for the sole purpose of seeing Destroid, which speaks to the incredible live experience that they've created.

All of a sudden, the lights went black, and it was ON. The robot suits all lit up at the same time, and the crowd went wild. I have never seen anything like their set. From literally the first note they played to the last, they had the crowd completely under their spell, raging like animals or tribal people during some sort of ritual sacrifice. It was above and beyond any concert experience I have ever been to. As I said in the write up of my interview with Downlink, if you ever in your life get the chance to see Destroid, do it. Whatever it takes, just go. You will not regret it, I promise.

After Destroid, we headed back to Camp for the night, too tired from all the dancing to even think about going to the Silent Disco. My friends went to bed, and I made a last trip to the bathroom when the strangest thing happened to me. I was walking back to the tent when I heard loud dubstep. I love loud dubstep, so I followed the sound. What I found was a campsite, in the middle of a bunch of other campsites, where two guys had set up a DJ booth with one really big speaker, all running off of a generator, and there was a group of like 20 people dancing like madmen in the middle of the dirt road that cut through this area of the camp. Obviously, I immediately forgot about my aching feet, back, and, well everything really, and joined in. One of the DJs was Levitation Jones, who was awesome, and I never got the other guy's name, but he had a haircut kind of like Rusko and was also awesome. The crowd fluctuated from like 10 people to as many as 50 or 60 over the time I was there, and everybody was loving it. This experience encapsulated (or as Alistair would say, embolized) everything I love about Camp Bisco. On one level, there was the fact that some random dudes were playing crazy, out there, deep, and filthy dubstep, as well as some other genres, and everyone not only was open to it, but loved it and were not shy about going nuts. Furthermore, over the roughly two and a half hours I was there, at least six different golf carts and ATVs full of staff members drove by. Not only did they not do anything to shut down, but they actually smiled and started dancing as they passed through. Not only was this type of renegade behavior not looked down upon, but it was almost encouraged. It was 4:17 am when a terse staff member with a mustache finally rolled up in a golf cart and put the kaibash on things. Think about that. These guys were breaking several rules of normal acceptable behavior in a society, and the staff let them have their fun for like 3 hours, until after four in the morning, before they put an end to it. That's fucking awesome. Moreover, it would never happen anywhere else. I finally retreated to my camp site feeling ridiculously alive from the days events, and got a little bit of sleep in preparation for the final day to come.
Day 3 Recap:
Josh:

Ahh Day 3 of Bisco. If you've ever been to a 3 day festival then you know the last day is what separates the hardcore ravers from the pretenders. If you can survive a 3 day camping festival you can survive ANYTHING! Well, on deck for me were acts that I had never seen before besides Zeds Dead. In order I saw: Wick-It The Instigator, HeroBust, Zeds Dead, Crizzly, Project 46, Tommy Trash and Madeon.

Wick-It The Instigator was actually really good! A friend of mine that came to Bisco just for Day 3 told me we should go see him, so we did and for playing at 2 in afternoon he got the tent rowdy! Now at this point we took a break for a little to roam and hangout with a few drinks and soak in the final day of paradise.

It was time to head back to the stages for a TON of heavy bass and Trap heaven. HeroBust put on an amazing set (at this point you must realize that no one had a disappointing performance, Bisco just brings out the best in DJ's). He played a lot of unreleased edits and new mixes that were driving me crazy. However, he was no match for Heroes and Villains who were up next. Capturing my heart with one of my favorite sets at Bisco this year, HxV gave me my first live experience of Carnage's new song, Michael Jordan. I swear to God I thought I was going to throw up with excitement! Not only did they play that but they dropped their Bugatti remix and a load of other festival Trap bangers! Pure madness from start to finish.

After searching for my face, we headed over to the Main Stage for the set I was most excited for this weekend: Zeds Dead baby! After missing their show in my hometown of Boston, I was fortunate enough to catch them at Bisco. Their set reminded me why I love music so much. They put together one of the best sets I had ever witnessed (until Madeon, but I'm getting ahead of myself). From grimy Dubstep, to chill Dubstep, to crazy Trap and everything in between, the Canadian duo took me back to my first Bisco where they opened my eyes to a whole other world. The entire experience of that set was exactly what I needed in life.

After Zeds Dead, we grabbed a few drinks and on to Crizzly we went! Again, I had never seen Crizzly before and again, I was blown away. Much like Baauer's set from the night before, Crizzly packed all 75 minutes of his time on stage with pure energy and power packed tunes. I had trouble ID'ing a lot of what I heard (rookie mistake) but all I can tell you is I will never miss another Crizzly show in my life.

It was break time for me and my crew. Some of us went to go eat and make sleeping arrangements for the night. It was a nice little break but I was craving more. It was the last day, I didn't want to leave, I wanted more music. So I ventured off alone to go take a listen to Project 46. I gotta say, after hearing all that Dubstep and Trap it was like a breath of fresh air to hear some good quality House music and Progressive House at that. Hell, they even dropped Lift Off by W&W which I hadn't heard in a live set since Ultra! They really impressed me and I have them on my list to see again very soon.

The sadness set in when I realized I only had 2 sets left to see. Tommy Trash and Madeon were closing out Camp Bisco and as much of a bummer as it was that Day 3 was ending, I still had some amazing music to hear. Let me start by saying, Tommy Trash is always good. I think I've seen him 3 times now and he just plays a good quality set and he's a great guy. But I couldn't focus on him as well because I was so fixated on what Madeon was going to bring to the table. I had never seen Madeon but I love his music and the way he live mixes is PURE ART. It's amazing. It's mind blowing. I still haven't picked my jaw up off the floor! He blew me away with the usage of his live sound pad and perfect timing. He started performing live mashups and his hand were moving so fast I was just in complete awe. He restored my faith in live mixing. I think everyone should do it, or at least attempt it. Oh, I haven't even gotten to the best part. Me and my friend got to meet him. I had never fan girl'd so damn hard in my life. He was extremely humble and kind. We chatted for a bit, took a few pictures and ventured off.

So as far as music goes for day 3, it was life changing. I got to reminisce on a set that made me fall in love with music and I got to witness young talent at its best. I really couldn't have asked for a better Bisco this year. As I watched the sun rise over the Bisco grounds, I thought to myself, "This is what life is all about." Bisco is all about sharing amazing moments with life long friends and enjoying music that just makes you happy and feel alive. Needless to say, Camp Bisco was an experience I will never forget.
Christos:
We woke up on day 3 and my friends were a little skeptical of the previous night's events after they went to bed. I don't think they really understood how awesome of a dance party they had missed out on. Exhausted, but with just enough in us for a final day of Bisco, we cooked up some sausage, and bought and killed a case of beer in preparation for the day's events. We unfortunately missed Zoogma, who I'm sure were as great as they were last year, if not mores, and Break Science, who I'm a big fan of, but we got to the B.I.G. tent just in time for HeRobust. HeRobust killed it with his really unique brand of wobbly bass-infused trap, and Heroes x Villains, a logical choice to follow him, played a great set as well. After that, we headed over to the Main Stage to see Zeds Dead, who were awesome. Although they play a brand of music that the jazz musician in me really wants to not like, their set was very polished, very danceable, and all in all, really solid. They had the whole crowd grooving for sure, and were another of the highlights of the weekend.

I would have loved to see Crizzly, but we needed another break, so the next act on the menu for us was Gramatik. Gramatik is one of my absolute favorite performers in the scene right now, and every time I see him, he is even better than the last time. The way he fuses jazz and funk with heavy dubstep and glitch hop is insane, and along with his live guitarist, he creates a vibe like no other. His style is constantly evolving, which I find very admirable, and his set was a party from start to finish while also being musically complex and dynamic, which is very rare in a DJ set. I am beyond excited for his new album, which I think is shaping up to be a serious game changer.

After Gramatik, we took another much needed break, as our feet and legs were practically on the verge of giving out, and then got back for Tommy Trash. It was immediately clear that Tommy Trash is an expert DJ. His track selections were consistently perfect, and he set a very cool vibe the entire time he was on stage. We found ourselves dancing hard even though our bodies really didn't want to anymore. After Tommy Trash was Madeon, who I have wanted to see for a while now, and absolutely blew us away. As a launchpad aficionado myself, I really look up to Madeon (despite being a year or two older than he is), and was absolutely floored. I expected him to be great, but his set went way beyond my expectations, as he went from funky banger to beautiful breakdown all night. The live mashups he was doing were really cool, and the whole crowd loved it when he held up his Launchpad to show us what he was doing in the middle of 'Pop Culture.' All in all, he was the perfect choice to end things.

When we got back to camp, we met up with Josh and his friends, who were hellbent on going to the Silent Disco. I decided to go as well, but unfortunately the line was way too long to even have a hope of getting in. Its funny, there are a few certain things that I always seem to just miss experiencing, and a Silent Disco is one of them. This makes three events now where I have not made the Silent Disco for one reason or another. If anyone knows of a solid Silent Disco event in the NYC area this summer, hit me up, I would love to come out and cover it for TSS. I'm determined to get to one eventually. Anyway, I digress. Since we couldn't do that, we ended up just hanging out until the sun rose, at which point I retreated to my tent to get some much-needed rest before moving out in the morning.

It was with a bittersweet taste in my mouth that I arose Sunday morning. On the one hand, I loved every second of Camp Bisco. On the other, I needed a shower and a real bed, and also was looking forward to the events of the day. You see, there was something going on that most people did not know about on that particular Sunday. In Troy, NY, about ten minutes from the festival ground, there was a Bacon Festival/Pig Out BBQ gathering, which I only knew about because my friend Connor, who was with me for Bisco, goes to school there. Due to this good fortune, we managed to end Camp Bisco by stuffing our faces with various extravagant bacon delicacies and a ton of high quality barbecue, which was perfect.

All in all, Camp Bisco is an experience like no other, and I am already looking forward to next year.
So there you have it Fam! Have we convinced you to make the trip yet? We will be back next year for sure. Bisco is just too magical and too amazing to ever pass up. Good times, great people, even better music. What more can you ask for?
Comments
comments

<!-comments-button-->