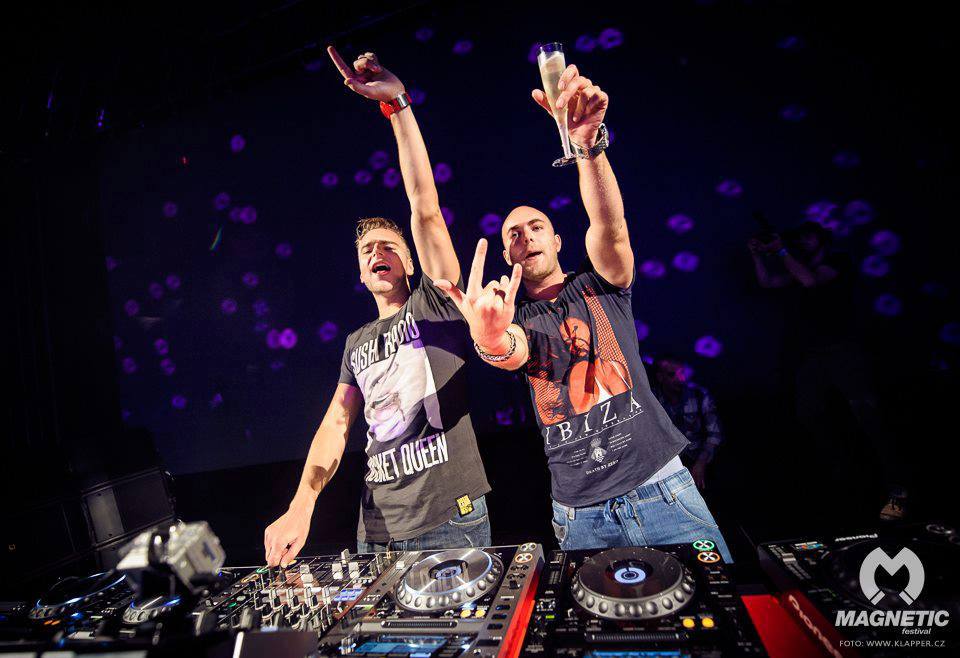 Alright, so in celebration of our brand new site launching, we have a very special surprise for all you lovely people. Our friends Showtek were kind enough to send us this MONSTROUS mix as well as an interview giving us some insight into how the spend their spare time and their creative process. Showtek have been tearing the industry up right now with their stadium filling shows, and their unique tracks that set the crowd off! The mix touches upon some brilliant tunes like their recent hit 'Slow Down', as well as other bangers from the likes of W&W, Knife Party, Deoro, and Tiesto. Be sure to send Showtek some love for hooking us up and check out the interview and tracklist after the break!
Tracklist:
Showtek – Slow Down
Armin Van Buuren feat Trevor Guthrie – This is what it feels like (W&W remix)
Marco V – Hypergenic Supersonic Futuristic Monophonic
Steve Aoki – Ohh (Deoro Remix)
George Acosta & Henry John Morgan – Ding Dong
Knife Party – EDM Death Machine
Showtek feat Noisecontrollers – Get Loose (Original + Tiesto Remix Mashup)
Exclusive Interview:
Who are you? (introduce yourself)
We are Showtek, two brothers who share the same passion and started producing music 10 years ago. Nowadays we still work together and you can pretty much say we are on a run at the moment. Last year we had a lot of success, releasing own productions and touring around the globe.
How were you first introduced to EDM and how did you decide you wanted to start taking your music production seriously as a career choice?
It just started as a hobby. We started making music that came straight from the heart, and it still does. Back in the day we didn't have a plan, our career just sort of happened. After we had a few releases and became popular in Holland we got a request to become resident DJs at a local club. That's how we learned to DJ, and from there on it just went uphill. The moment you earn money and you can start paying some bills you realize it can be more than a hobby. So that's how it started. We never had the idea of becoming DJs, it started with producing music.
How have smash singles such as Cannonball and Slow Down, and Get Loose help change you as an artist?
Well we produce music that we think is cool, and we really spend a lot of time on our music, like the "Cannonball" kick. It took us two days to finalize that one, but it was definitely worth it because when the drop kicks in, the glasses at the bar start to shake haha. When producing tracks like that, you create a certain new sound that describes who you are as an artist and sets you apart from the rest. And the fact that artists like Tiesto and Guetta are playing it in every set makes the track grow faster worldwide. We think tracks like this brought us to the next level.
Obviously your sound evolved since you produced hardstyle, but it is often trashed, why do you think this is?
We don't know. We left that style behind us, but hardstyle was the beginning of our career. We never regret it, but we totally grew out of that scene. Our focus is on something totally different now.
What can we expect to see from you guys in 2013 in terms of material?
Lots of new bangers. We were on the road nonstop after WMC and came back in the beginning of May so we couldn't really finish our work until then. Luckily we finished our new single and it will be a signature track again! So yeah, lot's of new music.
What do you do outside of producing and touring?
We both like working out, so running, boxing (for Sjoerd), fitness. Hanging out with friends, family. Playing poker, walking the dogs in the woods, things we never do that much because we have less social time. So yeah… Even now we are on holiday and still doing this interview, it just never stops haha. The good thing is we're looking at the beach with Coronas by our sides…so that ain't bad!
What advice would you give to upcoming DJs/ producers?
Do what ever you feel, the following will come. Try to get influenced by other artists but find your own way to put your touch on music.
Since there's two of you, are there any creative differences and how does compromise come into play when working on something?
Wouter is the melody guy behind Showtek, so he's the guy touching the keys. Sjoerd decides if it's cool or not and tries to adjust some small things. We both work on the music, but Sjoerd is more like a beat freak, he's the audio engineer. We mostly head in the same direction in the studio.
What track from you guys has been the most well received by the fans?
"Get Loose" is very original. The melody in contrast to the drop is really different, so we created a kind of shock value for people, something really out of the box! We think "Cannonball" did the best worldwide when it comes to sales, and maybe it was one of the biggest tracks – if we look at playlists it's played by almost every DJ on the planet, haha. :)
Where does your inspiration come from in terms of other artists and their music?
If you go to festivals you sometimes hear tracks you thought you wouldn't play as a DJ, but then you see the crowd react. So going to parties and hearing music in a venue can make you think differently about a track than you did before. Also listening to pop music gives us other form of input. There are also two of us, so we have two minds working together. That's also the reason we can work that fast!
Out of all your tracks, which one gets the crowd going best?
"Cannonball" makes everybody jump!
What's the coolest and unique thing that's happened to you at a show?
Wow we had a lot, but a few months ago we played at a festival, and when we started playing we saw a mass of people coming to watch us, like 4,000 extra people came in to see us. So we knew we did well, that feeling was so cool!
What is your creative process?
Depends. Sometimes a track takes 4 weeks or 2 days, haha. But we always have an idea to start with, we never start empty. Sometimes we hear a track on the radio that has a cool riff and we're influenced by it, or sometimes Wouter has a cool piano riff and we start with a melody. What we can't lie about is that we work the best at night, it creates a different vibe. Sometimes with a beer or whatever.. :)
Would you rather face one hundred duck sized horses, or one horse sized duck? (a TSS signature question)
WTF? Hundred duck sized horses, we can give them to away to our family and treat them like pets. :) Sounds like you were stoned coming up with this question!
Comments
comments

<!-comments-button-->