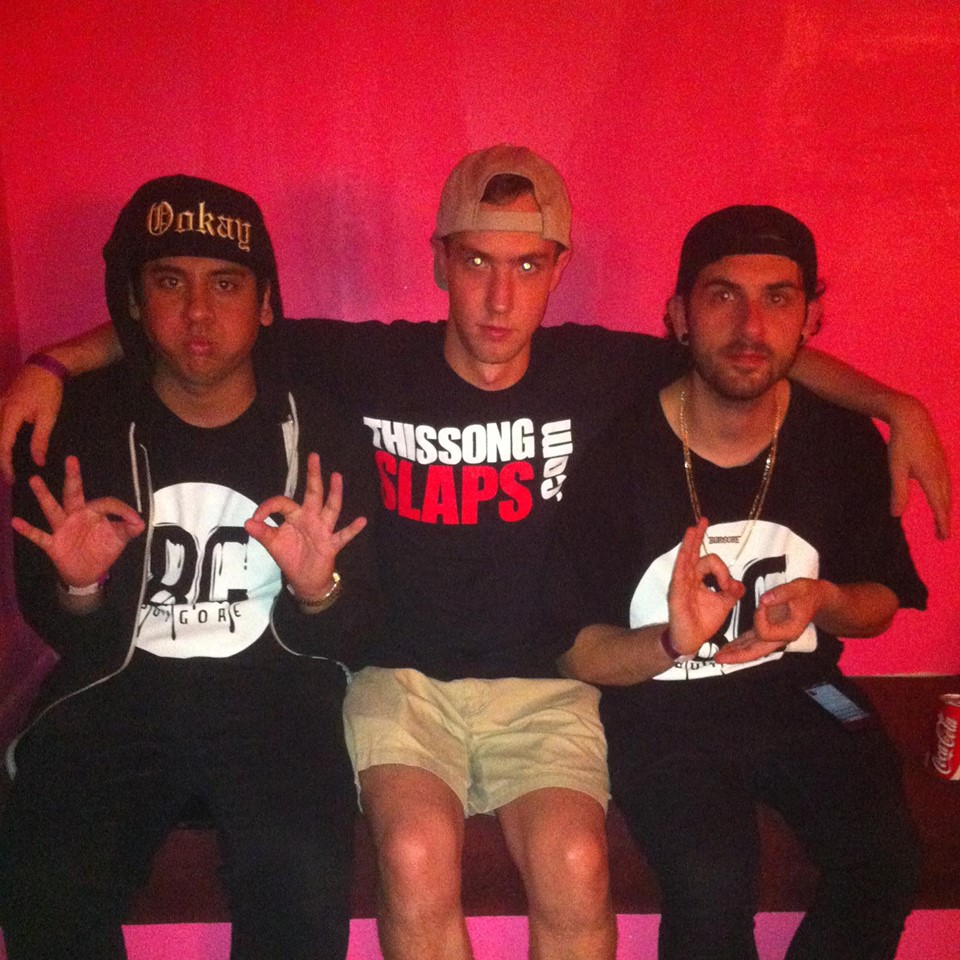 How do I even begin to describe this night? I got to the club around 10:30 and watched the opening DJs, Fashion Replicas, play and they were surprisingly incredible and set up for Ookay perfectly. Ookay managed to sneak on stage without too many people noticing and then popped up behind the decks and immediately dropped his Star Wars track and the crowd went NUTS. The best way to describe Ookay's live performance is "crowd control". He had the entire venue on their feet and going harder than I've ever seen the crowd at this club go. He played such a broad spectrum of music over the course of his set and it really highlighted how talented he is not only as a producer, but a performer as well. Enter Borgore.
Borgore was one of the first producers I listened to when I started getting into Dubstep and I had never seen him live before, so you can just imagine how excited I was to meet him and watch him throw it down in my home town. I was expecting him to play a pretty trap heavy set but while there was definitely a lot of trap and electro house tunes getting dropped, he really stuck to his filthy dubstep roots which was a very pleasant surprise. Two of the first dubstep songs I ever heard were Borgore's remix of 'Sleepyhead' by Passion Pit, and his Guided Relaxation Dub, so I was borderline emotional when those were the two songs that he closed his set with. Hands down the highlight of my night was when Borgore got on the mic and told everyone to sit down on the ground and then he played Guided Relaxation Dub, and if you've never heard it then you're a horrible human being and can't appreciate how INSANE it was when it dropped.
After Borgore's set was done, I went upstairs to interview Ookay. It went a little something like this:
TSS: Introduce yourself
Ookay: I'm ookay, also known as ookay, and I DJ music. Not country though.

TSS: What is your musical background?
Ookay: I come from jazz and gospel music, I grew up as a little church boy. My dad was a bass player in the church band, and my mom sang in the choir, so I was always around that type of stuff. My dad gave me a lot of insight into that area. When I was younger I listened to a lot of death metal and soul music. I've done pretty much every kind of music, that's why my music is so out there.

TSS: How did you get into trap music?
Ookay: I was a house DJ for about 2 years, and when I was about to quit and become a student I tried a trap tune and a lot of people started to listen so I made a side project that turned into my main project and yeah, here I am.

TSS: Who are your biggest musical influences?
Ookay: My dad, I grew up watching him play the bass. People like Stevie Wonder and Michael Jackson. That has nothing to do with production, but that's the music that I grew up listening to and really inspired me to start making my own music.

TSS: What do your parents think of your music/career?
-They actually used to not be supportive, they thought I was just doing drugs and illegal raves. But after 2 years of just working hard on music they saw how much this meant to me and how serious I was about it. I mean they were always supportive, and still are, they just didn't like the scene at first.

TSS: When did DJ'ing/Producing turn into a career, and not just a hobby?
Ookay: As soon as I started touring a lot and money started coming in and I could use that money to help support my family. The first thing I wanted to do was help out my family, they're my priority.

TSS: How has it been touring with Borgore and Kennedy Jones?
Ookay: AMAZING! Every show has been packed and out of control like this one. I've learned a lot from them and it's really helped me grow as a performer. Hopefully this tour builds a fan base and lets people know who I am. It's such a privilege just getting to hang out with all these great DJ's.

TSS: Describe yourself in BPM.
Ookay: 10BPM, slow as fuck. Just kidding, I don't know, maybe 120. I like a lot of deep house and I think it suits my personality.

TSS: Have any side projects?
Ookay: I've got Coaster, it's a Deep House thing i've been working on.

TSS: Why the mask?
Ookay: It started out with me just not wanting people to know who I was, I wanted Ookay to be kinda mysterious. Then people just got used to it and it became my thing.

TSS: Where did the name come from?
Ookay: Literally no reason. I was signing up for Soundcloud and couldn't think of a name so I just said "Okay", but it was taken. So I added another O and people fucking loved it.

TSS: Which do you like more, festivals or shows?
Ookay: I haven't done a festival yet so I can't really say. But I really like playing in clubs or halls because it's a lot more intimate and more fun. Plus at a show you know the people are there for you, and not just walking around a festival and happen to stumble across your stage.

TSS: What's next for Ookay?
Ookay: Collaborations, new EP, more tour dates, bus tour around the US and maybe Europe, work on new singles, maybe an album. If I do an album it'll be less bangers and more composed and written out songs.

TSS: Where do you think EDM is going?
Ookay: It's growing really fast. The amount of talent right now is unbelievable. Trap is huge right now but who knows what the next big genre could be. It could be some weird mix of Jazz, Funk, and Dubstep. It's impossible to know before it happens.

TSS: Fuck, Marry, Kill: Diplo, Michelle Obama, Dillon Francis
Ookay: I'd marry Diplo, fuck Dillon, and I guess kill Michelle..Just process of elimination, I hope I don't get arrested for saying that.

TSS: Would you rather fight 100 duck sized horses, or 1 horse sized duck?
Ookay: Probably the duck sized horses, they're vegetarians so they wouldn't want to eat me, just tiny bites.
Comments
comments

<!-comments-button-->