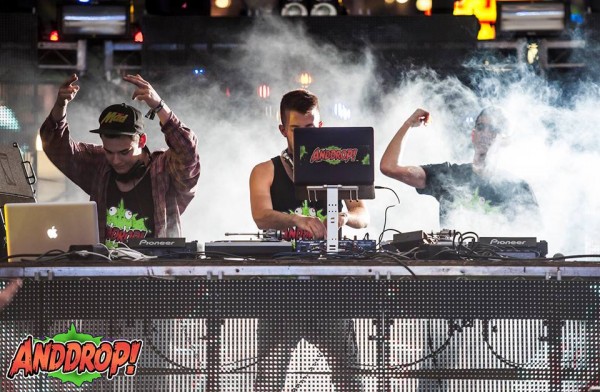 AndDrop! is a very awesome group consisting of Joe Wiseman, Sylvain Kauffman, and Harris Kauffman, and although they still have a fairly small following, these dudes are absolutely going places. They were among the winners of the EDC Discovery Project, which was a huge effort to give a few select smaller artists a chance to perform for the enormous festival crowd in Vegas, and in a few weeks, their official remix for The Cataracs' track 'Dagger' will be dropping. Definitely remember this name, because you will certainly be hearing it in the future. We got a chance to do a short interview with them, which is below. Be sure to also check out their chaotic mix below that! You can snag a download off of Soundcloud.
TSS: How did you first get into production?
AndDrop!: Harris had been producing hip-hop/techno beats throughout high school and Joe had been rapping and performing vocals at the same time. After Joe had been DJing solo for about a year in college, they thought it was necessary to make the next step and start producing their own beats as a group in the summer of 2010. A few months later, Sylvain, who had been playing piano his whole life, joined the crew and that's how it all began.

TSS: What was it like to get to play EDC?
AndDrop!: A surreal experience. We remember being at EDC in Los Angeles three years ago and just dreaming about what it would be like to play at a festival of this magnitude. It was pretty insane to be up there and see people going crazy for our music. We hope that people that have never heard us before liked the tunes we played (especially all the originals) and stay connected to us and our music.

TSS: Who are your biggest influences?
AndDrop!: We have the classic influences like Crookers, Jack Beats, and Diplo and we have the more recent influences like J-Trick, Deorro, Reece Low, Nom De Strip, and Zoolanda. It is always kind of rotating on what we are into at the moment and what is influencing our productions. Sometimes its the Melbourne bounce sound and at other times its UK Garage…so it definitely depends on the day and our mood.

TSS: In my opinion, it seems like the electronic scene as a whole is moving towards live instrumentation and away from the production style that has been big for the last few years. The new Daft Punk and Pretty Lights albums are both good examples of this, as is Destroid. What is your take on this?
AndDrop!: Fortunately the EDM community embraces a wide range of styles and genres. As producers, we've always felt very empowered by the possibilities of computer music. There's definitely been a recent shift towards more use of live instrumentation, especially in performances. Our interests and influences are very wide reaching. That said, the music that we love the most is made electronically and played electronically, and we will always love it as long as it keeps us inspired.

TSS: What's the craziest thing you've seen at a gig?
AndDrop!: Lately we've been really stoked to actually meet our fans face to face. These bigger gigs have given us this opportunity. At our EDC set, a kid came out with an "AndDrop!" sign. He was singing and dancing along to every one of our original tracks. In this increasingly saturated industry, it's just awesome to know there are people out there who really enjoy and appreciate our sound.

TSS: If you could give any advice to kids who are first starting to get into music making, what would it be?
AndDrop!: Don't get attached to a project. If you're feeling stumped, start something new – but don't forget about the old ones. That's how you progress – trial and error. Finishing tracks will come with time, but don't get stuck listening to the same loop over and over. Explore, create, dare to be different!
Photo credit goes to Hunter Cole.
Comments
comments

<!-comments-button-->