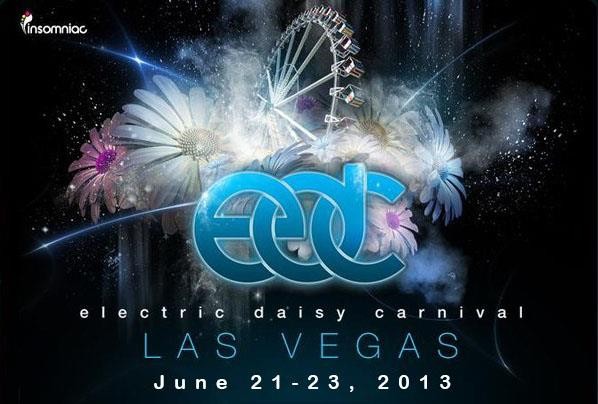 EDC Las Vegas 2013 is less than a week away and we here at ThisSongSlaps are excited as you are, the people, the fans, the headliners for this years annual Electric Daisy Carnival at the Las Vegas Motor Speedway!
We also care about you having a successful and overall safe experience for the time you spend at the festival! Whether this is your first EDC experience or second or so on, we have decided to supply you guys with 10 things we think you should bring to EDC to make it as awesome and successful as it can be!
1. A Plan.

You may be saying "Plan? Yeah I know who I want to see already!" but no… We mean more than just that sort of planning. Have a plan with your group on where you guys will be meeting if you guys want to meet at certain points during the night to catch sets together or it being the end of the festival and time to go back to where you are guys are staying. There is plenty of places that stand out that you can use as meet up spots as just saying a certain stage will be pretty pointless as there will be tons of people at each stage making it difficult to find certain people within the crowd.. Many tend to use some of the attractions Insomniac Events provide for the event as there are usually plenty of them which stick out and are noted on the maps given out at the festival so it's at a very specific location! Reason being, cell phone reception has always been a issue for in general everyone at EDC so you can't really be dependent on that as there is just thousands and thousands of people wanting to text or call others in the same area all at once that causes texts to be really delayed or not go through and phone calls to be very choppy, drop, or as well, not go through. So plan ahead! This can be in general for other friends as well that you want to meet up with as it will most likely be really complicated to get in touch with them. The last thing any of us and I'm sure you would want is you or any of your friends to go missing so do yourself a favor and make sure you guys have everything well planned out!
2. Cash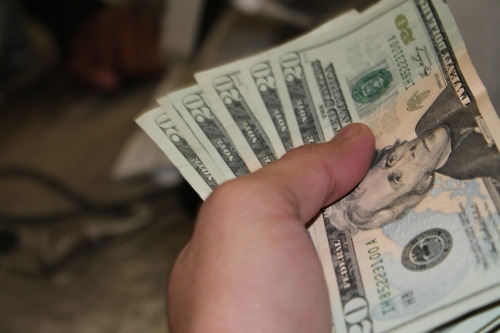 Many including us prefer to carry just our debit and credit cards compared to cash as it's just one simple card instead of a bunch of cash in your wallet and is easy to make purchases with just by a simple swipe but for EDC you should consider taking out money from a ATM prior to arriving to the venue. Many of the booths, stands, etc at EDC only accept cash, whether it is for drinks, food, or merchandise. This is for the reason being that there is many ATM's throughout the venue but those ATM's are usually full of long lines, that can be a big hassle, and in addition you can get a pretty high fee just to take out some money. So just save yourself time, patience, and a couple dollars by grabbing some money at a nearby ATM to where you are staying or the nearest bank of your chain.
3. EDC Mobile App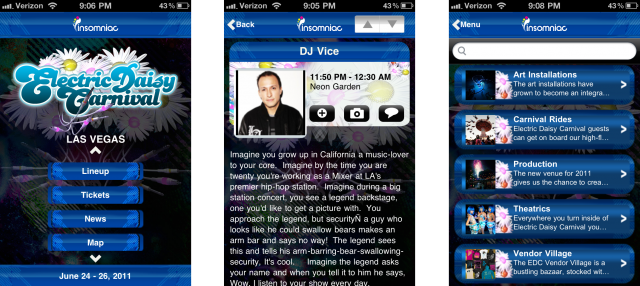 We have to say this is our one of favorite things to bring that Insomniac Events provides for EDC! Insomniac now annually along with the event releases a mobile application specifically made for the event. They are available for both iOS and Android which we'd like to believe that a good percentage of attendees carry. This application offers great features that can make the experience go much smoother and you won't miss any of those artists you are so excited to see! You get a list of the all the artists playing at each stage, along with a small summary about them, and the times of their set. Along with that you can create a schedule for yourself to be a bit more organized and it just adds on to the first thing we mentioned which is planning. In addition via the app, you get the latest news and updates surrounding the event and also you get handy virtual map of the entire festival. The application we believe this year will be within the 'Insomniac' App which since the other EDC's this year have been that way. You can find that app in your app store already but it hasn't been updated to Las Vegas version yet which will probably occur next week on the week of the event. In case the app is separate for this EDC, we will update the post with a link on where you can download it.
4. Ear Plugs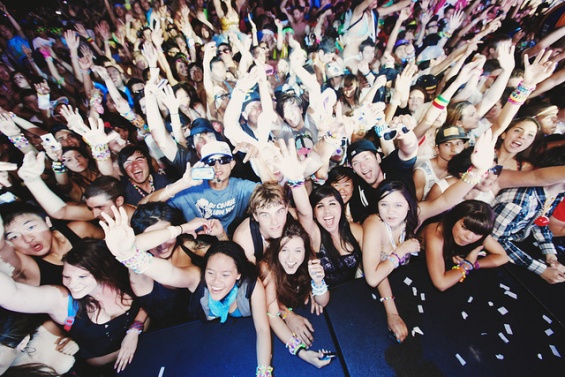 We understand many of you are questioning why we are adding this… that it's not the same…that we need more bass… that it makes the music muffled… but reality is people, our hearing is an important thing as if there is no hearing, then for the most part there is no more music. Overtime, the more exposure you have to a certain level and above of sound, can cause serious hearing loss overtime which we wouldn't want to happen to any of you. There is actually really good ear plugs made for environments of EDC of loud music that doesn't make your hearing muffled but basically just lowers the volume for you. We tend to use ear plugs a lot, especially since we know we are much nearer to production, it can be very dangerous so we like to take precaution along with the production crew, artists, and team helping to put the event together and protect our ears which we think you guys, the fans, the headliners, should as well. If you need a suggestion for cheap yet very good ear plugs for EDC feel free to check THESE out as we personally use them and we love them! You can get them for cheap on Amazon or eBay.
5. Gum & Chapstick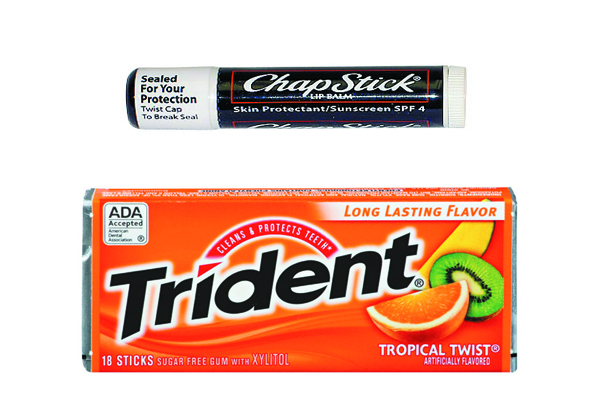 When you connect the dots of a massive festival that involves a lot of moving and dancing in the middle of the hot desert, we are sure you can assume that it will involve you drinking a lot of water and staying hydrated. In addition, your lips will chap and that is where chapstick can come in handy! Also, gum can help a lot as well as chewing gum tends to help keep your saliva flowing to an extent to help prevent dehydration as much as possible so we highly suggest to bring both things to add onto helping you have a great experience. Just don't forget that gum and chapstick must be sealed before entering the event as security will remove it from you if it is unsealed.
6. Extra Hotel Key

Just because, it's always good to have 2 people in your group with a hotel key if you are staying at a hotel. With all the craziness and fun that will be occurring during the festival, there is always a possibility of things going missing from either it being misplaced or just falling out without the person even noticing. It's happened to many and the last thing anyone wants to do is be at the front desk of the hotel waiting to get a replacement key early in the morning after a long night… so just save yourself. Have an additional person with a key in the group. This in general applies to just making sure you bring as few personal items as you can to the event and the items you do bring to have them properly placed on you to not risk losing any of your personal belongings.
7. Camera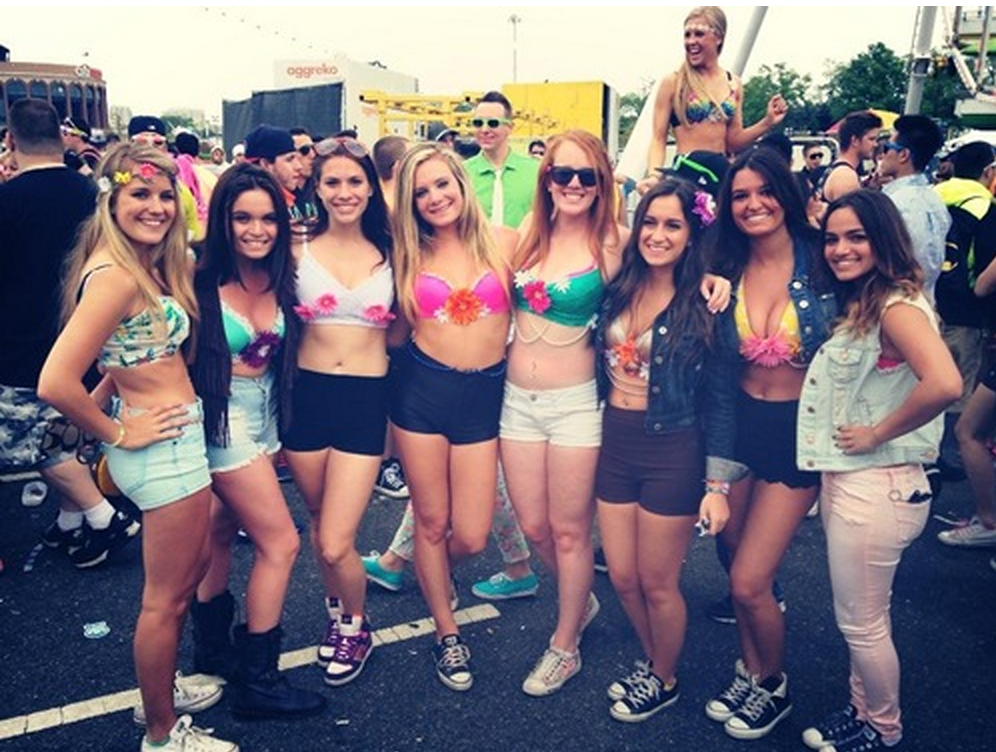 Bring a camera, save those great memories that many of us will experience and share them with people. Nowadays, it has become very easy to edit and upload on the go that all you really need is a smartphone to grab a quick shot. If you bring a camera, that is fine also as there will be plenty of moments to capture just make sure that is not a prohibited camera (DSLR, detachable lens). If you plan on using your phone to capture photos and videos, be sure to clear as much memory as possible of unneeded content as you will probably be using up a lot of space during the 3 days of the event.
8. Insomniac Water Bottle

Now this not everyone can just bring since they might not already own one but we highly suggest purchasing one at the event! They are cheap, durable, and you get free water refills all night at any of the water stations! Take note that due to Insomniac's online shop being under maintenance, you can only grab one inside the festival itself at a merch booth this year.
9. Phone Battery Pack

With a mixture of use, heat, and a lot of service traffic in the area, your phone is bound to die at some point during the festival… A dead phone sucks, more if you have to find people at the end to leave with it or meetup with friends since you now have no way of communicating or even trying to communicate with them. Battery packs are always useful for these sort of events as we know many of our own friends who own one and use them at these sort of events! There are cell phone charging stations at the venue but those tend to always be full of lines so these are great to be able to charge on the go while you still get to enjoy all your sets and explore the event. We do warn you though that they are a bit pricey. A good tip though for longer battery life is trying to use your phone the least you can, lower your brightness, put it in airplane mode, and turn it off when you're not using just to let it last a bit longer.
10. Good Vibes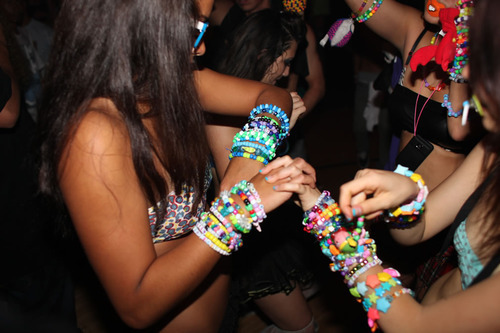 Last on the list for our top 10 things we think you should bring to EDC this year is what we think is the biggest and most important thing… GOOD VIBES! Spread the love, not hate. Many come to just have fun and enjoy themselves with those who surround them while listening to some of their favorite artists under the electric sky. Why ruin your own experience or the experience of those around you by spreading hate just because the music they like, the way they dress, etc. Love one another, meet new people, listen to great music, share great experiences, and overall, have fun! If you see anyone in who looks like they aren't doing well or in bad shape, go up and check on them, talk to them, see if they need anything.
We are the people who make this community the great loving and accepting community it is, let's keep it that way!
With that, we hope you enjoyed our recommendations and they help you with preparing for next week which will be a great time! For those wondering, we will indeed be in an attendance to EDC and be around the strp during EDC week. See you there!
Comments
comments

<!-comments-button-->