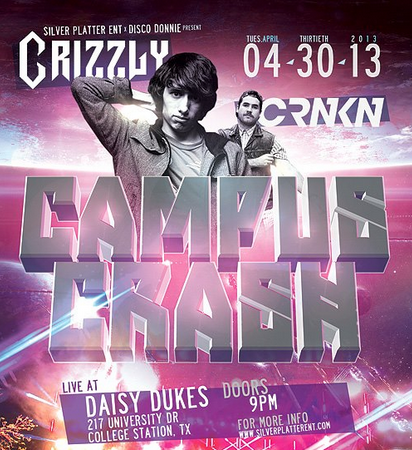 After my incredible and surreal experience at Meltdown Music Festival I was itching for my next show, and luckily I would only have to wait a few days to see two of my favorite producers throw down in my hometown. I've had the opportunity to see Crizzly several times, but CRNKN has been on my "must-see" list since Trap music exploded in the last year. The event took place at Daisy Dukes, the biggest bar/venue in College Station, right next to the Texas A&M campus (Gig 'em). EDM events are always a strange sight here in College Station because of the odd looking mix of girls in tutus and PLUR bracelets clashing against guys wearing Wranglers and boots, but that's Texas for you.
The opening DJ finished up his set and CRNKN slow-walked up to the stage, grabbed the mic, and screamed "Is Texas ready to get ratchet?!" and judging by the crowd's response, we were. What took place over the next hour in his set can only be described as pure electronic bliss. He played a virtually seamless mix of bang-your-head trap music and rage-your-face-off dubstep. I was already a huge fan of CRNKN and his remixes, but now he has made my list of favorite live DJs. I also loved that although he is primarily a trap producer, he mixed in a lot of crunchy dubstep tracks to set up for Crizzly, while at the same time giving his set the same feel as his originals and remixes.
Enter Crizzly. This crunkstep-banging Texas native is a favorite here in College Station and the energy in the crowd definitely represented that well. He had a hype man with him and normally I hate those guys, they talk too much during songs and are generally pretty annoying, but this guy was amazing and really kept the energy at a really high level. Plus who doesn't love a loud black guy wearing a kilt? Yes, he was wearing a kilt. Crizzly played for a solid hour and 45 minutes and in that time he played almost every single song he's produced (Except his Lost Woods remix, which i'm still a little upset about) and he played them LOUD! At most shows in small venues like this that I go to the most energy is up at the front and then as you go farther back in the crowd it gets more tame. Nope. The entire crowd was going as hard as if they were up on stage and it was AWESOME. I honestly don't think i've ever had that much fun dancing at a show. Crizzly, thank you for throwing down one of the most ratchet sets i've ever had the pleasure of witnessing.
All in all this was an extremely good show. The only negative aspect was the company putting on the event, Silver Platter Entertainment. The staff or employees that they had running the event were being extremely rude, even going so far as to start a fight with one of my friends. Normally I don't get offended when i'm not allowed backstage, but considering i'm a friend of Crizzly's and I work for a large music blog, I was hoping to get treated a little better than "I don't care who the hell you are, your website doesn't mean anything". Shame on you Silver Platter.
"Follow" Crizzly: | Facebook | Twitter |
"Follow" CRNKN: | Facebook | Twitter |
Comments
comments

<!-comments-button-->