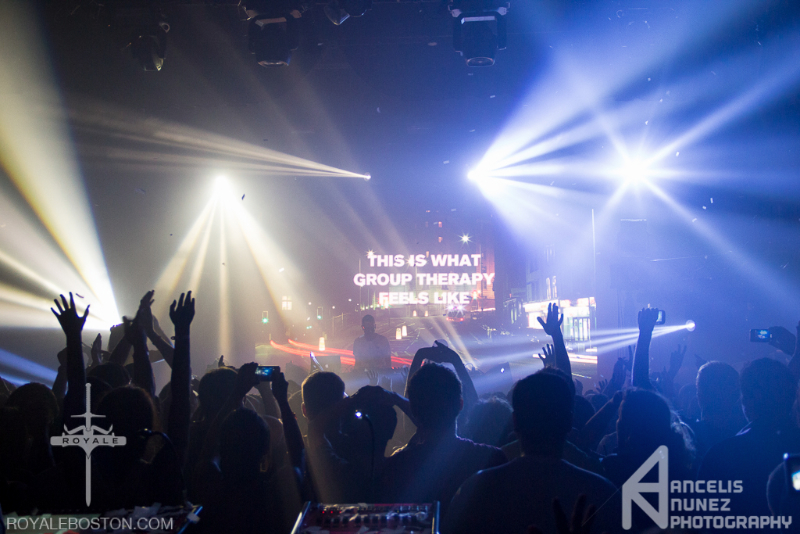 So as some of you know, Above & Beyond was in Boston this past week for three nights straight at Royale. I was fortunate enough to attend on Tuesday (the second day) and experience by first taste of Group Therapy. Let me start by saying they were amazing, they blew me away with euphoria. While I am not the biggest trance fan in the world, I certainly appreciate the way the music makes you feel and how much love it provokes.
One of the best aspects of their set is the back drop which includes stunning visuals and more importantly, messages. The most touching message I saw Tuesday night was "Stay strong Boston." It was absolutely riveting. I'm a huge advocator of "music heals" and that message on the big screen as the music echoed through Royale was so powerful.
A jam packed dance floor of people all in awe was an amazing sight to see. I have never seen Royale filled with so much love before and as a music lover it was such a great sight to see. I'm usually the type to go all out when I attend shows but I felt extremely relaxed and content listening to the music and absorbing what was unfolding in front of me.
Luckily we had two authors at the shows. Here is what our author Ryan Amadea had to say about his experience:
Unlike my co-author Josh, I am a huge trance fan. I as well got to experience my first ever Group Therapy. As soon as I stepped foot into the Royale I was absolutely captivated by the enchanting lights and sounds. The opener for Above & Beyond set the atmosphere with never ending chord progressions that seemed to lift everyone's spirit inside the club. When Above & Beyond came on everyone went nuts! Tuesday was a sold out show so the dance floor was full of eager ear's waiting for their dose of Group Therapy. The graphics that were so perfectly synchronized to the tracks were as equally beautiful. I clearly remember the three white doves flying across the screen as "Alchemy" played. They also created an "underwater" wonderland, perfectly complimenting the amazing sounds of Above & Beyond. Overall, I never would have expected Group Therapy to have such a dramatic effect on me as it did. Finally, I can relate to the thousands of other people who have experienced it before me. Above & Beyond did not disappoint me at all Tuesday night and I'm looking forward to my next Group Therapy session.
As far as the shows on Monday and Wednesday they also sold out. Truly amazing that A&B sold out 3 straight nights at Royale. We would like to thank the management at Royale for giving us the opportunity to experience Group Therapy. We would love to come back anytime you want.
Above & Beyond – Sun & Moon | iTunes |
"Follow" Above & Beyond: | Facebook | Twitter |
"Follow" Royale: | Facebook | Twitter |
Comments
comments

<!-comments-button-->