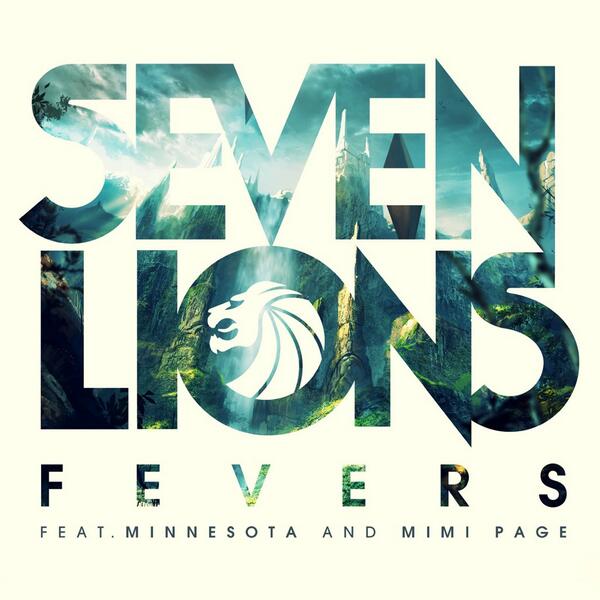 Where do we start? Seven Lions has been on a rampage recently as he's been tearing across North America playing a lot of shows. This track 'Fevers' is being released for free in celebration of his first headlining show at Avalon in Hollywood, as well as playing EDC NY for the first time this past weekend. The track 'Fevers' itself is breathtaking and features Minnesota and Mimi Page who help to create the blissful sense of euphoria that Seven Lions is known and loved for. Our author Josh also got the chance to interview Seven Lions at EDC NY this past weekend so check that out below!
Seven Lions – Fevers | Download |
Seven Lions TSS Interview @ EDC NY
So first off your Seven Lions EP; I was absolutely blown away as a fan that was one of our favourite EPs of last year especially with all the music that came out. What can we expect from you this year? Anything along those lines?
Yeah I'm working on a new EP and I'm not sure how many tracks will be on it but definetley at least four. I have a single coming out next week actually and then a remix that I did for Röyksopp./blockquote>

So what was your inspiration behind these tracks on your EP? They were very euphoric and very uplifting.

I just like music that takes you on a journey, and that's kind of my whole inspiration about music and stuff that takes you out of wherever you are and puts you somewhere else and that's my main inspiration I guess. I listen to a lot of metal too so the heaviness, you know the power that comes through the music plus the melody.

I think that's what a lot of fans are drawn to is the melody and that hard hitting sound as well.

Totally, music can be that much more powerful once you add melodic and emotional sounds.

So when you were growing up what did you listen to? Who was your favourite artist and what wanted to get you in to music?

I grew up listening to punk and eventually metal and when I listened to metal my whole love of music got to where it is now. Then I got into industrial for a little bit, and then trance eventually. Then I started making dubstep.

To be able to switch genres like that is impressive. Is that what we can expect to hear on the next EP? Like trance, dubstep stuff or are you going to branch out more?

Maybe a little bit of everything. My bigger tracks are the trance-dubstep stuff but I really like to make other things too. I'm planning on making some non-dancefloor tunes; stuff that's just not meant to be danced too. I find that writing that way gives me so much more freedom and it's so much more interesting to just sit down and work on a song and not have to worry about what people think so much.

I completely understand, as an artist you have to be able to branch out and do what you wanna do sometimes.
So give me a little bit of insight on your performance at Ultra, that was your first time playing there right? You had the whole OWSLA stage, all of OWSLA was there, how was that as an experience because as a fan that looked so cool.

It was awesome, my expectations for Ultra were kind of low because I don't like super massive parties all the time and it seemed like it was going to be way too over the top but it was actually really cool. Everybody was really nice, I met a ton of artists that I've known and respected for a while, and just got to meet them and have a beer and chill.

I saw a picture of you and Dillon Francis and it looked like you two were having a great time.

Yeah it was crazy. It was really just cool to see everybody doing there thing and it was a humbling experience forsure.

So were you excited for the set, or a little nervous?

I was excited forsure, it was nice to be with all of the OWSLA team and play with them. It's cool once you go somewhere and your team is behind you and they all have your back. It feels much better, and it's a good feeling.

More about OWSLA, how did that come about?

One of my managers met Sonny at a rock festival in Germany and gave him my stuff and then they just got back to us and we just went from there.

If you could describe your life in one song what would it be?

I'd say Opeth – Benighted.

Finally, one question that we always ask from TSS, it's more of an inside joke with us but would you rather fight 100 duck sized horses or one horse sized duck?

I'd say a hundred duck sized horses, cause then you could just hit them with a baseball bat.

"Follow" Seven Lions: | Facebook | Twitter |

Comments

comments
<!-comments-button-->