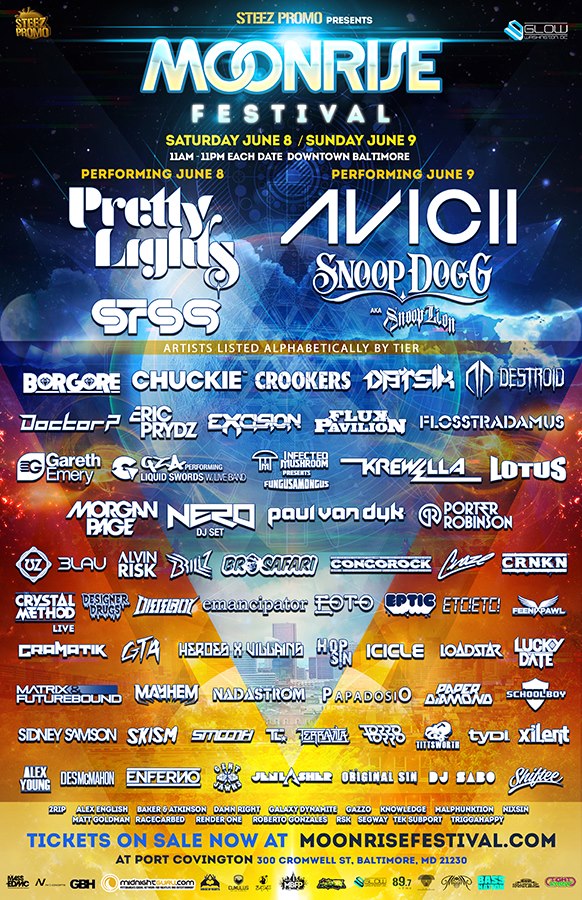 After a long and drawn out Soap Opera-like series of events, we finally have a real answer from Steez Promo and Moonrise Festival. YES, THE FESTIVAL IS CANCELED. Less than 24 hours after posting their Facebook Status:
Moonrise Festival is NOT canceled – these rumors are ridiculous
We get another statement saying:
It is with a heavy heart that we regret to announce the cancellation of this year's Moonrise Festival. Although we have put everything we had into this event trying to make it happen we have hit a roadblock that we just cannot overcome as the final permit needed will not be approved.

We are devastated by what has happened but with just under 3 weeks out from this event we cannot move forward without this final permit. We want to both thank and apologize to the fans, the artists, all members of the media, and everyone else who have supported this event. We sincerely apologize for the inconvenience. We have battled to keep this event alive and we are absolutely crushed by this turn of events.

Refunds can be received from directly from the Ticketfly webpage or through the outlet that you purchased your ticket from.

We are working on some alternative events in the area that will feature artists who were scheduled to perform on the festival. Please stand by for further information on these events as information confirms.
Like what? How do you go from being so confident that it's not canceled to actually canceling? Why do that to your fans and ticket holders? What gives you the right to just shoot us down like that after giving us such positive reinforcement? I'm disgusted with how this was handled. Absolutely disgusted.
Not to sound cool or brag or anything but over the weekend I got confirmation that this was canceled. So for me to watch all the drama unfold and read Facebook comments of fans asking what the hell was going on makes me sick to my stomach. I wonder how many people bought tickets last night and booked hotels after they boldly stated that the festival wasn't canceled. Wake up Steez this isn't a game here people have to plan hard and invest a lot of money in order to get to these things.
Also, what about the artists? You tell them it's canceled one minute, then come out and say it's not only to come back again the next day and say it is? What the hell? What if I was an artist (lol) and wanted to book another show on those dates because you canceled? How am I supposed to do that if you're lying to everyone about what's really going on?
Whatever. I don't want to give Steez/Moonrise my money anymore. That lineup was too good to be true anyways.
PS. This was meant to be informative but turned into a rant, sorry. This wasn't fun to write as a fan but as a blogger it needed to be said.
Comments
comments

<!-comments-button-->