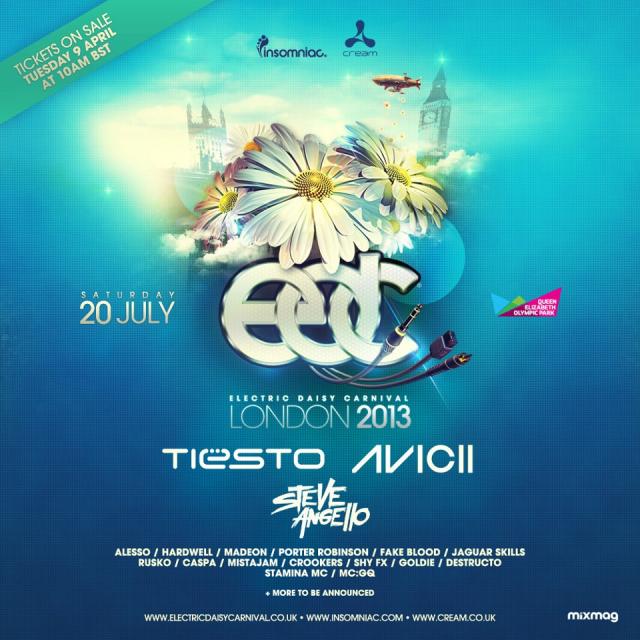 For the first time, Insomniac, America's premier electronic dance music festival producer, is partnering with England's legendary electronic music event producers, Cream, to create the first-ever United Kingdom edition of the world-famous Electric Daisy Carnival ("EDC") at Queen Elizabeth Olympic Park on Saturday, July 20, 2013. The venue, made famous across the globe during the 2012 Summer Olympics, will be transformed into Electric Daisy Carnival's fully immersive audiovisual experience.
About Insomniac:
Insomniac produces innovative music festivals and events featuring immersive multisensory environments enhanced by state-of-the-art lighting and sound design, large-scale art installations, interactive circus and theatrical performances, boundary-pushing special effects and pyrotechnics, and fan participation. The quality of our fans' experience is the company's top priority. Insomniac's premier annual event, Electric Daisy Carnival, is one of the largest, most spectacular music festivals in the world. Insomniac has produced more than 250 music events and for more than 3 million attendees in California, Nevada, Colorado, Washington, Texas, Florida, New York, and Puerto Rico. Founded by Pasquale Rotella, Insomniac has been based in Los Angeles since it started in 1993.
About Cream:
Cream is one of the world's leading event promoters, now part of Live Nation Entertainment. Over the last 20 years, Cream has defined itself as one of the world's most instantly recognizable youth brands and a global leader in the electronic music market. The company has built its reputation on delivering innovative and creative events and universally continues to grow staging club events around the world, hosting the biggest and longest running UK club night in Ibiza every summer, exploiting the global market with Creamfields the world's biggest festival brand, and in recent years also building up a successful touring division, co-promoting an array of artist led UK tours and stand-alone dance events, including the Swedish House Mafia event at Milton Keynes Bowl UK which attracted 65,000 people.
About Live Nation Entertainment:
Live Nation Entertainment is the world's leading live entertainment and ecommerce company, comprised of four market leaders: Ticketmaster.com, Live Nation Concerts, Artist Nation and Live Nation Network. Ticketmaster.com is the global event ticketing leader and one of the world's top five ecommerce sites, with a database of over 119 million fans who visit our sites. Live Nation Concerts produces over 22,000 shows annually for more than 2,300 artists globally. Artist Nation is the world's top artist management company, representing over 200 artists. These businesses power Live Nation Network, the leading provider of entertainment marketing solutions, enabling nearly 800 advertisers to tap into the 250 million consumers Live Nation delivers annually through its live event and digital platforms.
About Queen Elizabeth Olympic Park:
Queen Elizabeth Olympic Park will begin to open to the public this summer. Electric Daisy Carnival is one of a series of summer concerts and events taking place throughout the summer. For further information go to www.NoOrdinaryPark.co.uk and sign up to our newsletter. The Park will be fully open by spring 2014.
Tickets are available for purchase at www.electricdaisycarnival.co.uk
"Follow" Insomniac Events: | Facebook | Twitter |
Comments
comments

<!-comments-button-->