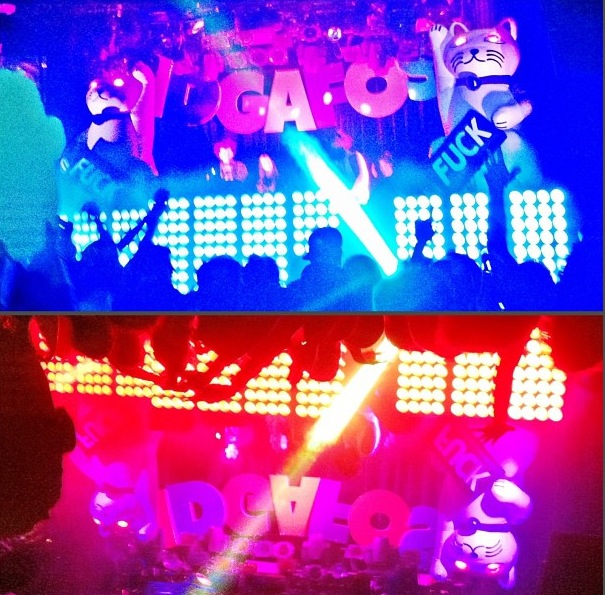 The Mezzanine has one of the best acoustics in San Francisco. It was more than fitting that Dillon Francis would be playing there. His show was completely sold out weeks before, and this was his last Wurld Turr stop before going to Coachella. The venue was packed and it got very hot and sweaty rather quickly.
http://youtu.be/BxLbsX3oIiY
Normally, I hate when DJ's have hype men; I enjoy watching the DJ alone. He shouted out phrases like "If wake up tomorrow and don't know what happened tonight, you're doing it right!" and even asked the crowd to chant "@#$% you Dillon Francis!" Dillon opened up with Alphaville's "Forever Young" and then immediately went to his "Suit & Tie" remix. He immediately captured the crowd's attention as me and my +1 tried to make our way to the front to get a better shot of him.<
Dillon Francis dropped banger after banger and there was never a dull moment in his set. He proved why he is one of the pioneers of moombahton dropping his iconic tracks like "I.D.G.A.F.O.S. 2.0" and "Que Que" in the middle of his set. He even dropped "The Code" by W&W and Ummet Ozcan which had me and my friend screaming and jumping at each other.
Something which surprised me was his ability to seamlessly mix track after track and keep the crowd alive. I would say he played somewhere between 50-75 tracks in his hour and 30 minute set which is something I would expect from the likes of Laidback Luke and A-Trak. He had quite a selection of bootlegs particularly including one of Sandro Silva's "Epic".
One of the best moments of the night came when he dropped his collaboration with Kill the Noise, "Dill the Noise". I remember beer's being thrown, fists being pumped, and a massive amount in twerking. The crowd loved every moment of his set. Unfortunately the venue had a hard curfew and he had to end his set early as well as strike his setup in time so he could make it to Coachella (see his Twitter).
All in all, this was hands down one of the best shows I have ever been to. Someone in the crowd had a giant head cutout of Dillon and I was more than honored to hold it up while dancing. You know it was a good night when you come out with glitter all over you, drenched in sweat, and not wanting to G.A.F.O.S.
Comments
comments

<!-comments-button-->