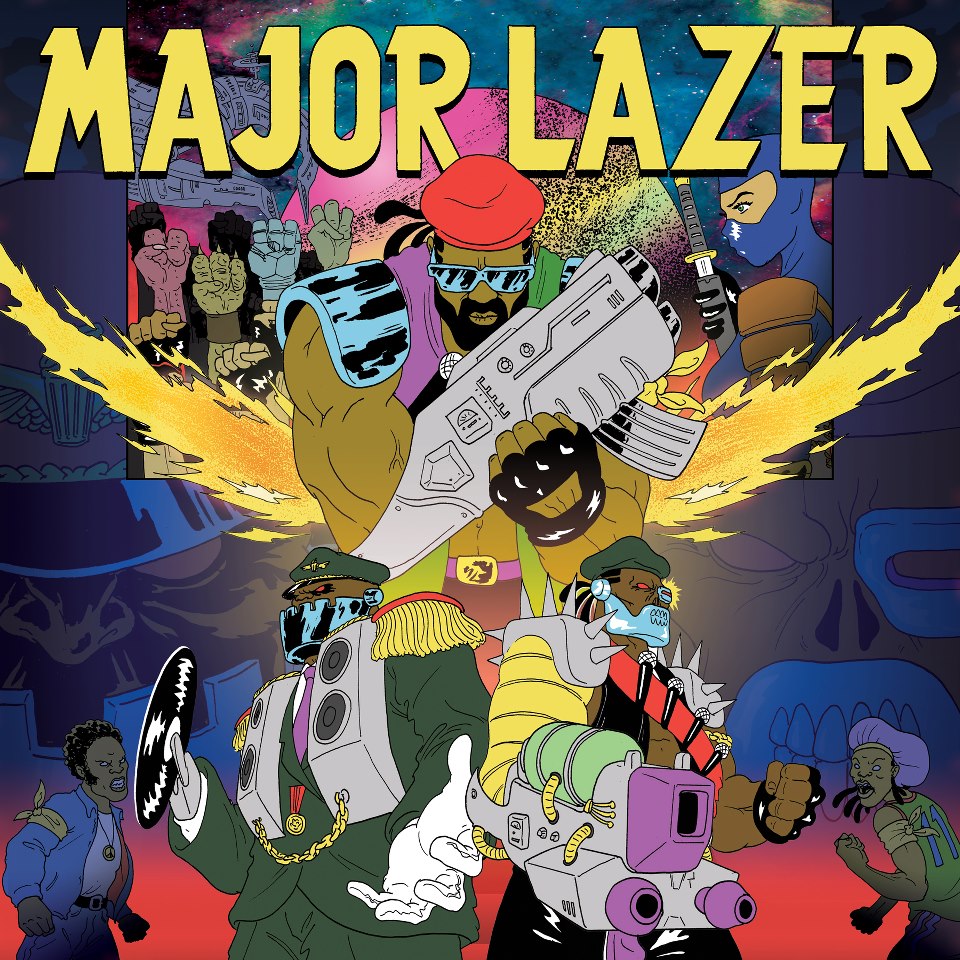 I can't begin to express how long I've been waiting for this day. Finally we have the new Major Lazer album in all it's glory after pushed release dates, a lot of stress and the Lazer Strikes Back EPs. It's hard to believe it's been four years since we last had a full length Major Lazer album and now that Diplo's revised the roster to feature Walshy Fire and Jillionaire, I really hope they're able to bang out more music. Now, if you're asking yourself who Major Lazer is then you've been missing out on some of the craziest music around and in a recent interview with Rolling Stone Diplo elaborates a little more on the Major Lazer's style.
Major Lazer has always been a hybrid of futuristic and old, classic styles, I didn't put any giant pop records on there – it's a little more unique. Six of the songs are rootsy, six are clubby, and three are outer-space records that I don't know what they are.
The hype generated around this album is crazy, and the trio has aced it. You'll already recognize tracks on here like 'Get Free' and 'Jah No Partial', and any hardcore reggae and dance hall fans out there will appreciate the legendary talents of Johnny Osborne, Typhoon, Shaggy, Vybz Kartel, and more. One of the most respectable things about Major Lazer is that they feature a wide variety of artists, and love to get into collaborations to draw inspiration from which leads to these unique fusions of sound that shows their versatility as producers. In this album there's something for everyone; electro, dubstep, moombahton, hip-hop, soul, each tying back to the Jamaican, reggae roots that Major Lazer is all about.
I've made enough songs about getting money or fucking bitches," Diplo says. "You always have to evolve – the minute you start building a moat around you to keep yourself safe, you're going to lose. Some songs are going to be about bubble butts, but now it's time to build in messages, too.
You're No Good
The album opens with 'You're No Good', featuring dance hall legends Santigold and Vybz Kartel, with very solid, anticipating drums, with a much calmer tone than you'd expect from the Major Lazer team, building up as a prelude to the album, and you immediately know what to expect from the album.
Jet Blue Jet
For the next track Diplo brings back GTA after creating 'Boy Oh Boy' a few weeks back to create the track 'Jet Blue Jet'. Now on this track you can instantly hear the GTA influence in the drop, and with the dance hall roots held down by Leftside, as well as Razz & Biggy, it sets up very hype vibes with a massive, bouncy beat.
Get Free
We're no stranger to this track. It's received countless remixes through the Lazer Strikes Back EPs and it still stands as a very moving track, featuring the more spiritual side of Major Lazer, through some pretty spacey vocals from Amber (from Dirty Projectors), the track is able to captivate more of the Jamaican roots the group holds.
Jah No Partial
Completely shifting gears from the previous track, this high energy track with Flux Pavillion hops straight into monstrous waves of reggae infused dubstep. If you've seen Major Lazer play this live then you already know how crazy this track is, and the tradition ML have established.
Wind Up
This one delves a little deeper into the roots of Major Lazer, creating a deeper track with a big drum beat and features Elephant Man and Opal. The track still maintains the ML pace with a massive, industrial electronic hook and a big vocal feature.
Scare Me
Actually, this is exactly what you would expect from a Peaches and Major Lazer track. Kinda has an old school feel to it. Maybe not a festival track but still something I'll be listening to and jamming.
Jessica
This right here is quite possibly my favourite track on the entire album. 'Jessica' is another spiritual track, this time featuring the lead member of Vampire Weekend. Now normally I wouldn't dream in a thousand years of these two being paired up, but as usual, Major Lazer defies all genres, standards, and expectations with a moving track.
Watch Out For This (Bumaye)
This song needs no description. Probably the best hype up song in the game forever and always. It's impossible to not want to move, jump around and shake to BUMAYE! I've witnessed this song make crowds go absolutely bonkers and it's probably the best song on the album.
Keep Cool
Shaggy. That is all. Like where has this dude been!? Leave it to Major Lazer to go ALL OUT on this album and dig deep for artists you would never expect to be on the same track. Absolutely amazed by this song, the lyrics are beautiful and make you want to hug someone, but the beat is so energetic at the same time.
Sweat
Featuring Laidback Luke, I knew this was gonna be a massive track before I even hit play. With vocals from Ms. Dynamite this track gives you the best of dance hall and dirty dutch, making an impeccable combination. Major Lazer did an excellent job with this track to make it a crowd pumper.
Reach For The Stars
You just knew this was going to be a feel good track with the title and featured artists, Wyclef. I'm honestly surprised the two parties haven't collaborated more to be honest. Hopefully this is the begining of more songs from them in the future.
Bubble Butt
I just love seeing girls dance to this. Truly a booty shaking anthem. Diplo and Major Lazer know how to make music to please all the senses, including the ears and eyes at the same time. Not to mention, throwing Bruno Mars, Tyga and Mystic on this is an absolute power move!
Mashup The Dance
After creating their massive track 'Original Don' with The Partysquad, it was only right to bring them back for the full album. The instrumental alone creates a big, energetic piece with a repetitive hook from Ward 21.
Playground
A much slower paced Major Lazer song but still an amazing track. While maintaining the tropical and Reggae tone, Playground provides a more chill vibe that you can still nod your head to. The lyrics throw you in a trance while the beat overcomes your mind.
Jah No Partial (Skream Remix)
This one snuck up on me, I did not see a Skream remix coming until I picked up the album this morning. From one of the true pioneers of dubstep, Skream brings us a big, grimy remix that perfectly compliments the original with the UK bass god.
Jah No Partial (Heroes x Villains Remix)
I LOVE Heros x Villians. These guys produce some of the best Trap in the game and this is probably the best Jah No Partial Remix out there. Absolutely slams. Even though I will always stand by the original track, this is a close second.
Get Free (feat. Amber of Dirty Projectors) [What So Not Remix]
Same pace, more bass, harder drop. I dig it. Get Free is a perfect chill track but add in a little harder of drop and something you can bang to and you have the perfect remix. What So Not nailed this one.
Major Lazer – Free The Universe | iTunes |
Tracklist
1. "You're No Good" (feat. Santigold, Vybz Kartel, Danielle Haim and Yasmin)
2. "Jet Blue Jet" (feat. Leftside, GTA, Razz and Biggy)
3. "Get Free" (feat. Amber Coffman of Dirty Projectors)
4. "Jah No Partial" (feat. Flux Pavilion)
5. "Wind Up" (feat. Elephant Man and Opal)
6. "Scare Me" (feat. Peaches and Timberlee)
7. "Jessica" (feat. Ezra Koenig of Vampire Weekend)
8. "Bumaye (Watch Out for This)" (feat. Busy Signal and Flexican)
9. "Keep Cool" (feat. Shaggy and Wynter Gordon)
10. "Sweat" (feat. Laidback Luke and Ms. Dynamite)
11. "Reach for the Stars" (feat. Wyclef Jean)
12. "Bubble Butt" (feat. Bruno Mars, Tyga and Mystic)
13. "Mashup the Dance" (feat. the Partysquad and Ward 21)
14. "Playground" (feat. Bugle and Arama)
15. "Jah No Partial" (feat. Flux Pavillion) [Skream Remix]
16. "Jah No Partial" (feat. Flux Pavilion) [Heroes x Villains Remix]
17. "Get Free" (feat. Amber Coffman of Dirty Projectors) [What So Not Remix]
"Follow" Major Lazer: | Facebook | Twitter |
Comments
comments