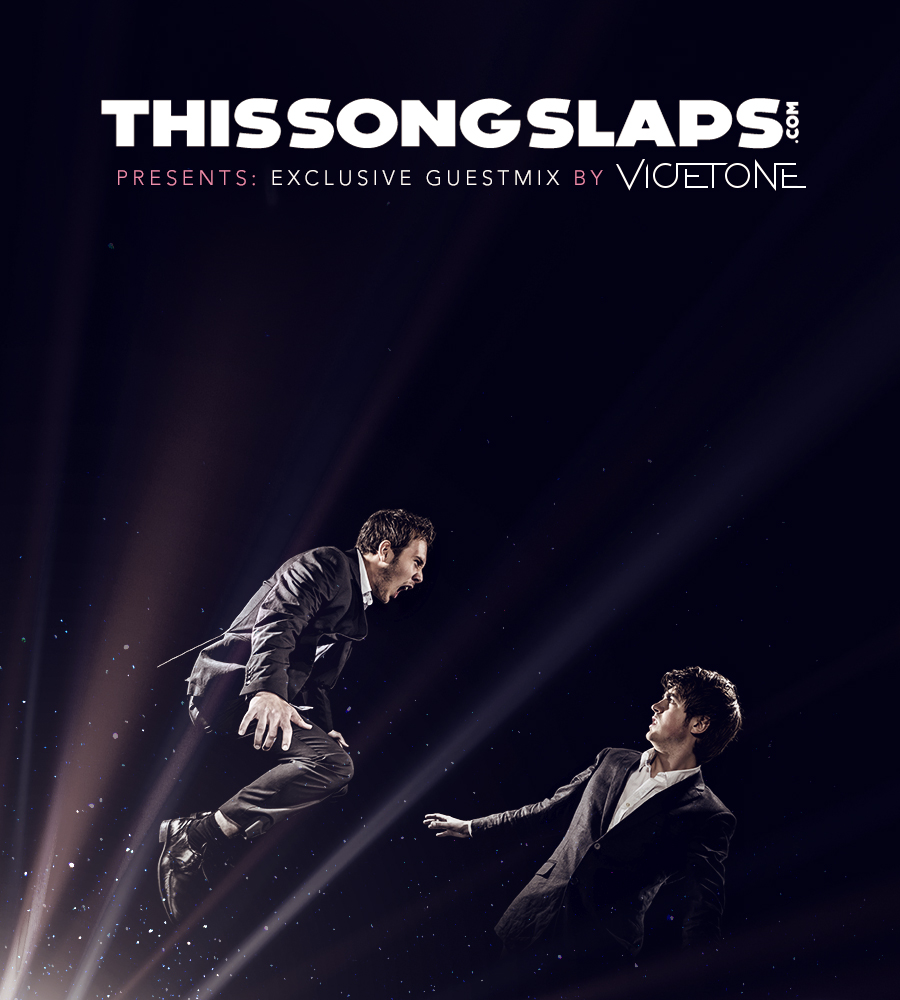 Our newfound friends at Vicetone went and gave us this awesome guest-mix for you guys, packed with some progressive BOMBS including their remixes of 'Weapon', 'Sparks', and more! The mix features some of their biggest remixes and tracks to date, including a few you'll have seen featured on the site before. We also have a SOLID interview below, so make sure to check that out as well as their latest track, 'Heartbeat', which is out now! The guys just hit 100k likes on facebook, and if that's not indication for some of the best anthems around, I don't know what is! Ruben and Victor are working on some BIG things right now that you're not gonna want to miss out on.
Vicetone – Slap Tracks Vol. 7 & TSS Interview | Download |
Tracklist:
1) Cazzette – Weapon (Vicetone Remix)
2) Audien feat. Michael S. – Leaving You (Original Mix)
3) Nicky Romero feat. John Christian & Nilson – Still The Same Man (Original Mix)
4) Doctor P. feat. Eva Simons – Bulletproof (Vicetone Remix)
5) Dada Life vs Vicetone vs Swedish House Mafia – Feed the Twenty Antidote (Vicetone Mashup)
6) Vicetone feat. Collin McLoughlin – Heartbeat (Original Mix)
7) Hook N Sling feat. NERVO – Reason (Vicetone Remix)
8) Fedde Le Grand & Nicky Romero feat. Matthew Koma – Sparks (Vicetone Remix)
Who are you?
We are Ruben and Victor, more commonly known as Vicetone.
How were you first introduced to EDM and how did you decide you wanted to start taking your music production seriously as a career choice?
We were both very young when we first got in touch with Dance music. Ruben was 11 when he first heard Tiësto's song Traffic, and Victor was around 14 when he fell in love with dance music that he heard on the radio. It has been a major part of our lives ever since we've been teenagers, and we've been fans for a long time. When we started trying our hand at producing together for the first time, we were both surprised with how well we worked in the studio. Our collaboration worked really great from the start and we each bring something useful to the table when it comes to music production. Given that we also have a very similar taste in music and similar ideas of how we want our music to sound, we decided to take producing much more seriously when we saw our tracks were getting more and more attention. When we started to see how many people played our music in such a short time (our tracks have almost 2 million plays on our Soundcloud right now) and how other big DJ's like Nicky Romero and Hardwell started supporting us, we decided to work very hard to make a career out of this. Since then, we've been working in the studio every single day, and we've got a lot of exciting new tracks coming out this year!
Where does the name 'Vicetone' come from?
We initially spent around 2 months thinking of an artist name, and nothing good came out of it. At one point in time, we just decided to write down words that we both liked, to see what combinations would work for an artist name. So Ruben liked the word 'Vice' and Victor wrote down 'Tone', among a dozen of other words. We tried all the combinations until we came up with Vicetone. We immediately liked the name and found out that nobody else was using it, so we stuck with it!
What can we expect to see from you guys in 2013 in terms of material?
A ton of new stuff that we've been working on over the last months. We have a lot of originals coming up, including vocal collaborations that we are really happy with. In March this year, there will be 2 tracks that we're releasing that will feature vocalists, on different labels, and we're working hard on finishing the other originals. We've done a lot of remixes so far and there will still be plenty more this year, but luckily we've got a lot of originals coming up this year as well.
What do you do outside of the EDM scene?
Hang out with friends and family, maybe watch a movie sometimes. But other than that, not a whole lot. We are pretty boring guys actually, haha! For (at least) the past 6 months or so we've been spending every day making music, and we love it!
What advice would you give to upcoming DJs/ producers?
Work your ass off. Hard work beats talent, especially in this time of age when there are thousands of other producers trying to break through. Everybody can download a synthesizer and a DAW these days, put a beat together and call him or herself a producer, but you need to stand out in the crowd to get noticed these days. If you're really determined and love what you do, you will get there someday, but it won't be a cakewalk and you need to work really hard to make it happen.
Also, and you will hear a lot of producers say this, try to find a sound and style that you like and is unique. Eventually people will like you for the tracks and the sound that you make, and the more you have your own style, the better. It's important to stand out.
Since there's two of you, are there any creative differences and how does compromise come into play when working on something?
We nearly always have the same vision when we work on a track – it rarely happens that one of us wants to do something completely different with a track the other. When it does happen (and we can honestly not remember an instance that it has happened), we'll just save that particular idea for a different track. But yeah, we work really well together in the studio, and have a lot of fun making music (which is very important!).
What track from you guys has been the most well received by the fans?
I'd say our Sparks remix was the first one to do really well, it got played by Nicky Romero, Nari & Milani, Felix Cartal and other DJ's, while also racking in a lot of plays on YouTube (more than 100.000). Lately however, our Bulletproof remix got a lot of attention as well and is almost around 200.000 plays on Soundcloud right now. Eva Simons herself also tweeted at us that she liked the track, which means a lot for us coming from her! That's really awesome to read.
Where does your inspiration come from in terms of other artists and their music?
We have a ton of ideas on tracks that we want to do. However, when we need extra inspiration, we often listen to older records that we used to love when we were still kids. A lot of good ideas can spawn from that, and you might be surprised how often a little sound or riff in a very old song can be the inspiration for a completely new one.
Out of all your tracks, which one gets the crowd going best?
Either our Sparks or our We Come Running remix. The last one got played in a stadium, filled with 17.000 people – you can see the result here:
What is your creative process?
That differs per song. We don't have a set way of working creatively, and we always try to mix things up to keep it interesting. We usually start with a melodic idea when we're creating a new song, because we often want a melody to be the main drive of the song – we find a good melody the most important part of a song. From there on, we kind of put together the track in our heads and discuss how we want the arrangement to be, and then we draw it out and produce the track from there. From that point on, there are no rules: just a freely creative process of making music!
Would you rather face one hundred duck sized horses, or one horse sized duck? (a TSS signature question)
One horse-sized duck. You could probably run away from him, while these duck/sized horses would still be fast… that, and it might be easier to take him down rather than a hundred mini horses. Deep stuff, man.
"Follow" Vicetone: | Facebook | Twitter |
Comments
comments