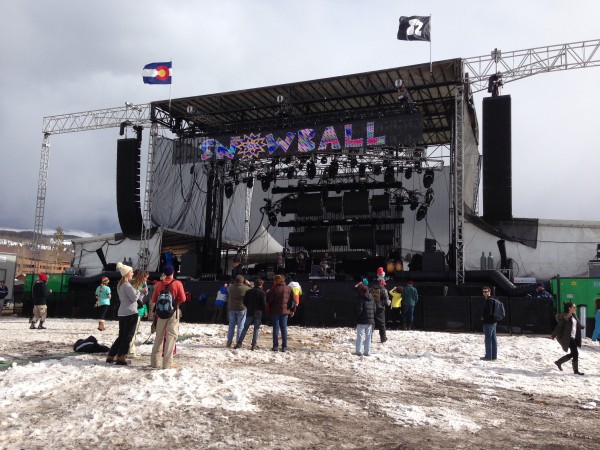 Wow. Today as a whole stood out as one of the best days of music I have ever experienced, definitely up there with Camp Bisco this summer. Something about being able to turn around at any given time and see a gorgeous mountain backdrop makes it a really special experience. I don't even know where to begin to describe how incredible today was, so I guess I'll just go chronologically.
When we arrived (and by we I mean my buddy Connor, one of our Campus Reps who is here covering the event with me), it was a gorgeous afternoon with that perfect blend of sun and snow that only seems to exist in Colorado. We got into the festival relatively quickly, and a band called Cold River City was playing on the main stage. They had a really chill reggae vibe, and were perfect for the start of the day. We got settled, hit up one of the food vendors (all of which are amazing), and then headed to the Groove Tent to see Robotic Pirate Monkey. I've always kind of dug Robotic Pirate Monkey because they always keep things interesting, but today they really cemented themselves as a group that I really like. Their style has changed drastically since the last release of theirs I checked out, and they were playing really bass-heavy trap and reggae-infused dubstep. As you all well know, we here at ThisSongSlaps love nothing more than trap and dubstep, especially when they're bass heavy, and we're pretty big fans of reggae as well. Overall, I was really impressed with Robotic Pirate Monkey and can't wait for their new music to get released.
After Robotic Pirate Monkey, we caught the tail end of The Floozies' set, which was really good as well. They have a sort of live drumstep feel reminiscent of Conspirator, and they were very solid overall. Next up was Zion I, who were on my radar because of the incredible Bassnectar Remix of their track 'Human.' They were really solid, and did some crazy freestyle rapping which blew our minds a little bit.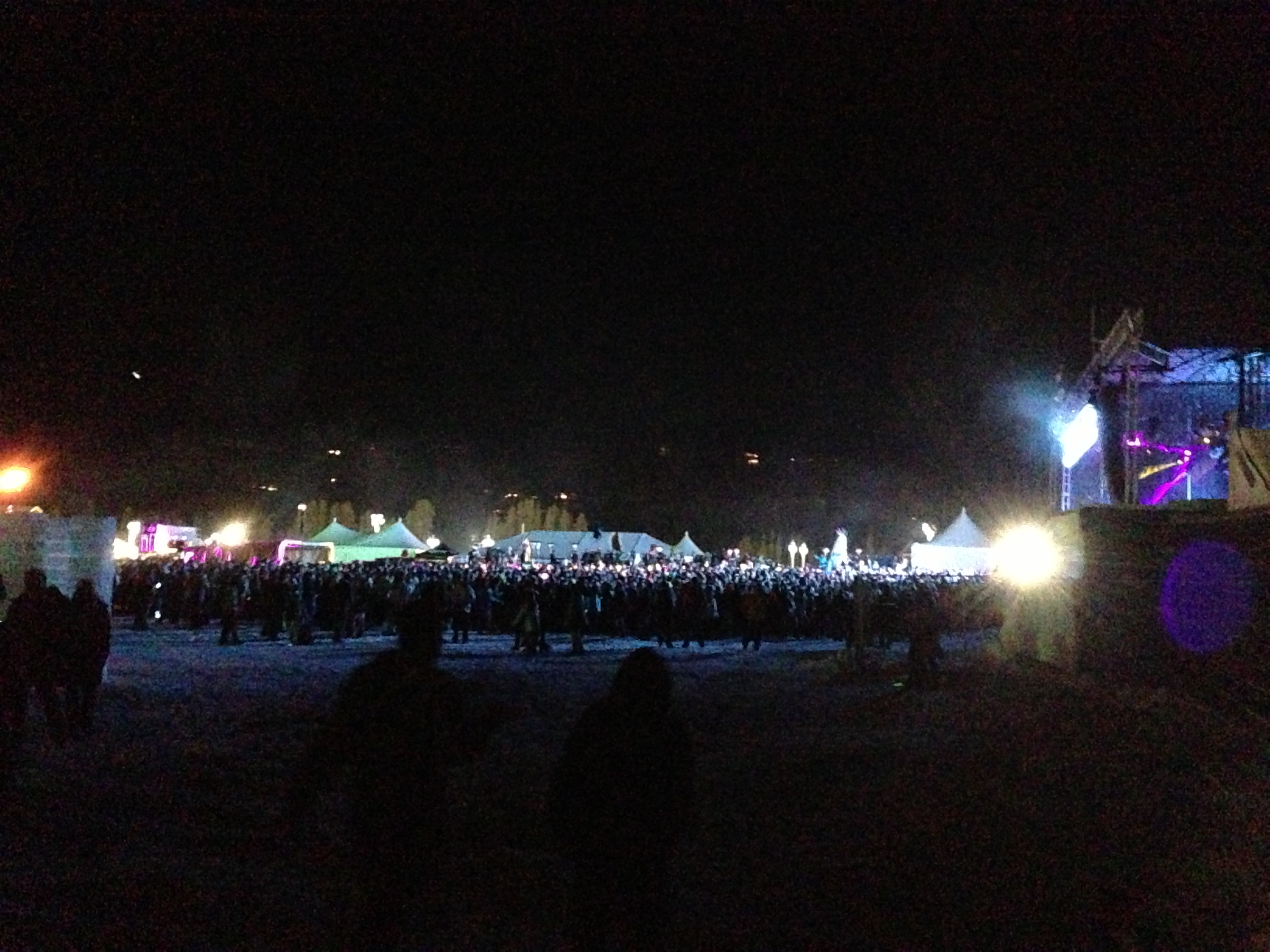 Unfortunately, we had to leave Zion I after only a short time, because let's be real, what kind of self-respecting EDM blog would miss even a second of a Porter Robinson set? Certainly not us. Obviously, his set was amazing, and full of crazy edits and bootlegs and stuff. Pretty much everything he played alternated between euphoric synth breakdowns and insane dry electrohouse drops. Needless to say, it was just as awesome as anyone would have expected it to be.
After Porter, we had the fortune of catching a little bit of Orchard Lounge, who are an incredible DJ group that played deep house. Their mixing was absolutely flawless, just like the last time I saw them, and it was very easy to lose oneself in the vibey grooves they had going on.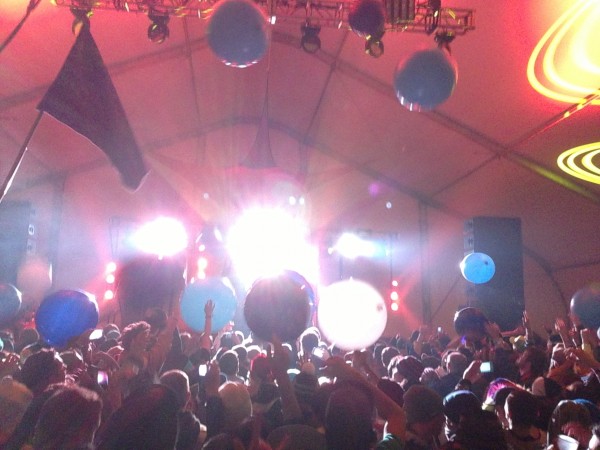 Next up was Krewella. For some reason I never was hugely into Krewella before today, but oh my god, their set was ridiculous. I was blown away by how much energy they had and how perfectly twisted the basslines to all of their tracks were. They seriously earned my respect over the course of that hour, where I found myself going nuts in a sea of apparently seizure-prone bass heads. The highlight for me was definitely their remix of the Knife Party's 'Fire Hive,' which is obscenely filthy and had me completely lost in flailing limbs to the beat. I wish I had been wearing a GoPro or something so I could show you how insane the crowd was. Overall, I would put their set as one of the best I've ever seen that wasn't by either Pretty Lights or Bassnectar. They also had a whole DnB/Drumstep section towards the end that had me grooving like I was at a ska show back in high school. On top of all that, they brought a ton of big balloons, which are pictured above. You really can't go wrong with big balloons, it was a nice touch.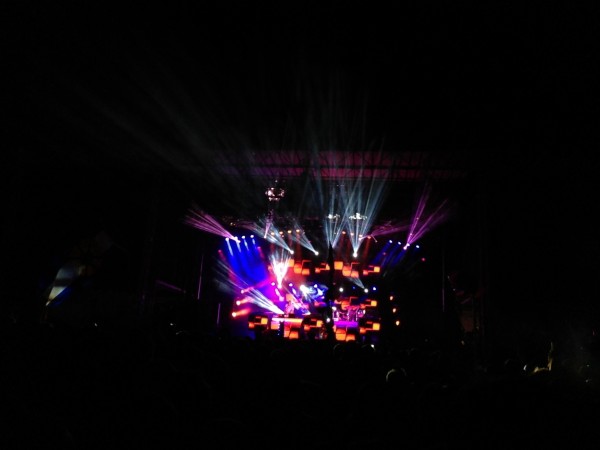 After Krewella came Big Gigantic. I didn't think I could possibly be more blown away by a performance than I had just been by Krewella's, but I turned out to be incorrect. I've always been a fan of Big Gigantic's fusion of live instrumentation and electronics, and the sax and drum playing are both phenomenal, but I was never a huge fan of their production style. Although I really dug them for the above reasons, I always felt like the produced aspects of their show left something to be desired. It turned out that that something was heavy dubstep basslines, and holy shit did they find it. Their new music was all beyond words incredible. I am insanely excited to hear their next release, and I think it will be a game changer for jazz/dubstep fusion. They played a cover of 'Thrift Shop' by Macklemore mashed up with their remix of Aloe Blacc's 'I Need A Dollar,' which went together perfectly. I really, really hope that that gets released, as it was phenomenal. The solo Dominic took towards the end felt like it was channeling Charlie Parker, John Coltrane, and some kind of demon all at once, and the result was a burst of primal bass-infused energy that was like nothing I have ever seen before. Their new light show was also way beyond what it was the ladt time I saw them, and the picture above doesn't do it justice (cut me some slack, it was taken with my phone and we were towards the back of the crowd because we stayed for all of Krewella). After all of that, they ended it with fireworks, which was also pretty sweet.
Overall, Day 1 of Snowball was absolutely amazing and I can't wait for the next 2. The festival is extremely well-run, the staff are all super friendly, the lineup and setup are amazing, and the location is gorgeous and absolutely perfect. It was funny to me, as someone from New Jersey, to be at a concert where everyone was wearing boots, gloves, hats, and winter coats. I've never seen anything like it, and the vibe was really awesome. For those of you who are from the East Coast like I am, I highly recomment you make this pilgrimage one day. There's something about Colorado that just makes it like no other place in the world. The people are amazing, the landscape is gorgeous, the music scene is incredible, and on top of all that, there is world class skiing and snowboarding right down the road.
Stay tuned for more recaps the next two days! Who did those of you who are also here like best tonight?
Comments
comments

<!-comments-button-->