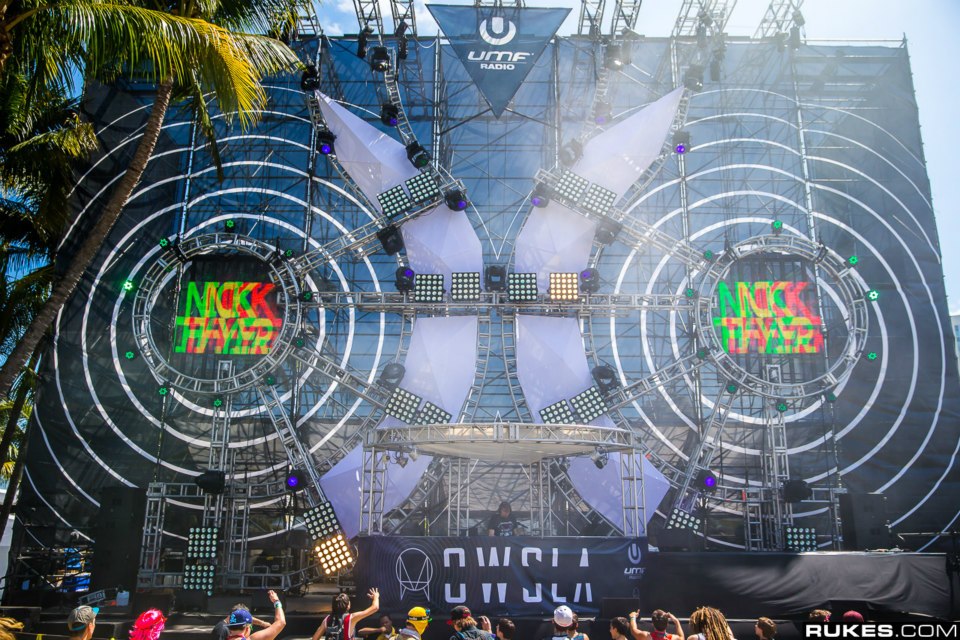 Since the OWSLA stage at Ultra was tragically ignored by the livestream, I know that personally I wanted to see a lot of those guys the most and hopefully that translates to all the TSS fans out there. In this post you'll find the sets from Jack Beats, Kill Paris, KOAN Sound, Nick Thayer, M Machine, Blood Diamonds, 12th Planet, Birdy Nam Nam, & Seven Lions. I'm generally against compiling sets because I recognize that they take up a lot of time. However, this compilation post is probably a nice little niche of sets to hide away and draw upon when needed, cause all of these OWSLA dogs THROW DOWN in their sets! We also took the courtesy of getting all of these sets available for download to you guys, so show us some love!
As if The M Machine didn't already have enough going for them, they killed their set on the OWSLA stage at Ultra this weekend. Their futuristic style simply SCREAMS that it's been brought to you by OWSLA. One of the highlights was a deep remix of Arty's new anthem, 'Together We Are', which quickly morphs into the industrial track, 'Middle Finger', by Dog Blood, then drops into my favourite M Machine track, 'Faces'. The set is just all around stunning and not a single set was even remotely similar to it, which just makes it that more impressive and unique.
The M Machine – Ultra Music Festival Weekend 1 Live Set | Download |
KOAN Sound, how I have missed you. I'm never dissapointed by these guys. The Bristol duo pull out all stops in this set, with their ecstatic, funk filled dubstep, switching it back and forth between classy tracks like 'Sly FOx' and then melting your face off with a grimy banger. In the set there's even a few IDs which hopefully means new material from these dudes soon!
KOAN Sound – Ultra Music Festival Weekend 1 Live Set | Download |
Nick Thayer brings the heat in his set, pulling out some sick edits, you can almost feel yourself sweating when he pulls out the acapella of 'Supermassive Black Hole' by Muse. As well as bringing in the big hitters from his 'Like Boom' EP, he also features tracks from Flux, Skrillex, Madeon, andd other sick guys. One of the things I liked most about this set was that he plays a perfect balance of dubstep, with some trap and other stuff in there too.
Nick Thayer – Ultra Music Festival Weekend 1 Live Set | Download |
Coming off a major EP from The Nest, a lot of hype was built up for Blood Diamonds set. One of the quieter OWLSA signings, Blood Diamonds tends to stay out of the big spot light yet his music is so damn good. Barcode was one hell of a drop in this set. Skrilly must be proud.
Blood Diamonds – Ultra Music Festival Weekend 1 Live Set | Download |
There's so much you can say about this group but what's cool is that their music does the talking for them. I've never heard or seen a live set from them but I was overly impressed. They have a really unique taste in music which is probably why OWSLA picked them up and blew them into the EDM scene.
Birdy Nam Nam – Ultra Music Festival Weekend 1 Live Set | Download |
I love 12th Planet's style and naturally he killed it at UMF. He's got a crazy energy and an underrated musical mind as well. He's really gifted but humble about it too and he put on a clinic on how to really DJ a major festival. No wonder why he's basically Skrillex's right hand man.
12th Planet – Ultra Music Festival Weekend 1 Live Set | Download |
The things I would have done to see Seven Lions perform this live. He's so good, so talented and it's obvious as to why OWSLA picked him up. Really happy for this guy to finally get his shine one. One of my favorite sets from the OWSLA stage by far.
Seven Lions – Ultra Music Festival Weekend 1 Live Set | Download |
If ever there was a time to use the term dubsex, it's during Kill Paris' set. His melodic, romantic dubstep is able to work absolute wonders, and whether he's playing an incredibly sexy remix like 'Baby Come Back', or one of the tracks from his latest EP, he will capture your heart and then blast it with bass.
Kill Paris – Ultra Music Festival Weekend 1 Live Set | Download |
These two are to be watched out for at all times. In their set you'll find gems like 'Incredible' by Borgore and Carnage, 'Ode to Oi', and pretty much every other track in existence that would make a crowd GO OFF. Their own tracks like 'Epidemic' make appearances along the way, further adding to the chaos. Upon reflection, this set completely defies the all genres, they play moombah, electro house, dubstep, trap and pretty much any other genre you could imagine.
Jack Beats – Ultra Music Festival Weekend 1 Live Set | Download |
"Follow" The M Machine: | Facebook | Twitter |
"Follow" KOAN Sound: | Facebook | Twitter |
"Follow" Nick Thayer: | Facebook | Twitter |
"Follow" Blood Diamonds: | Facebook | Twitter |
"Follow" Birdy Nam Nam: | Facebook | Twitter |
"Follow" 12th Planet: | Facebook | Twitter |
"Follow" Seven Lions: | Facebook | Twitter |
"Follow" Kill Paris: | Facebook | Twitter |
"Follow" Jack Beats: | Facebook | Twitter |
Comments
comments

<!-comments-button-->