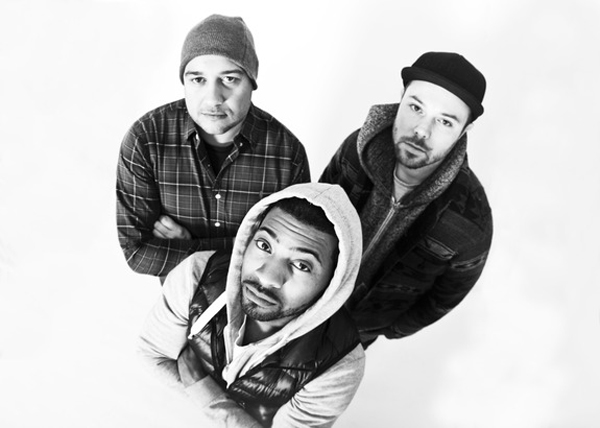 Keys N Krates formed in 2008 out of a desire to do something different. They wanted to take the remix/electronic sound out of the studio and onto the stage, creating a new live electronic experience. The Toronto-based trio – comprised of the high-energy Adam Tune on drums, synth-master David Matisse on keys, and internationally award-winning Jr. Flo on turntables – began by locking themselves in a rehearsal room for six months to create and finesse their unique sound and identity.
Starting as a mainly live act doing live re-works of rap and house tunes, the group eventually moved into making their own beats and translating those into their live show. The result? A blend of rap beats, trap and electronic music played live before your very eyes. Keys N Krates collage raw samples and twist them with live instrumentation, creating a truly unique live dance party. With two live off-the-floor mixtapes, two self released eps ("The Blackout" and "Lucid Dreams") and a slew of remixes under their belt, the outfit is set to release their EP "Solow" on Dim Mak Records in 2013 which will follow the release of their single "Treat Me Right."
Over the last year, KNK toured with and played alongside artists including; Major Lazer, Pretty Lights, Flying Lotus, Bassnectar and Skrillex to name a few.
The first track to be taken from their forthcoming 'SOLOW' EP, 'Treat Me Right' was initially premiered across the airwaves on Annie Mac's taste-making BBC Radio 1 show on 8th February to a truly incredible reception. Since then, the iconic trap-tinged electronic/hip-hop monster has been enjoying hefty support from the online sphere and has become a mainstay in the sets of big hitters such as TNGHT, Diplo, Annie Mac and Salva (to name but a few) over the past few weeks.
Having been recently crowned #1 of Billboard's official "Next Rising Artists" chart, Keys N Krates are also gearing up for high profile North American LIVE shows at SXSW Festival (Austin, Texas), Blue Martini (Tampa, FL), WMC (Miami, FL) and Blue Martini (Orlando, FL).
Keys N Krates – Treat Me Right | BeatPort |
"Follow" Keys N Krates: | Facebook | Twitter |
Comments
comments

<!-comments-button-->