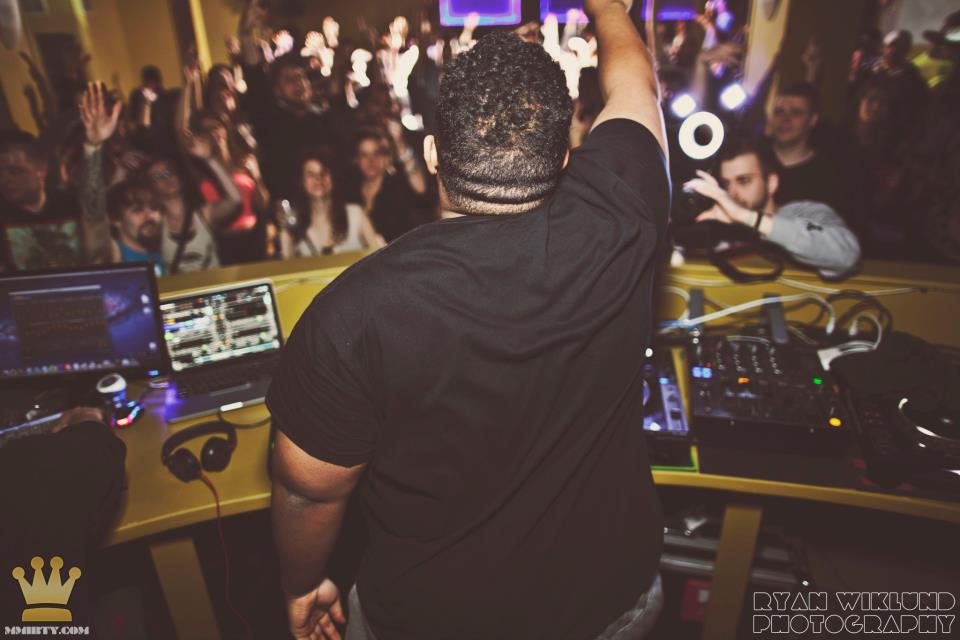 On a night when the temperature was well below freezing in the great city of Boston, three heavy hitters in the Trap game were ready to turn up the heat at RumoR Nightclub. I had the honor and privilege of hanging out with DJ Carnage, Luminox and their crew before, during and after their sets I had never been around a group so laid back and relaxed before a show. No nerves, no nothing, just a great overall atmosphere. Before sound check I was able to get a little insight into what we might hear from Carnage in the coming months. I have one word for you guys and that is House! Yup! Expect to hear our boy Carnage on some filthy House bangers in the near future. He seemed really excited to be getting into a new genre as well and working with Tiesto. After sound check we had couple drinks back at the room and it was time to head on over to the venue. CRNKN, who I regrettably didn't get to hear, was on first and from the feedback I got from the attendees he had an awesome set.
Finally it was time for Carnage to go on and instantly he just tore up the club. Banger after banger after banger an energetic Carnage had the crowd going nuts! He went so hard that he actually broke the table his equipment was on. I'm not even kidding! His crew and myself had to prop up the table while he continued doing his thing. That's how hard this man goes, just an absolute monster set. So many new and unreleased beats I couldn't keep track. Not to mention he played all his well known jams too! Spaceman had people going bonkers. After the set, Carnage said, "it was like being in a whole other world." He must have said, "Boston, I got one more song for you guys!" about 10 times before actually ending his set, it was incredible! Even his crew, who have seen him perform numerous times, were overly impressed. One of the most impressive parts was that Carnage and Luminox had packed a club on a night where Nero was performing just one block away. Extremely impressive to say the least.
A big thanks to RumoR nightclub for hosting this event and The Oxford Group for promoting it. This was the first major Trap event that Boston had seen and we would be more than glad to welcome everyone back in the near future. If you have the chance to see Carnage, Luminox or CRNKN live in your area I highly suggest that you do. There really is nothing quite like it.
On Top of all this we have Carnage's banging Festival Trap Volume 2 that premiered last week on Diplo & Friends! oOh, you thought Volume 1 was good? Carnage just upped the filthiness by 1000! Check it out and hit up the free download!
Carnage – Festival Trap Mix Vol. 2 (Part One) | Download |
"Follow" DJ Carnage: | Facebook | Twitter |
"Follow" Luminox: | Facebook | Twitter |
"Follow" CRNKN: | Facebook | Twitter |
Comments
comments