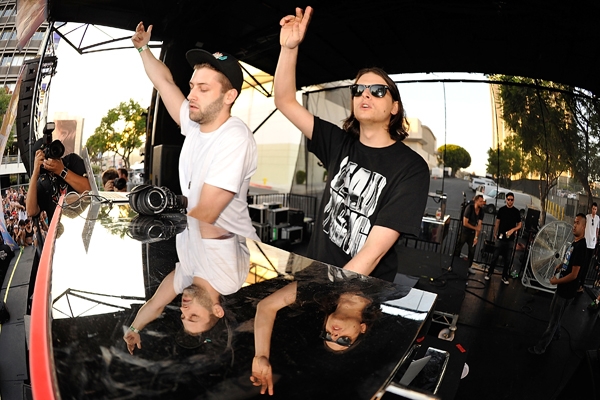 Happy Holidays indeed! Wow the music just keeps coming today! Zeds Dead decided to spread some Holiday cheer to their fans and give us this insane 50 minute mix that does not disappoint We will update this with the proper download link as soon as they fix it on their Soundcloud but for now go on and check it out!
Update: Download link is up and ready!
We made this mix back in June for radio but the airdate just kept getting pushed back for one reason or another and never came out. So in the spirit of the season we're giving it to you now! Happy Holidays!!
Zeds Dead – The Living Dead
Gemini feat. Greta Svabo Bech – Fire Inside
AC Slater ft. Xaphoon Jones – Believe Me (Botnek Remix)
Diplo and Oliver Twizt – Go
You Killing Me – Hallelujah
Zeds Dead – Ruckus The Jam
Baobinga and I.D.- Gun Talk (Kahn Remix)
Zeds Dead – Rumble in the Jungle
Farkas – Tribal Dance
Dismantle – Word Dance
Prototypes – Abyss
Millions Like Us – Illuminate
Memorecks – Texture
Wilkinson – Tonight
Zeds Dead and Omar LinX – Cowboy
Delta Heavy – Get By (174 Mix)
Noisia and the Upbeats – Dustep
XI – The Ghost
Killsonik – Girly
Baauer – Harlem Shake
Megalodon and Conscious Pilot feat. Doctor – Like This
Eek-a-Mouse – Ganja Smuggling
Rusko – Love No More
Zeds Dead and Omar LinX – Take A Chance
Example and Flux Pavilion – Day Dreamer
Zeds Dead and Omar LinX – Crank
Collin Munroe ft. Pusha T – The Fight Of My Life (Zeds Dead Remix)
Stinkabell – Something In Your Eyes
Marina and the Diamonds – Lies (Zeds Dead Remix)
Zeds Dead – Holiday Mix | Download |
Zeds Dead: | Facebook | Twitter |
Comments
comments

<!-comments-button-->